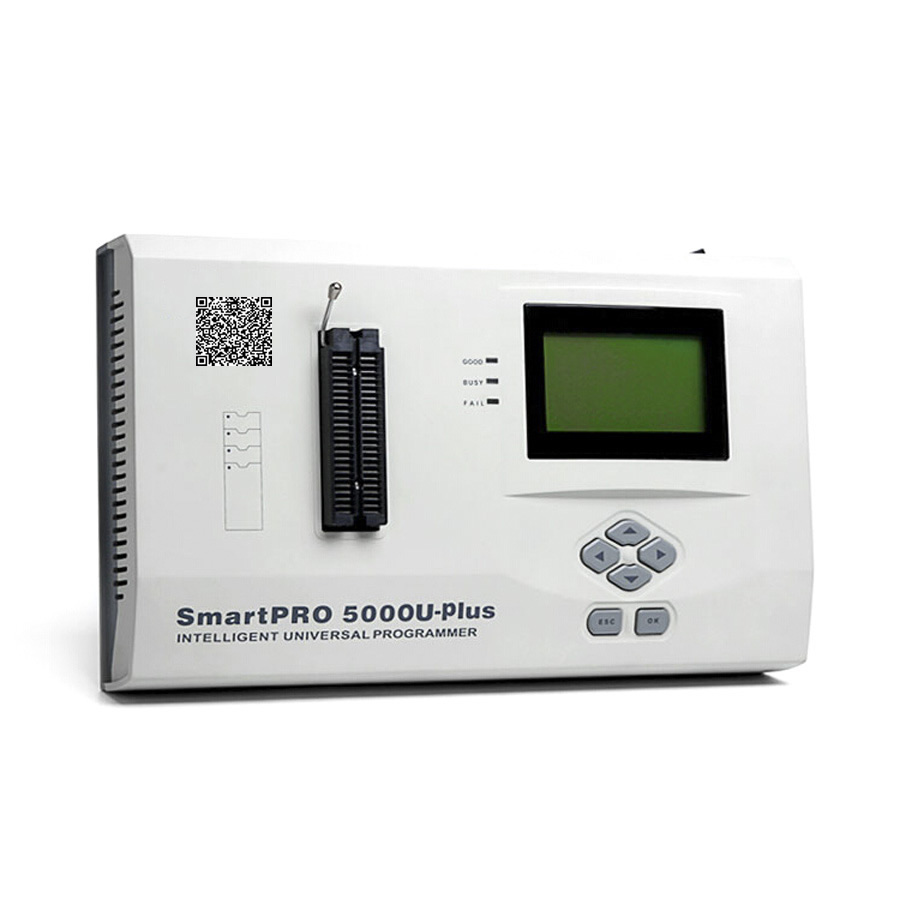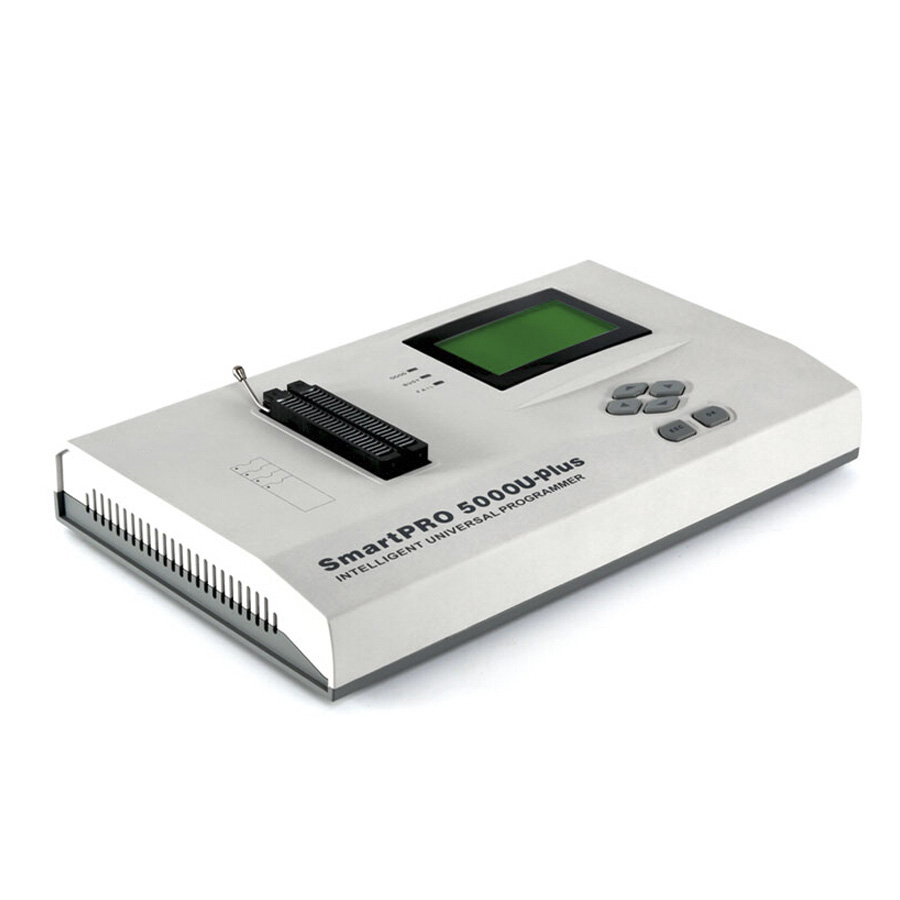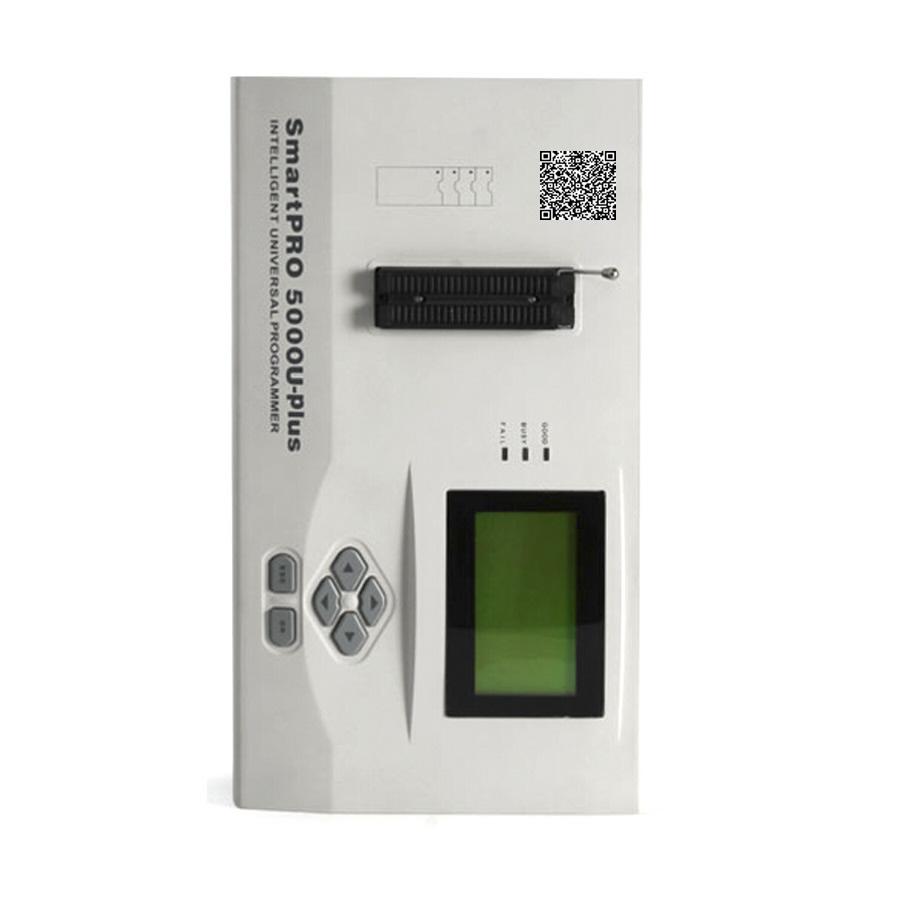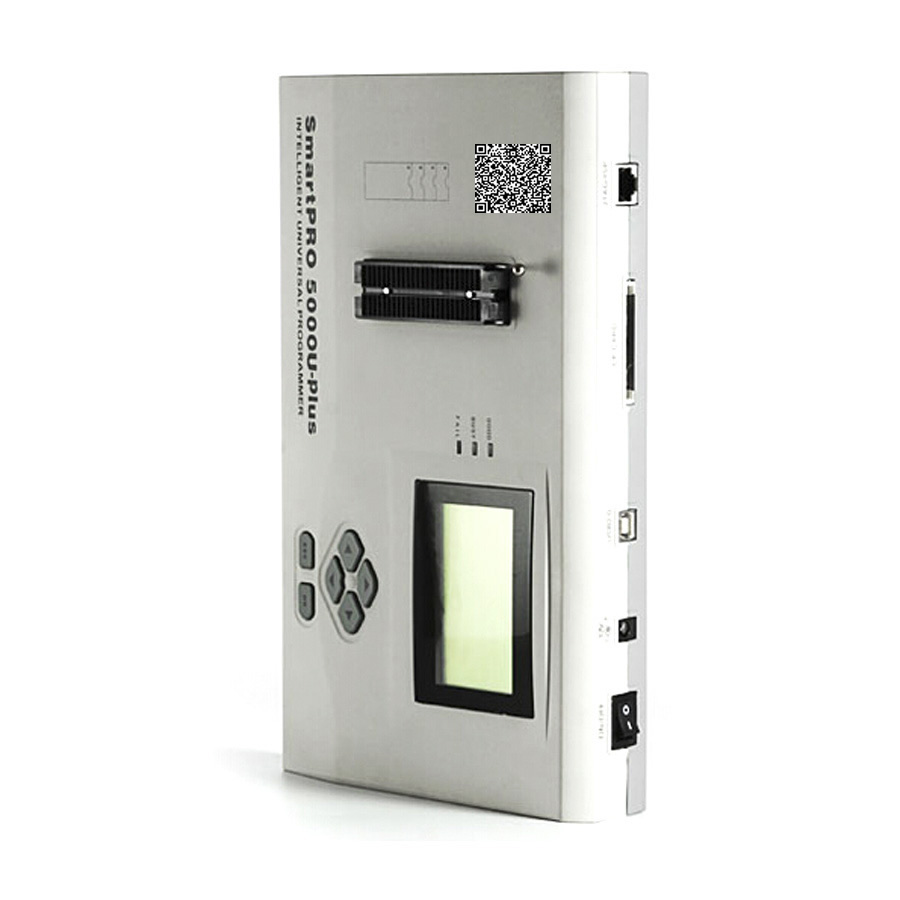 SmartPRO 5000U-PLUS Programmer 5000u Plus Universal USB Programmer Support NXP PCF79XX NCF29XX Serial Chips
1.It is High-speed FPGA driven hardware for ultra-fast programming,
2.SmartPRO 5000U-PLUS programmer design for versatile multi-applications, You have freedom to choose the optimum mode for your programming demands.
3.5000u plus is the best one for car key programming tool, supports NXP NCF2951, NCF2952, NCF29A1,NCF29A2,NCF29A3,NCF29A4
Shipping:

Express Shipping Service


Estimated delivery time:

3-15

working days.

See details ?

Returns:

Return for refund within 30 days, buyer pays return shipping.

Read details ?

Support: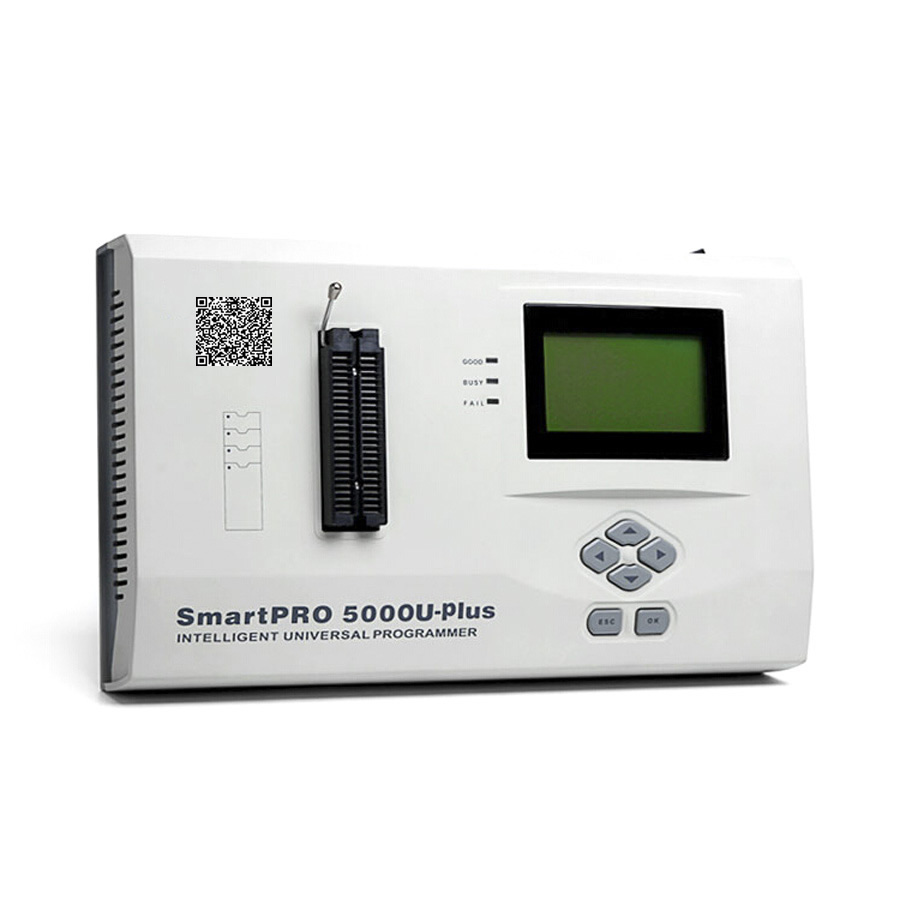 Product Details

Product's Reviews (16)
SmartPRO 5000U-PLUS Programmer 5000u Plus Universal USB Programmer Support PCF79XX NXP NCF29XX Serial Chips
SmartPRO 5000U-Plus support unlock and programming PCF79XX NXP NCF29XX Serial Chips, how to programming PCF79XX chips, you can follow this instructions:
https://www.chinaobd2.com/upload/pdf/SmartPRO_5000U_PCF7952.pdf
SmartPRO 5000U-PLUS Programmer Full Chips Support List
https://www.chinaobd2.com/upload/support/smartpro-5000u-plus-chips-support-list.html



Top 3 Reasons To Get SmartPRO 5000U-PLUS Programmer
Patented I / O port drive technology, eliminate IC programming burning
Due to universal programmers are requires compatible chips, the requirements for the programming I / O port has been raised to a high level.Brand-new I / O port drive technology enables each I / O port of the universal programmer to pass high-speed signals, suppress overshoot brought by the high-speed signal, protect over-current, provide adequate and sustained output current, bear bus collision and has the ability of quickly recovering from conflict status.
ICP online programming, makes it easier to use and more flexible
Separate ICP download line interface is able to program chips on the circuit board online. While the offline programming mode ICP, without connecting to a computer, users only need to get the data stored in the built-in DOM. With few ICP scattered lines, it is potable for the spot debugging or a program upgrade.
Massive IC support, provides timely timing upgrade
The SmartPRO 5000U-PLUS programmer is now compatible with various types of MCU / Flash / CPLD / FPGA chips, etc relies on good relationships with the major manufacturers. It also provides a variety of new chips programming ability accurately and timely which will satisfy our customers' needs to greatest extent.
Features Of SmartPRO 5000U-Plus Programmer
Possibility to connect 99% of the existing microelectronic circuits in case you buy a corresponding adapter.
Stand-alone mode for manufacturing needs.
Directly supports in-circuit programming.
Interface port: USB 2.0
Includes high speed CPU and 4 MB memory buffer as standard.
High-speed FPGA driven hardware for ultra-fast programming.
A CF memory card slot can be used to expand the unit's memory to a maximum of 4 GB. (Memory cards are only required for stand-alone jobs lager than 4 Mbits.)
LCD displays programming status on a 16x4 character display
Built-in keyboard for local operation.
Calibration: automatic self-calibration.
Diagnostics: pin continuity test, RAM, ROM, CPU, pin drivers, power supply, communications, cable, calibration verification timing.
PC System. Requirements: Windows NT/2000/XP/7/8.
User friendly software.
Software free updates.
RoHS compatible, CE, ISO 9001, ISO 14001 certificates.
Application Of SmartPRO 5000U-Plus Programmer
Device repair – re-flashing microchips, microcontrollers.
Flashing new microchips.
Serial manufacturing - microchips, microcontrollers programming.
Restoring data from microchips of solid-state drives like memory cards, USB flash drives.
SmartPro 5000U-Plus PCF79XX Chips Support List: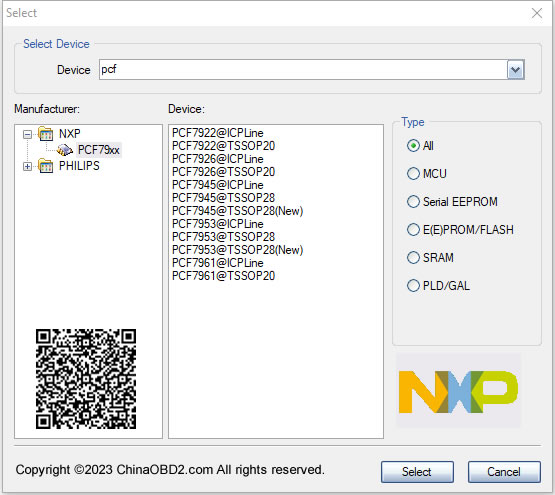 PCF7922@ICPLine
PCF7922@TSSOP20
PCF7926@ICPLine
PCF7926@TSSOP20
PCF7945@ICPLine
PCF7945@TSSOP28
PCF7945@TSSOP28(New)
PCF7953@ICPLine
PCF7953@TSSOP28
PCF7953@TSSOP28I(New)
PCF7961@ICPLine
PCF7961@TSSOP20
SmartPro 5000U-Plus NCF29XX Chips Support List:
NCF2951 (24K)@TSS0P38
NCF2951@ICPLine
NCF2951 @TSS0P38
NCF2951ETT@ICPLine
NCF2951 ETT@TSSOP38
NCF2952@ICPLine
NCF2952@TSS0P38
NCF2952ETT@ICPLine
NCF2952ETT@TSS0P38
HCF29A1 (24K)@ICPLine
NCF29A1 (24K)@QFN32
NCF29A1@ICPLine
NCF29A1@QFN32
NCF29A2@ICPLine
NCF29A2@QFN32
NCF29A3@ICPLine
NCF29A3@QFN32
NCF29A4@ICPLine
NCF29A4@QFN32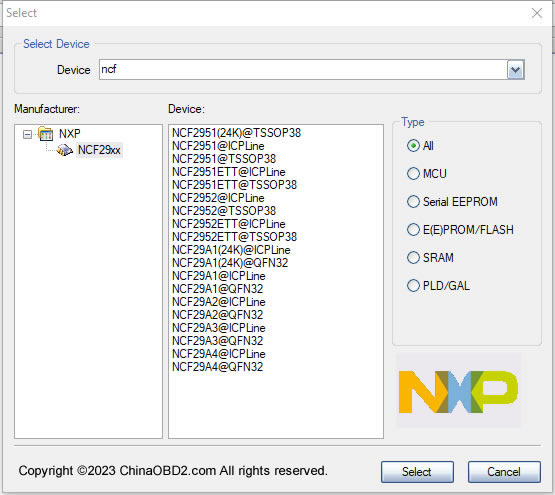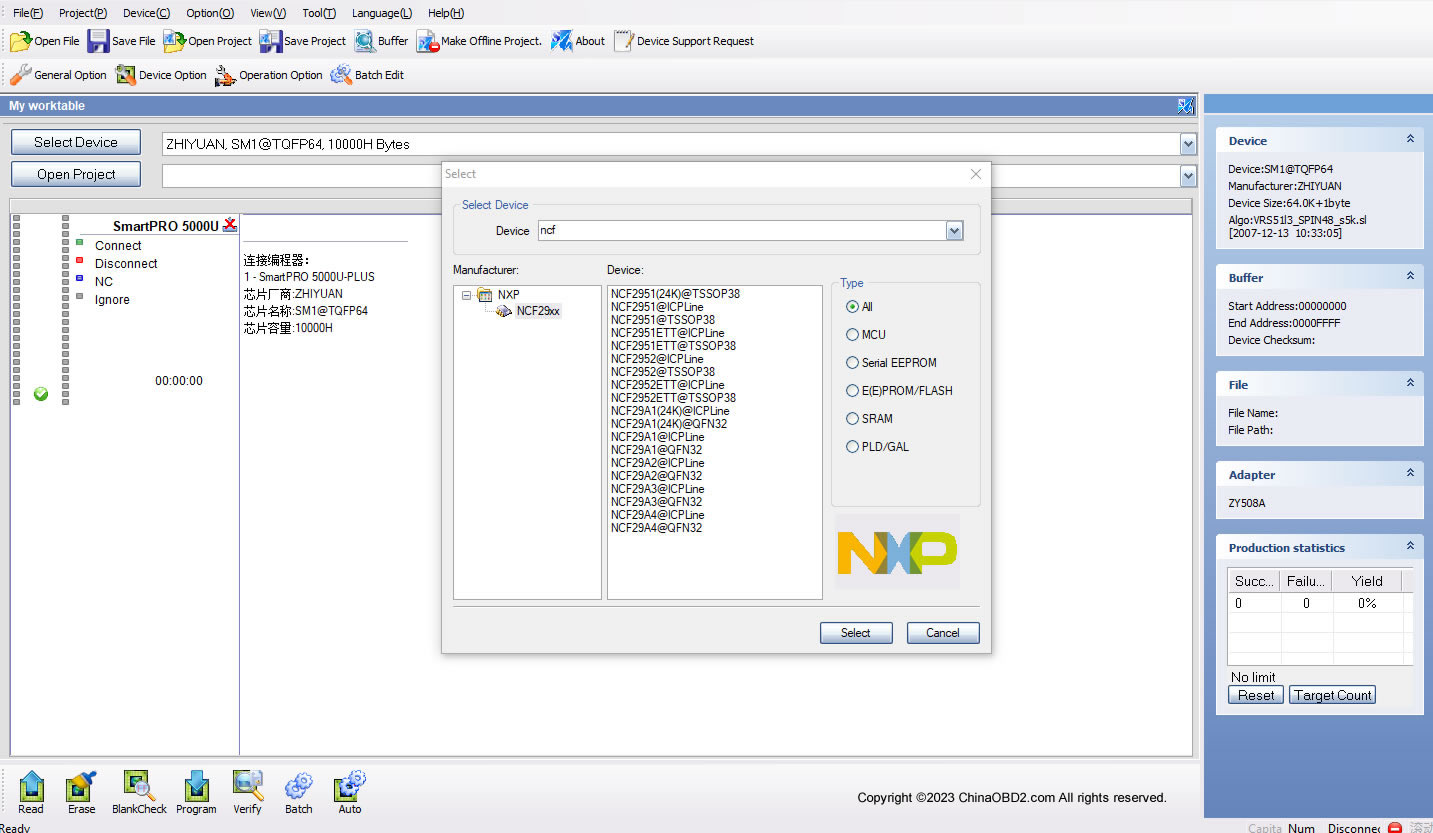 SmartPRO 5000U-PLUS Specification:
| | |
| --- | --- |
| Type | SmartPRO 5000U-Plus |
| Support device | EPROM, Paged EPROM, parallel and serial EEPROM, FPGA Serial configuration PROM, NOR FLASH and NAND FLASH reservoir, BPROM, NVRAM,CPLD, MCU, Firmware HUB, ARM. standard logic devices(TTL\CMOS) etc, device operating voltage:1.8~9V |
| Encapsulation | DIP, SDIP, PLCC, JLCC, SOIC, QFP, TQFP, PQFP, VQFP, TSOP, SOP, TSOPII, PSOP, TSSOP, SON, EBGA, FBGA, VFBGA, μBGA, CSP, SCSP etc |
| Online communication interface | USB 2.0(High Speed) |
| Configuration Options | adaptor, CF card |
| Power Input | AC 100V-240V/47-63Hz |
| Power Output | 12V/2A |
| Dimension-Main Unit | 280mm×170mm×57mm (L×W×H) |
| Built-in DOM | 32Mb×1(default) |
| CF card | 1(optional) |
| Operating system | Windows NT/2000/XP/Win7/VISTA |
SmartPRO 5000U-PLUS software is lifetime free update.

SmartPRO 5000U-Plus User manual

https://www.chinaobd2.com/upload/pdf/SmartPRO_5000u-plus-SillconLAB.pdf
Package including:
1pc x New SmartPRO 5000U Programmer
1pc x USB Cable
1pc x CD Software
1pc x Power Adapter