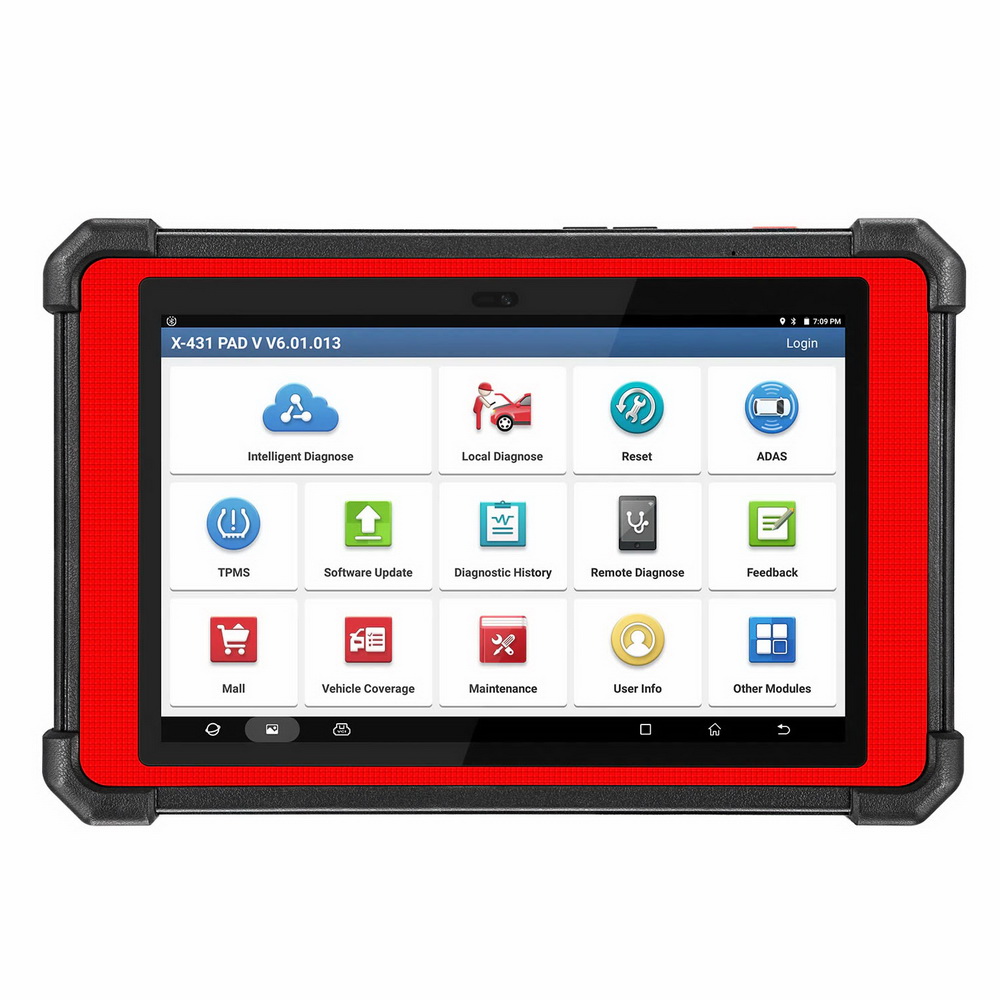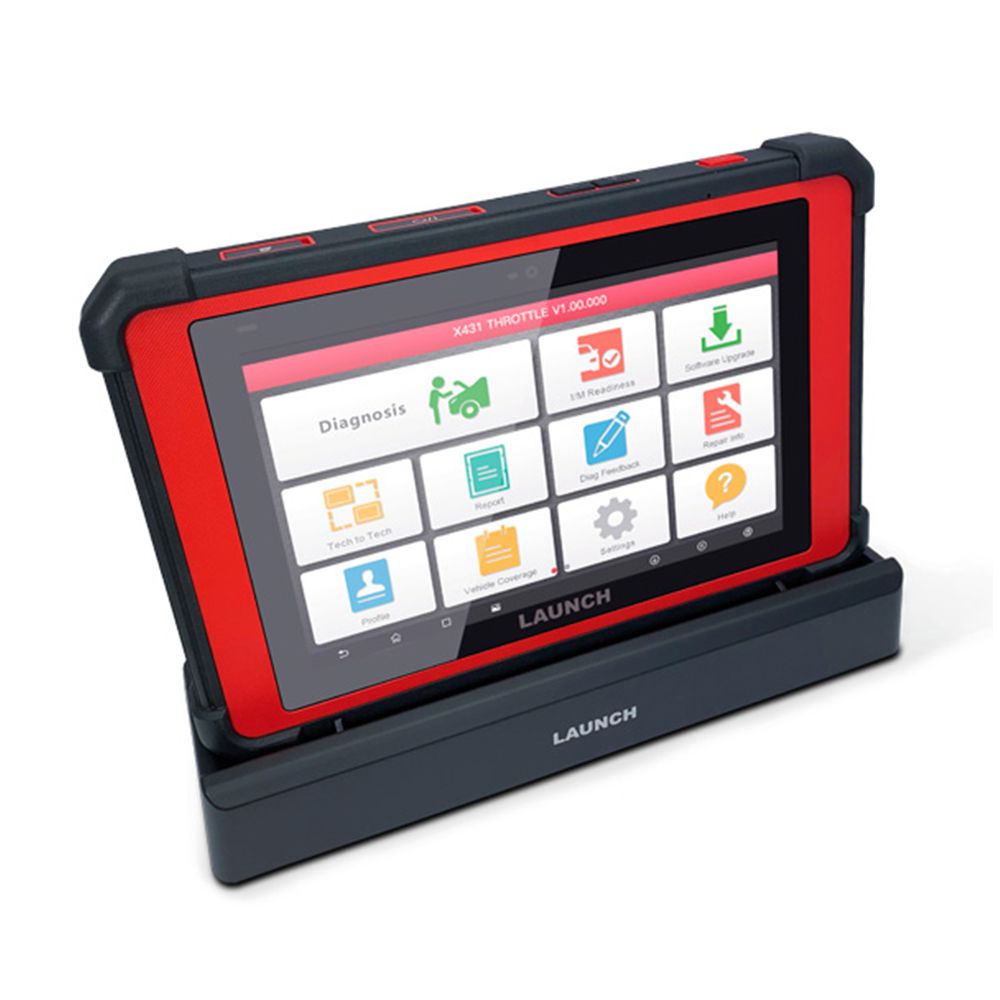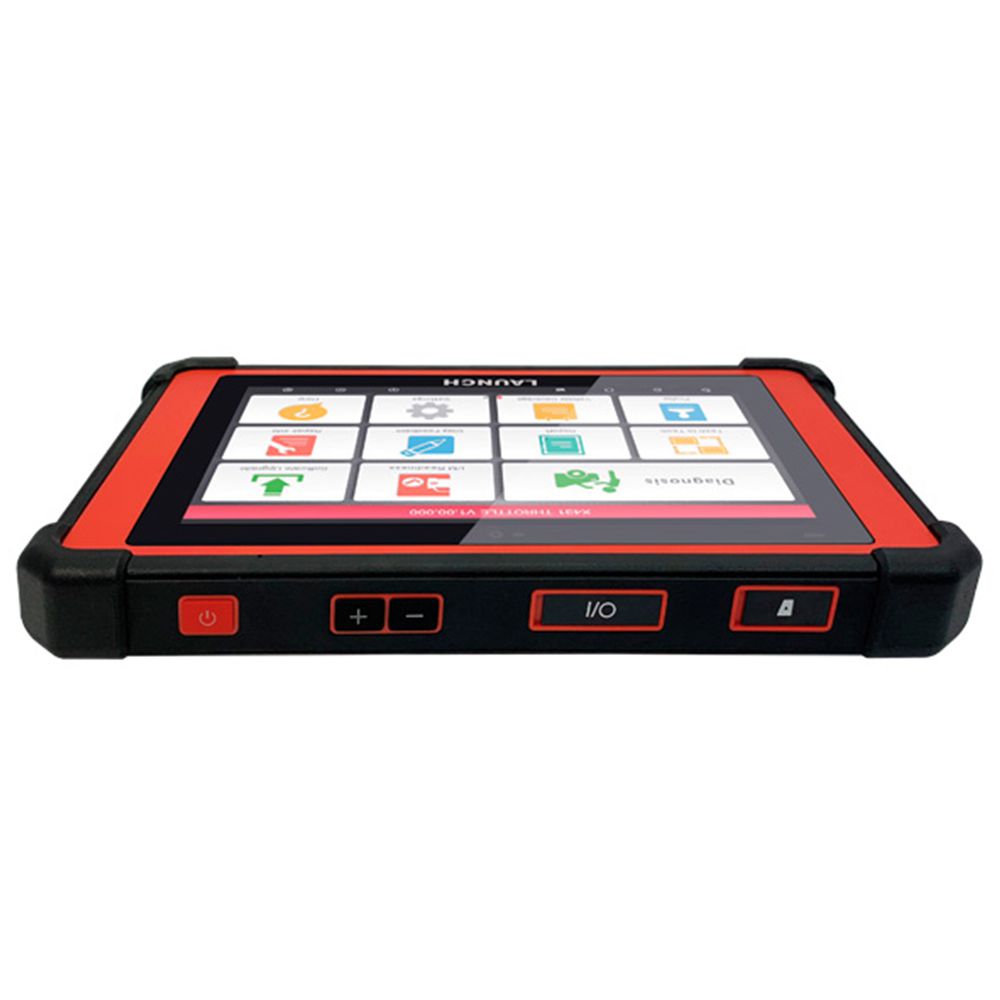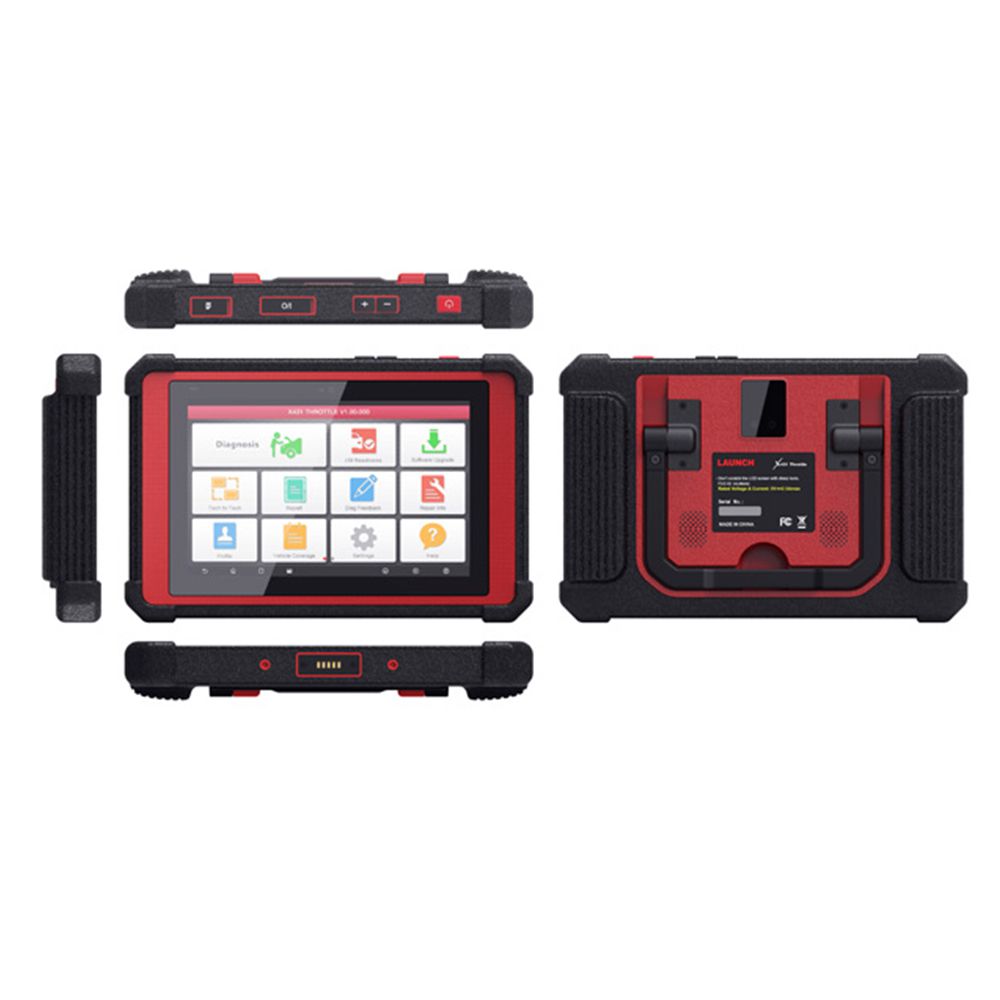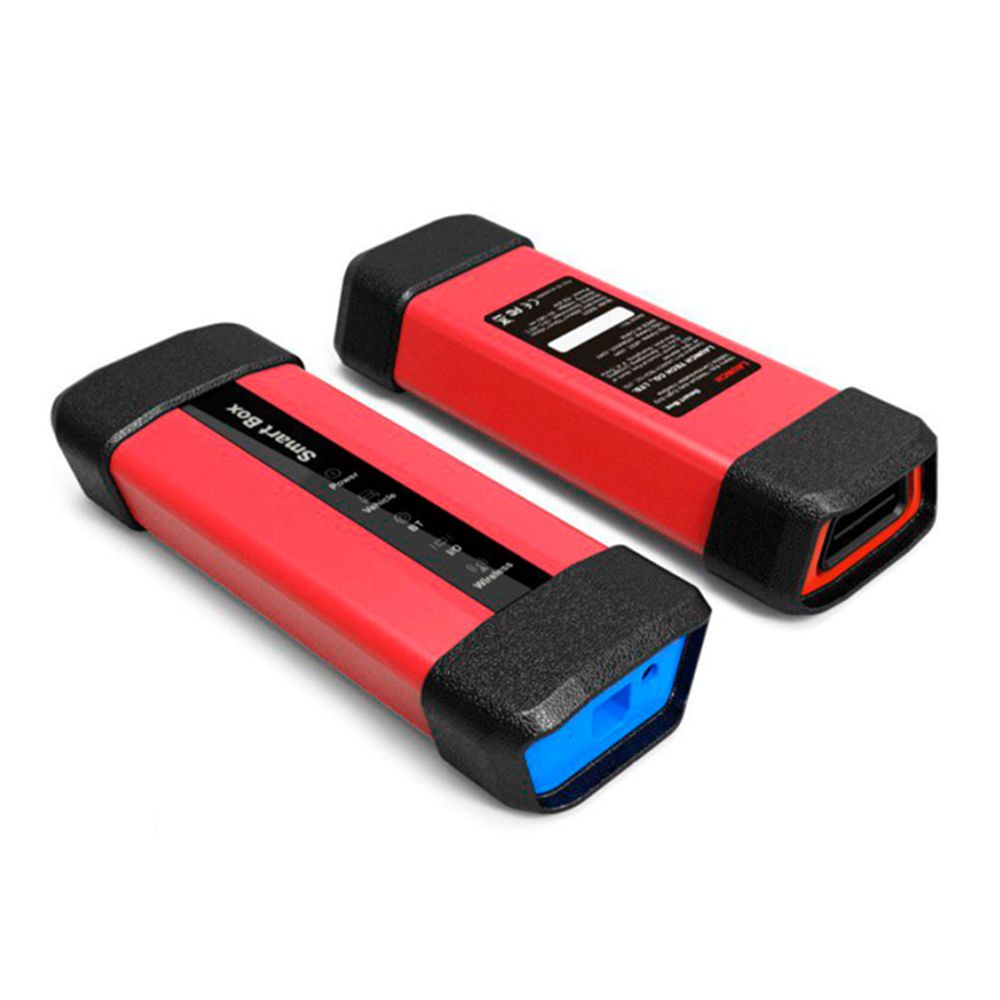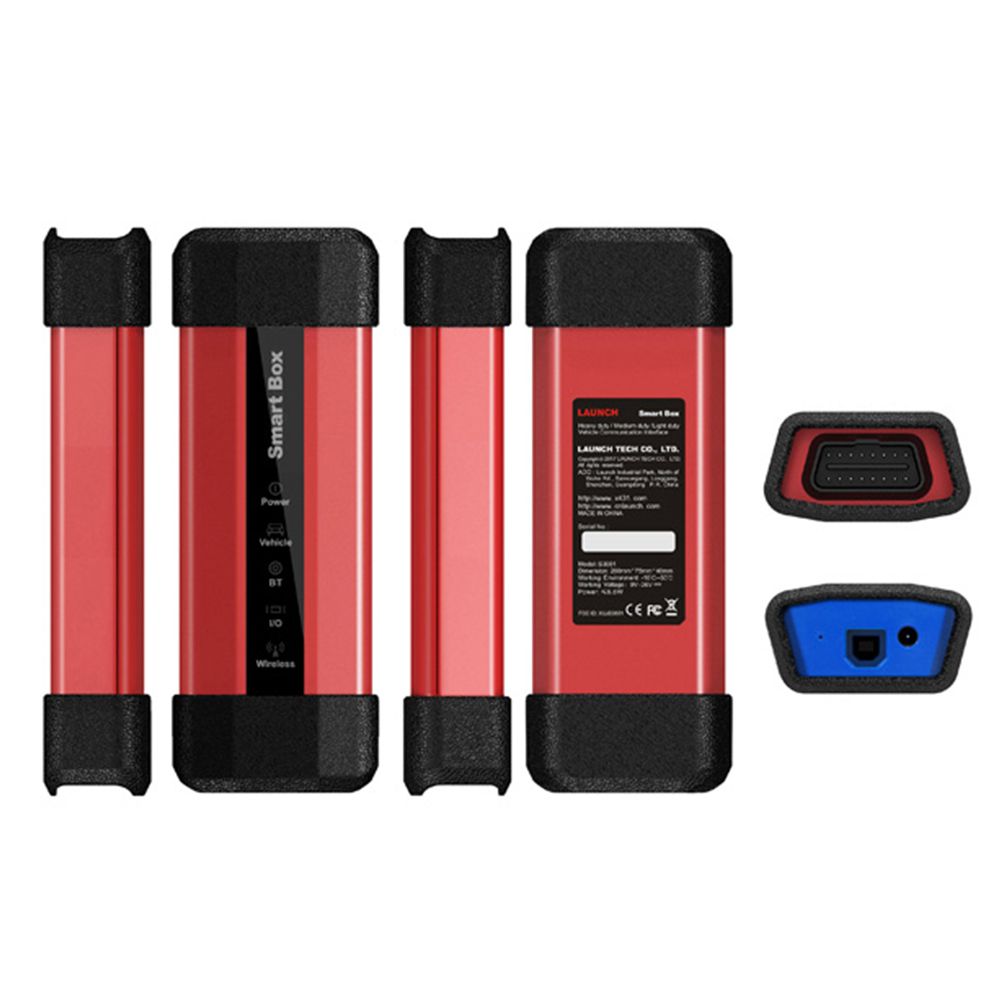 Original Launch X431 PAD V5 with SmartBox 3.0 Automotive Diagnostic Tool Support Online Coding and Programming 1 Years Free Update Online
Launch X431 PAD V PAD 5 is a high-end comprehensive diagnostic tool with charging base newly developed on the basis of Android 7.1.With it's new advanced Smartbox 3.0, X-431 PAD V could diagnose the passenger and heavy duty vehicles (software and adaptors are optional) with one single dongle.Free Update Online for 1 Years.
Shipping:

Express Shipping Service


Estimated delivery time:

3-15

working days.

See details ?

Returns:

Return for refund within 30 days, buyer pays return shipping.

Read details ?

Support: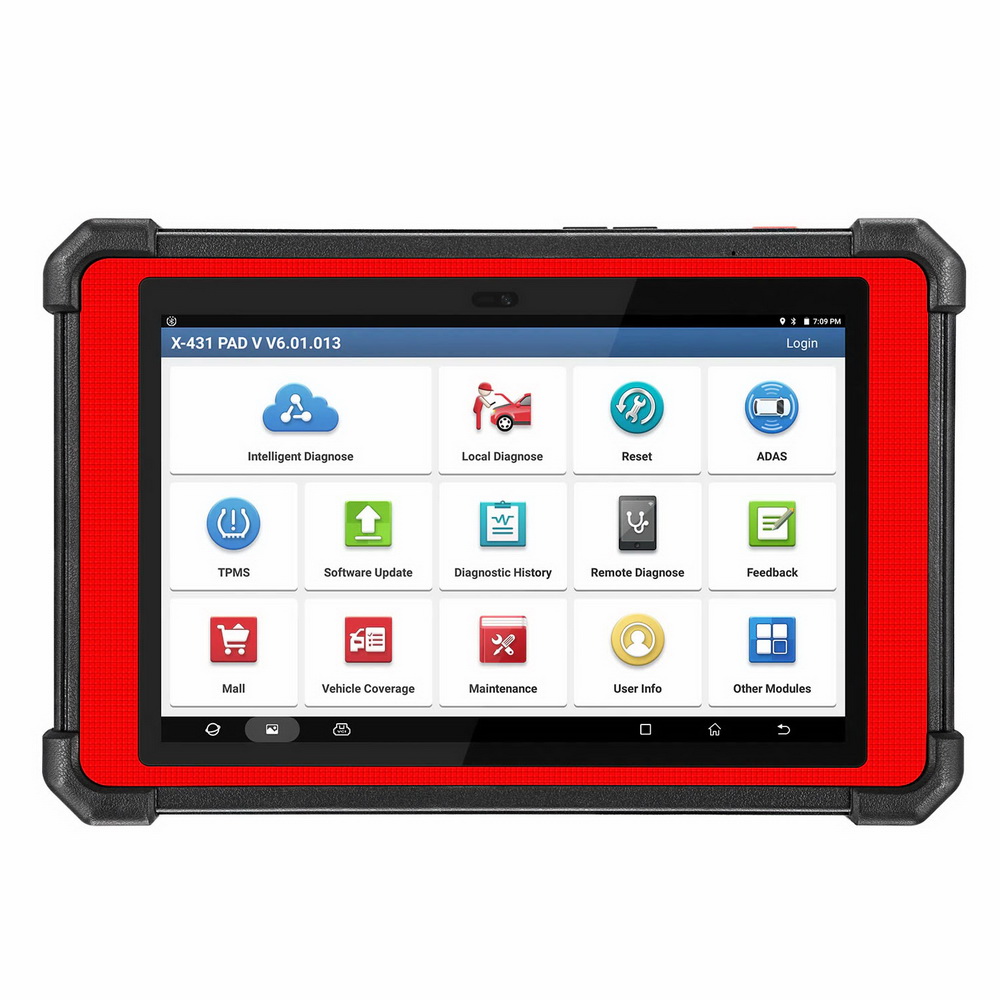 Product Details

Product's Reviews (0)
2021 New Arrival
x431
PAD V 10.1 inch Full System Diagnosis tool, Online programmer, Support DOIP / CANFD protocol and Security Gateway, 31+ Reset functions , remote diagnosis ,Bi-directional Control,12 in 1 data stream ,5 Years warranty ,Multi Languages Supported + Global Version(Can be used in worldwide)+32GB Storage(Can be extended to 128GB)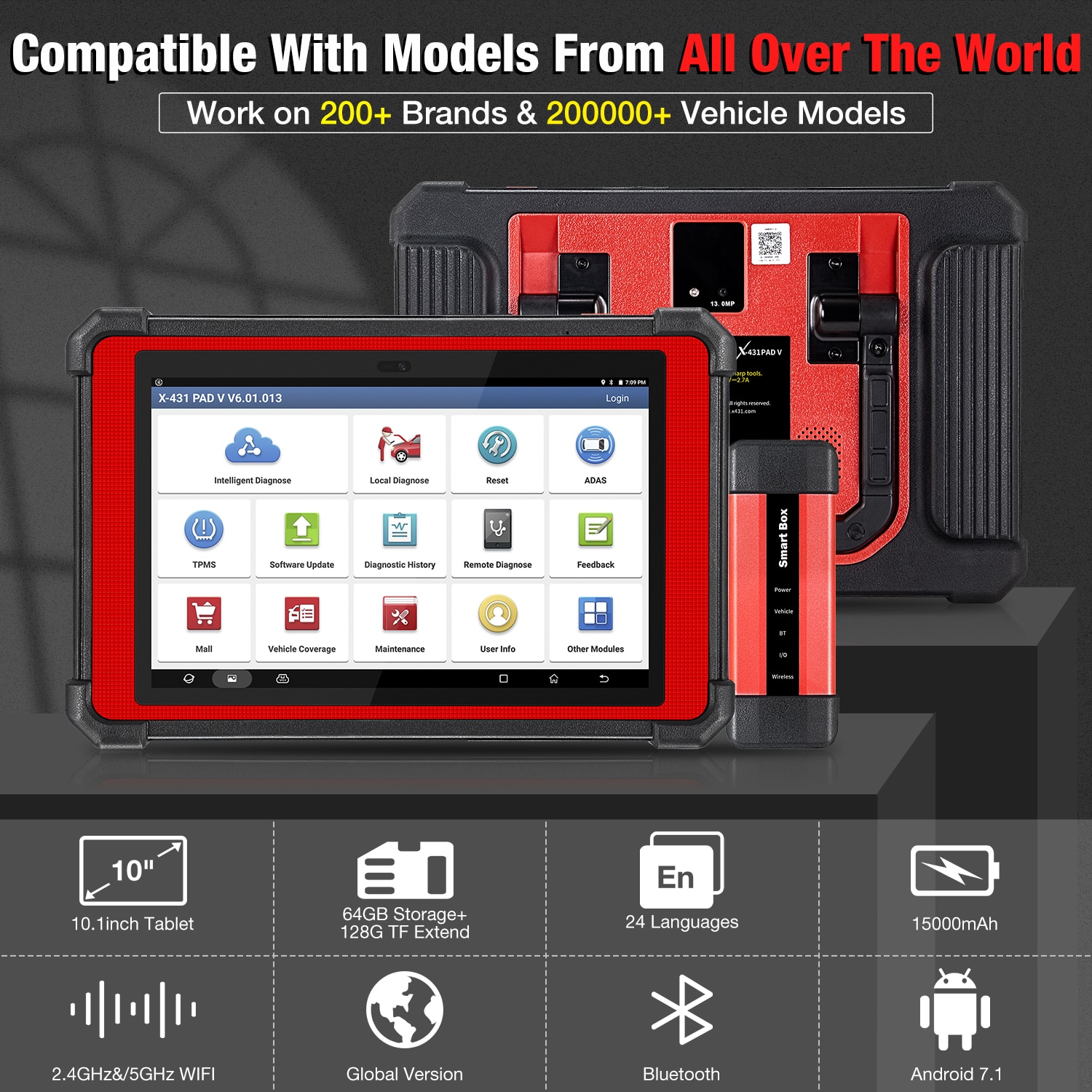 x431
PAD V is so expensive, Why chose it? pls kindly have a look at reasons here:
1.The First ONE and only one pcs diagnose tool which works DOIP/CANFD protocols in the whole market.
launch x431
PAD V is the only onesupport DOIP/CANFD protocolin the market until now , DOIP/CANFD protocol is the new protocol , some new cars is with them , like for LandRover , for
GM
, For Ford , it will be used to many other new cars . And it alsosupport Security Gateway. Security Gateway is used for Chysler , for
Nissan
etc .
2.
launch x431
PAD V Works Online programming advanced function
X431 V PAD V is more Professional and high quality. even though you failed during programming , x431 pad v can allow you program again , will not break the ECU. X431 PAD V supports KEY programming and coding, which is to write the relevant control information of the software into the automotive computer's programmable EPROM or FLASH by making use of the electronic communication transmission technology.
x431
PAD V Support intelligent recognition of programming files, convenient and quick operation.Support for Mercedes-Benz, for
Benz
New Energy, for BMW, for
BMW
New Energy, for
GM
, General New Energy, for Ford,Ford New Energy, for Volkswagen, for Volkswagen New Energy, for Audi, for
Audi
New Energy, for
Land Rover
, for
Nissan
,
Skoda
, for
Seat
, for
Mazda
and other models Programming function.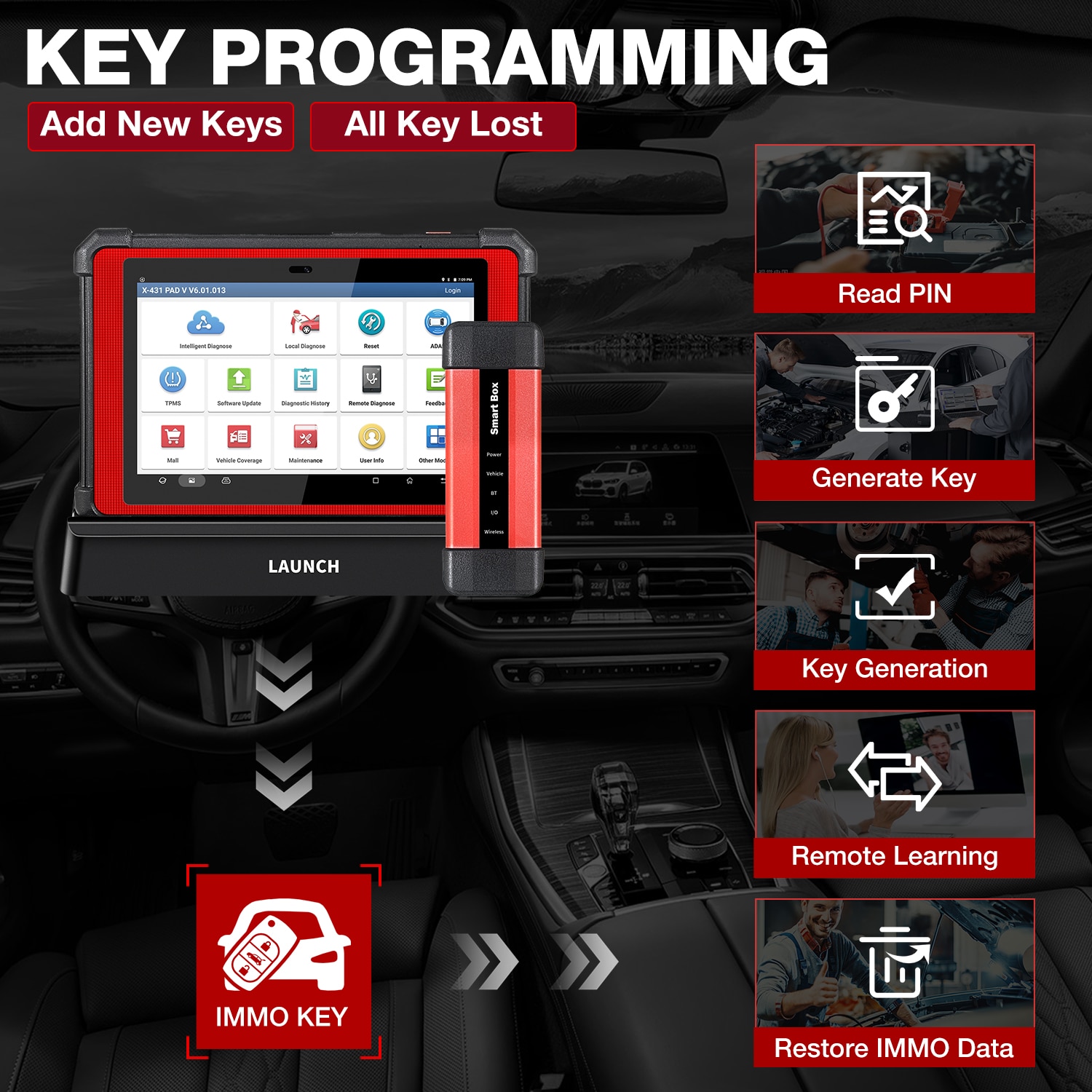 3.X431 PAD VSupport PEV ( pure electric vehicle ), other
launch
x431 device supports Hybrid cars , but do not support PEV .
It is the most advanced diagnose tool on the market now,
4.
launch
X431 PAD V is A 2021 Global version Car FULL SYSTEMS DIAGNOSIS TOOL, No IP limited , 1 year free update
X431 PAD V will help to diagnose car all full systems problems at any time,any location,solve your problem at once . X431 PAD V supports 1 year free update, it means you can update all softwares to the newest version within 1 year, BUT after 1 year, you can use the softwares too,for lifetime, just can not update, you can buy new update year from us.price can contact seller.
5.LAUNH X431 PAD V Support 31+ Kinds of Special Reset Service Functions:
(NOTE:You can find 15 kinds of commonly used reset functions in the reset menu, and other special functions in the car brand diagnostic softwares menu) Pls kindly send your car model, release year, and certain reset function to seller, we will find for you, and give you advice.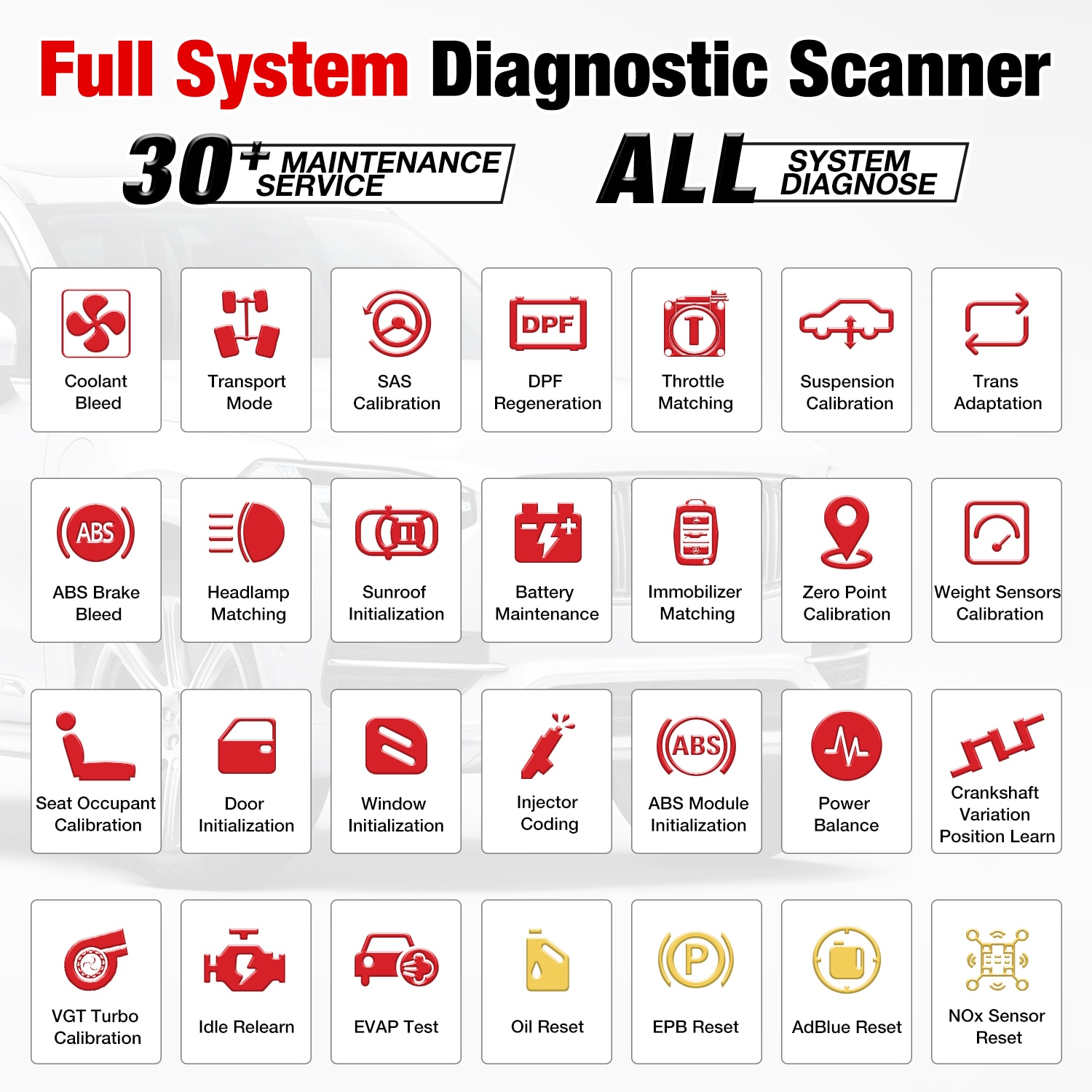 6.Full Bi-Directional Control ( ACTVE TEST) of
launch
X431 PAD V
This diagnostic tool LAUNCH X431 PAD V supports active test (Bi-directional control) to request information or command a module to perform specific tests and functions. For instance, in the case of OBD II generic information Mode 1, you can initiate a request for information from the powertrain control module, and the
PCM
responds by sending the information back to the scan tool for display. This LAUNCH X431 PAD V also have the ability to actuate relays, injectors, coils, or perform system tests, etc.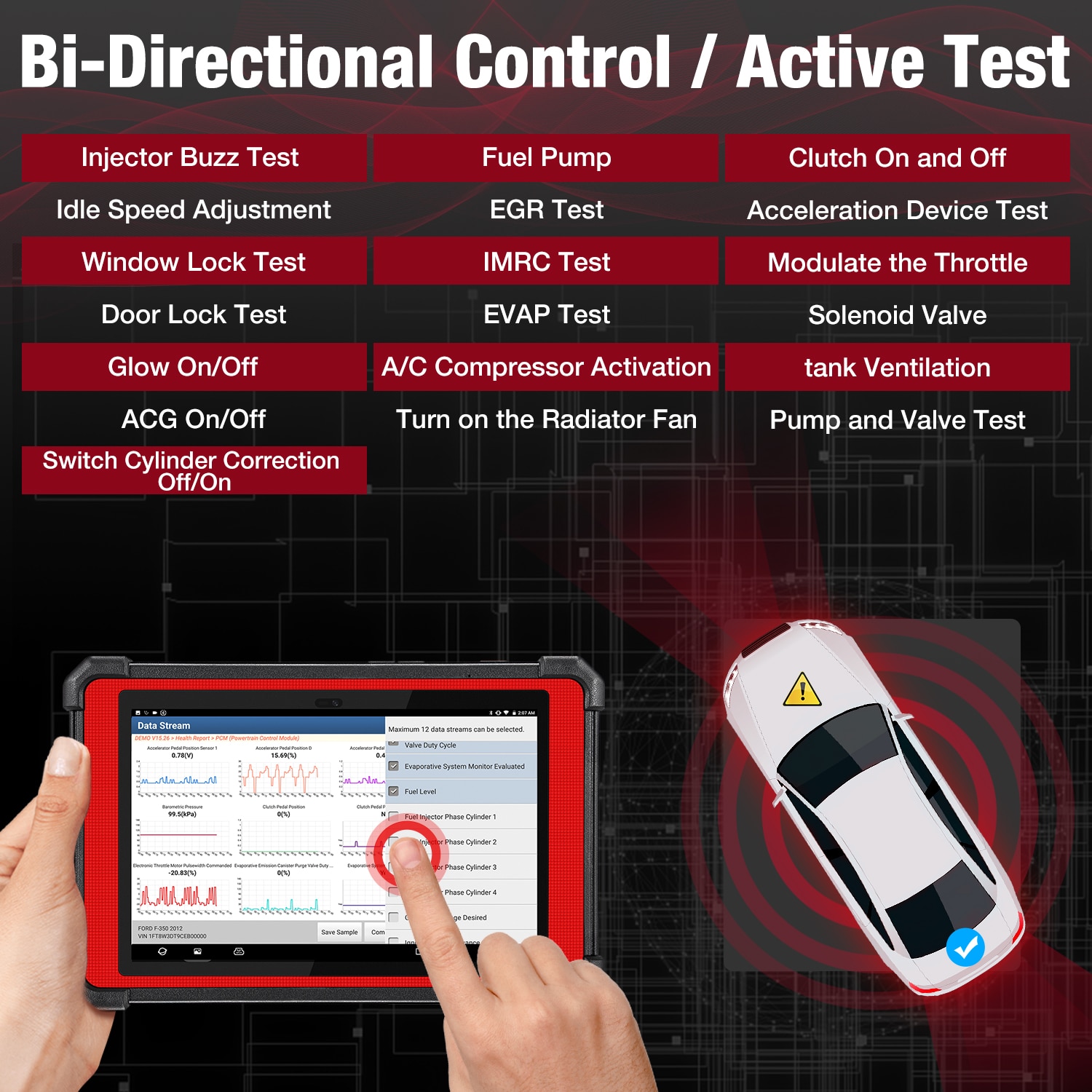 7.ECU CODING Function of LAUNCH X431 PAD V
Because every automobile actuator has a record code in ECU, which is the basis for automobile computer to mobilize their work. LAUNCH X431 PAD V is equipped with advanced ECU coding function for addressing the following issues: 1. After you change the bad actuators or certain parts, you need to use this function to make a new code and recognize the new actuators. 2. By changing the code with the ECU coding, it's easy to improve vehicle performance or stimulate high-end functions for the car. 3. ECU coding enables multiple car systems to recognize each other and then the actuators can start to work.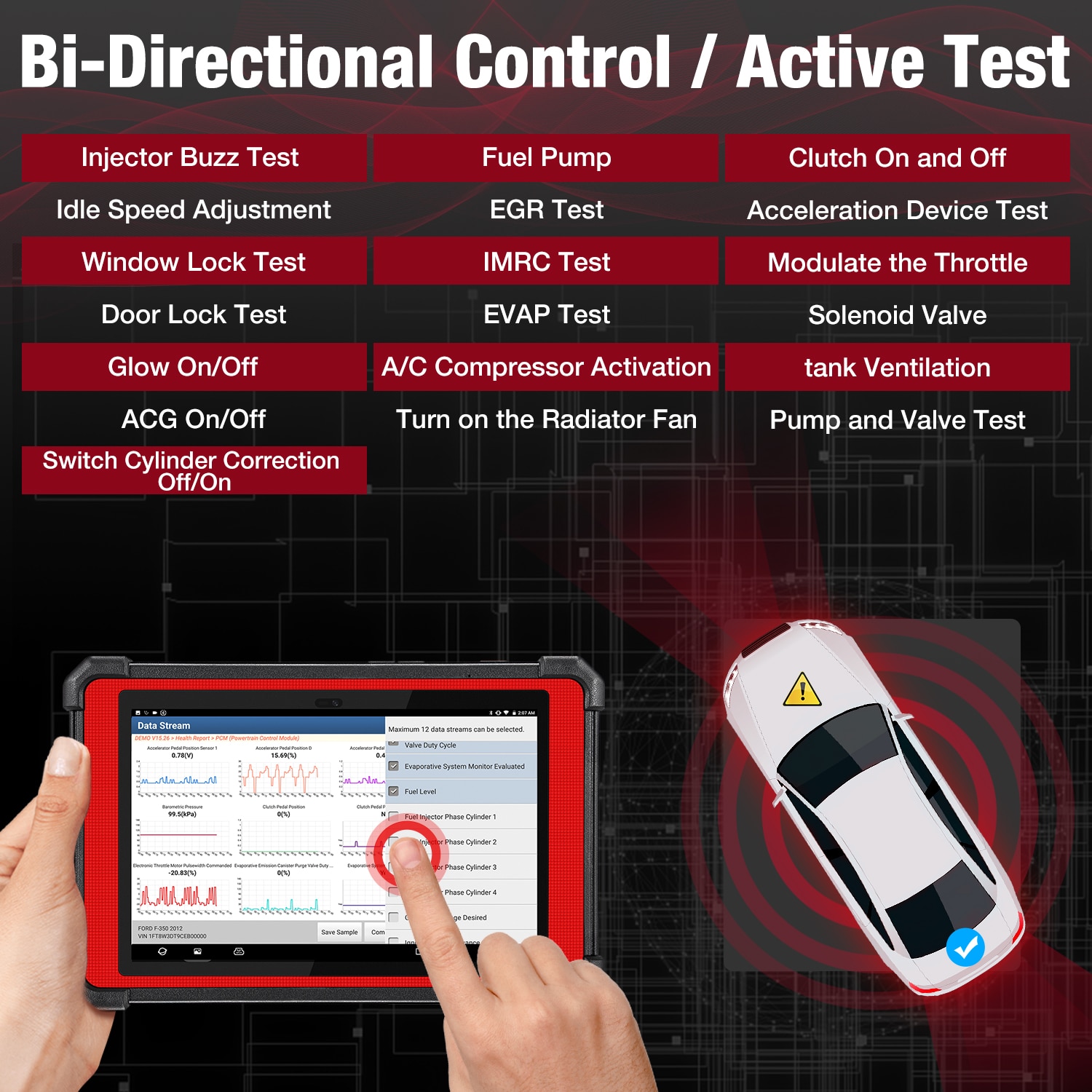 8.LAUNCH X431 PAD V can do OE-LEVEL Diagnose function
9.12-in-1 graphic data flow / print data / print diagnosis report / record historical data:
powerful data analysis function, not only
engine
system, but also
ABS
,
SRS
and gearbox. >>>Automatic generation of main system diagnosis report, for the car problem at a glance. >>>Replay the frozen frame and record the history of the car. >>>Print out the data you want
10.ADAS Calibration Function +
TPMS
Diagnostic Function
Advanced Driver Assistance System (ADAS) is an electronic component in a vehicle, including various safety functions of the vehicle, such as automatic emergency braking (AEB), lane departure warning (LDW),lane keeping assist, blind spot elimination, night vision camera and Adaptive lighting. The function on the equipment is disabled by default, and the user needs to activate the function with an activation card before using it. And this function needs to be matched with THINKCAR ADAS calibration tools. Mainly used to calibrate various camera and radar of driver assistance systems
11.Faster Speed , Best Hardware , supports works under the sun
X431 PAD V is with 5GHz Dual Frequency wifi, with 8-core Processor 2.0GHz CPU , so x431 pad v is more fast speed to operate ( update and programming ) . 4GB Memory with 64GB Storage (can up to 128GB) X431 PAD V is with 10.1 inch IPD Touch Sceen ,it can work under the sun( you can se the screen clear under the sun ), launch x431 other products can not work under the sun .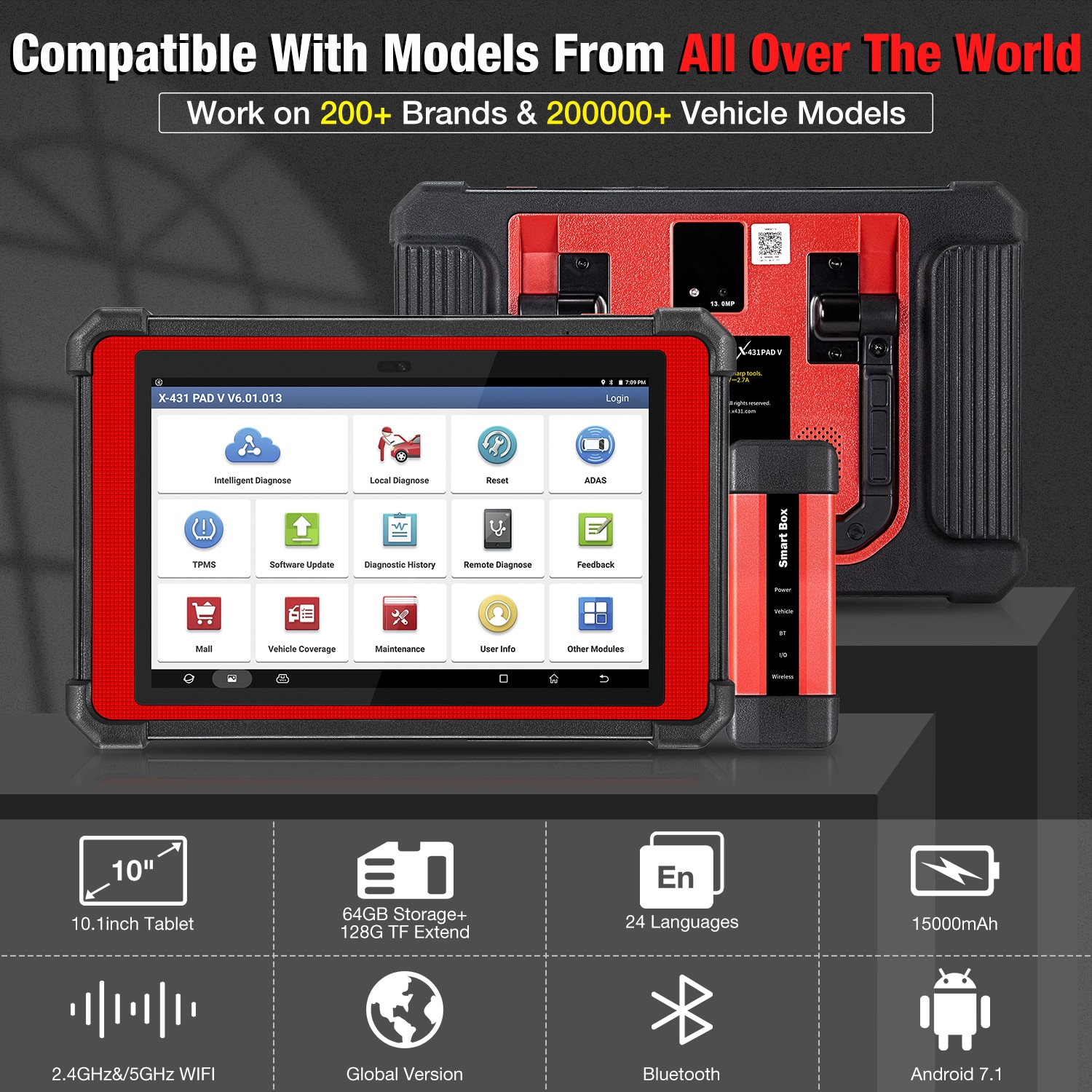 12.X431 PAD V Language :
English, French, Spanish, German, Russian, Korean, Japanese, Portuguese, Italian, Polish, Dutch, Hungarian, Finnish, Simplified, Czech, Turkish, Greek, Arabic, Danish Persian, Romanian, Serbian, Swedish, Chinese Traditional
30+ Reset functions list:
Oil Lamp,
Oil Reset
Service allows you to perform reset for a new calculation of Engine Oil Life system once changed the oil. EPB,Electronic Parking Brake Reset is important in the maintenance of electronic braking system's safety and efficiency. BMS,BAT,Batery Maintenance,Battery Reqister allows the scan tool to evaluate the battery charge state, monitor the close-circuit current, register the battery replacement, and activate the rest state of the vehicle. DPF,Diesel Particulate Filter egeneration specially works for Diesel Particulate Filter system with DPF regeneration, DPF component replacement teach-in and DPF teach-in after replacing the
engine
control unit. SAS,Steering Angle Calibration helps clear the fault steering angle sensor memories and plays an important role in the steering angle sensor calibration. TMPS,
Tire Pressure Monitor
System Reset makes sense in displaying sensor IDs from the vehicle's ECU, inputting
TPMS
sensor replacement IDs and testing sensors. Anti-theft&
IMMO
it is mainly used to disable the
lost
vehicle keys and program a new replacement key fob. ABS Bleeding
ABS
brake bleeding to get a firm brake pad after air exhaustion. Throttle,Electronic Throttle Position reset/learn The throttle body is a tube containing a pivoting flat valve (butterfly) that is used to control the amount ofair entering an
engine
. In an electronically fuel injected car, a throttle position sensor and air flow sensorcommunicate with the computer, which supplies the corresponding amount of fuel needed at the injectors. It must need re-learning throttle sensor position after clearing or repair Gear Learning Leaking injectors and some dead injectors can be missed even when an injector is disabled. Otherproblems with the ignition system and mechanical components also may not show an rpm loss when aninjector is turned off AFS Reset (Adaptive Front lighting System) It detects the light of the environment, then decides whether to automatically turn on the headlights or not. It can also adjust the headlights in time by monitoring the driving speed and body posture of the vehicle. SUS Reset When the body height sensor and control module in the air suspension system are replaced or the level of the car is wrong, this function needs to be performed to level the body height sensor. EGR Adaption Reduce nitrogen oxides (NOx) in the exhaust gas and improve fuel economy at partial load. more functions waiting for you to discover...
PHOTOS