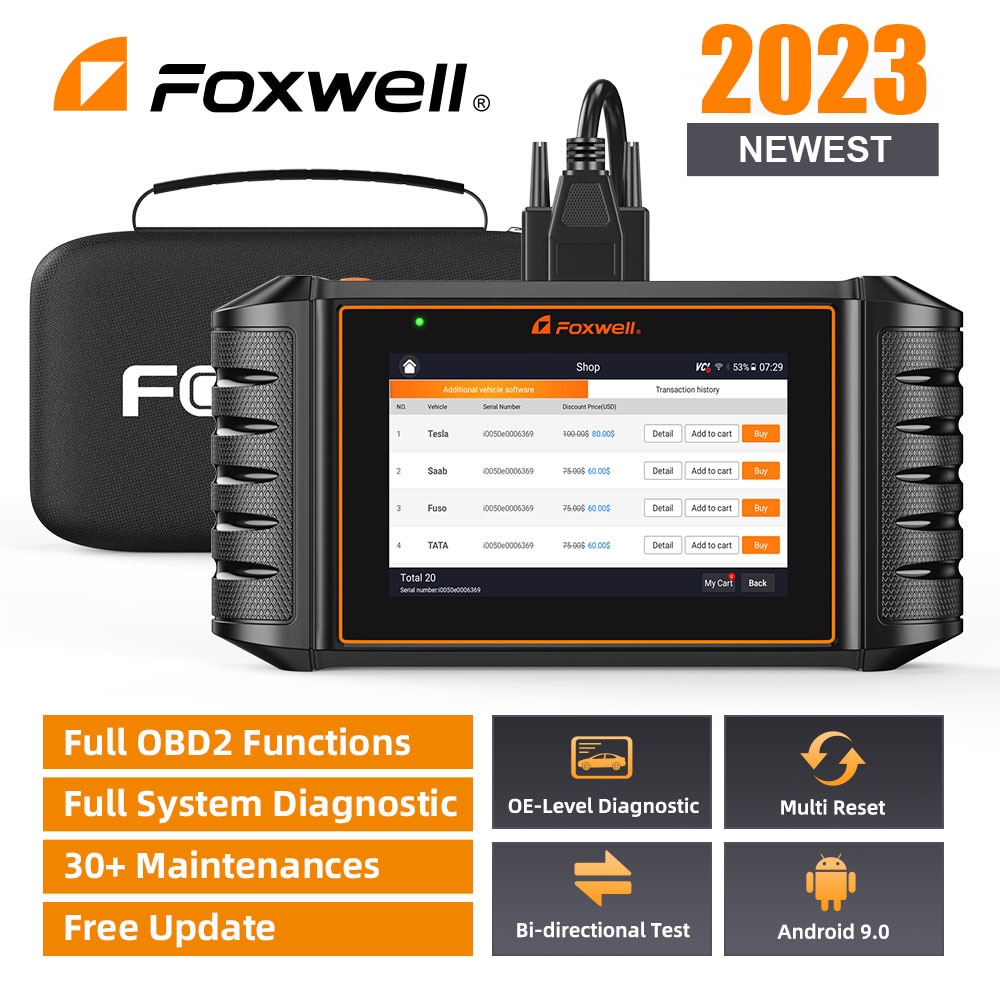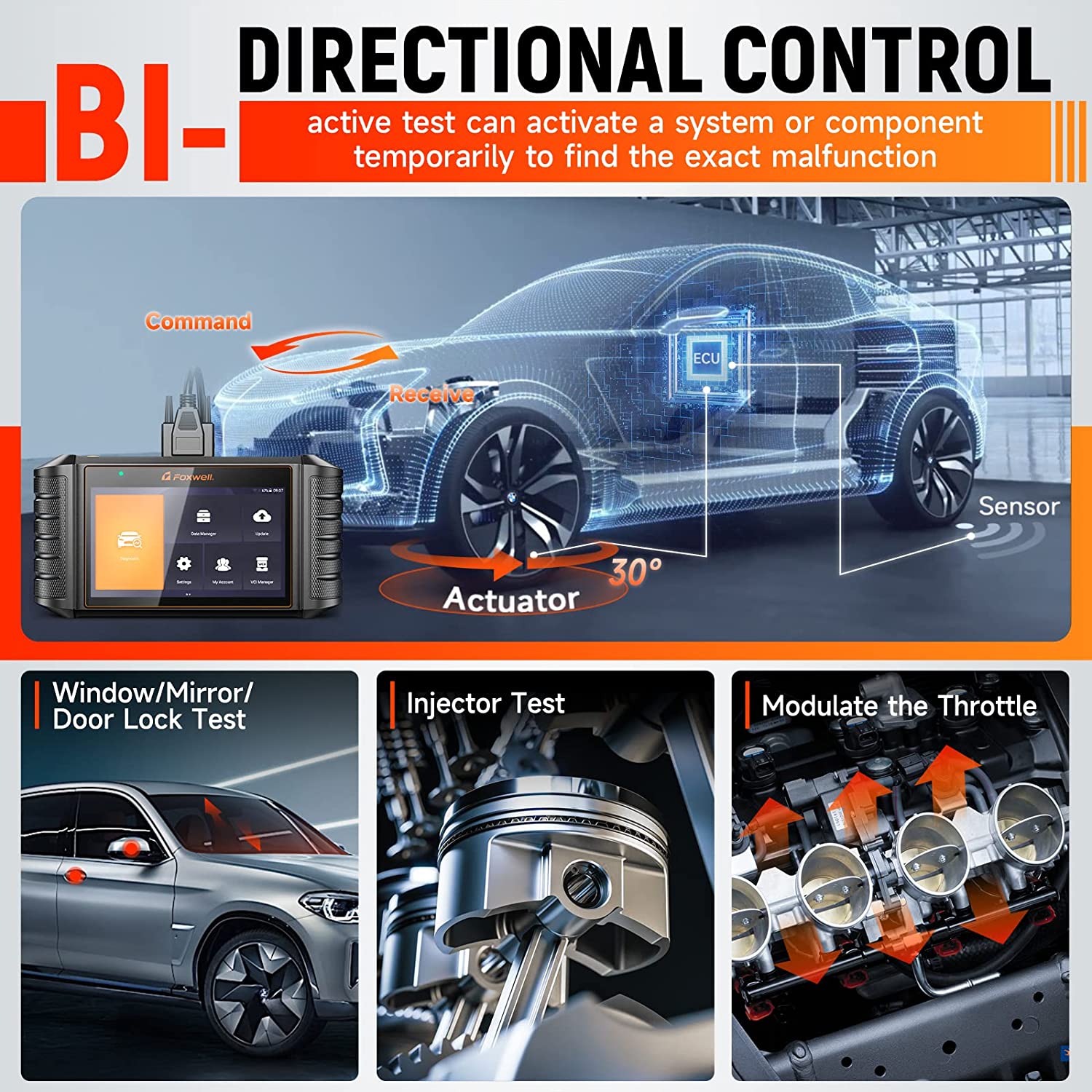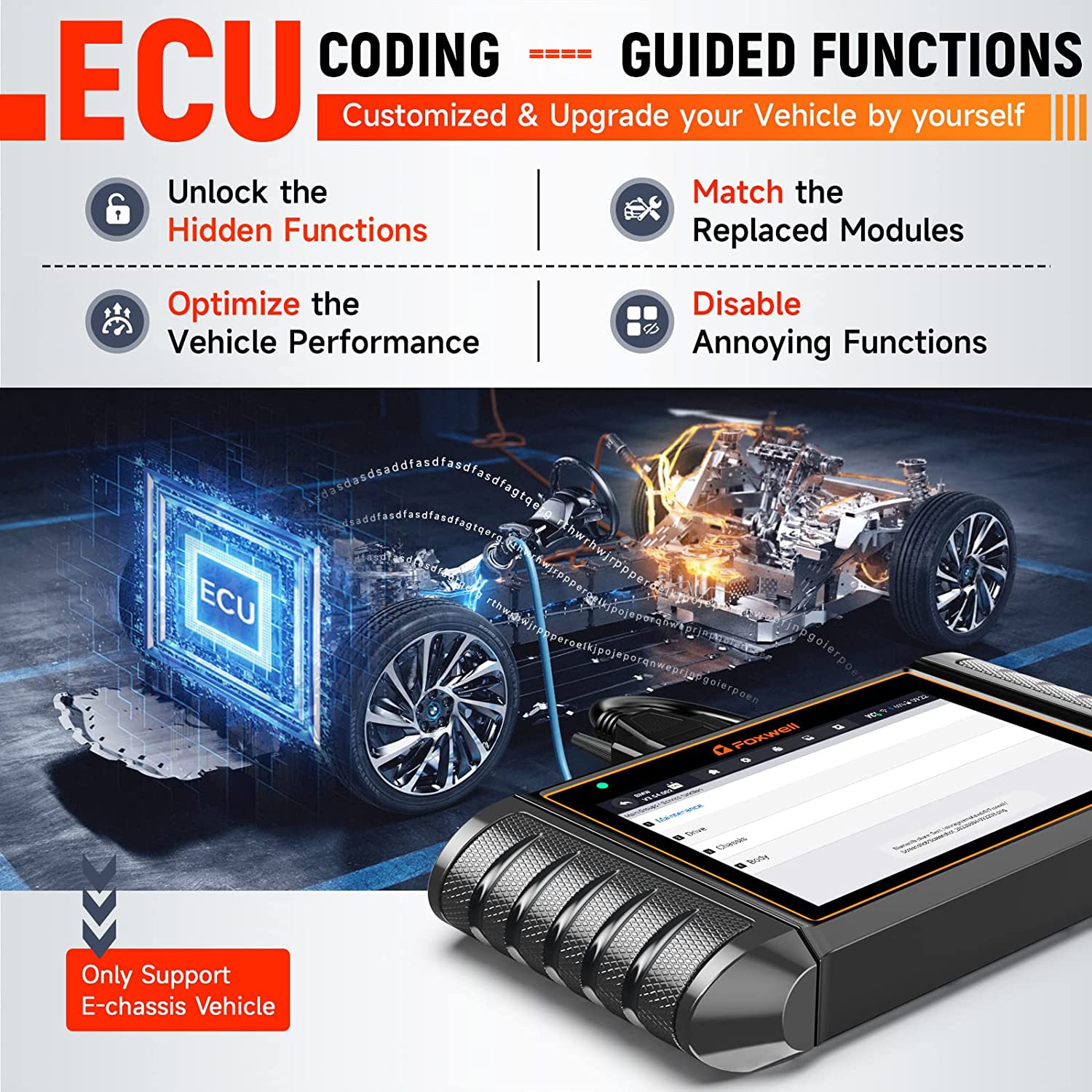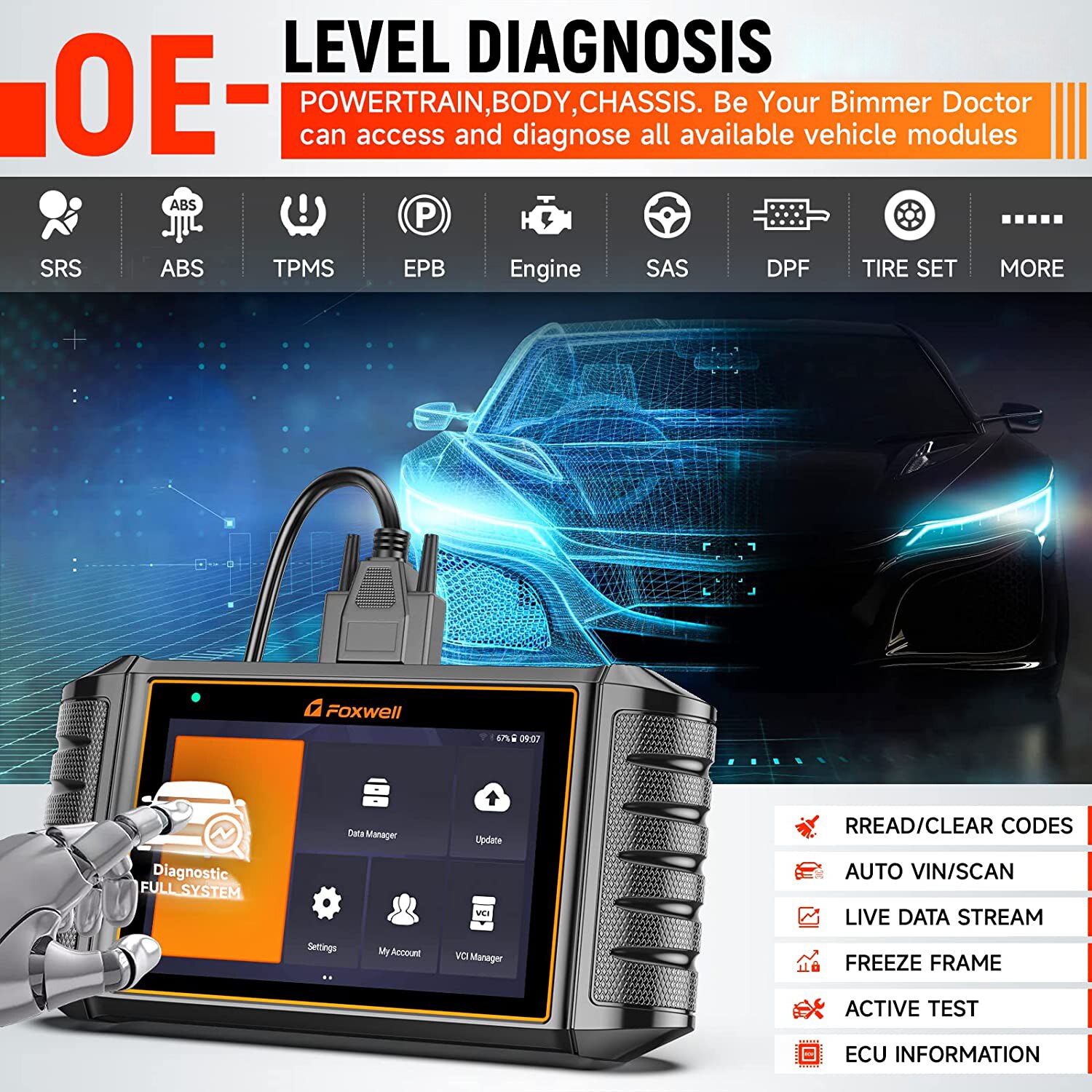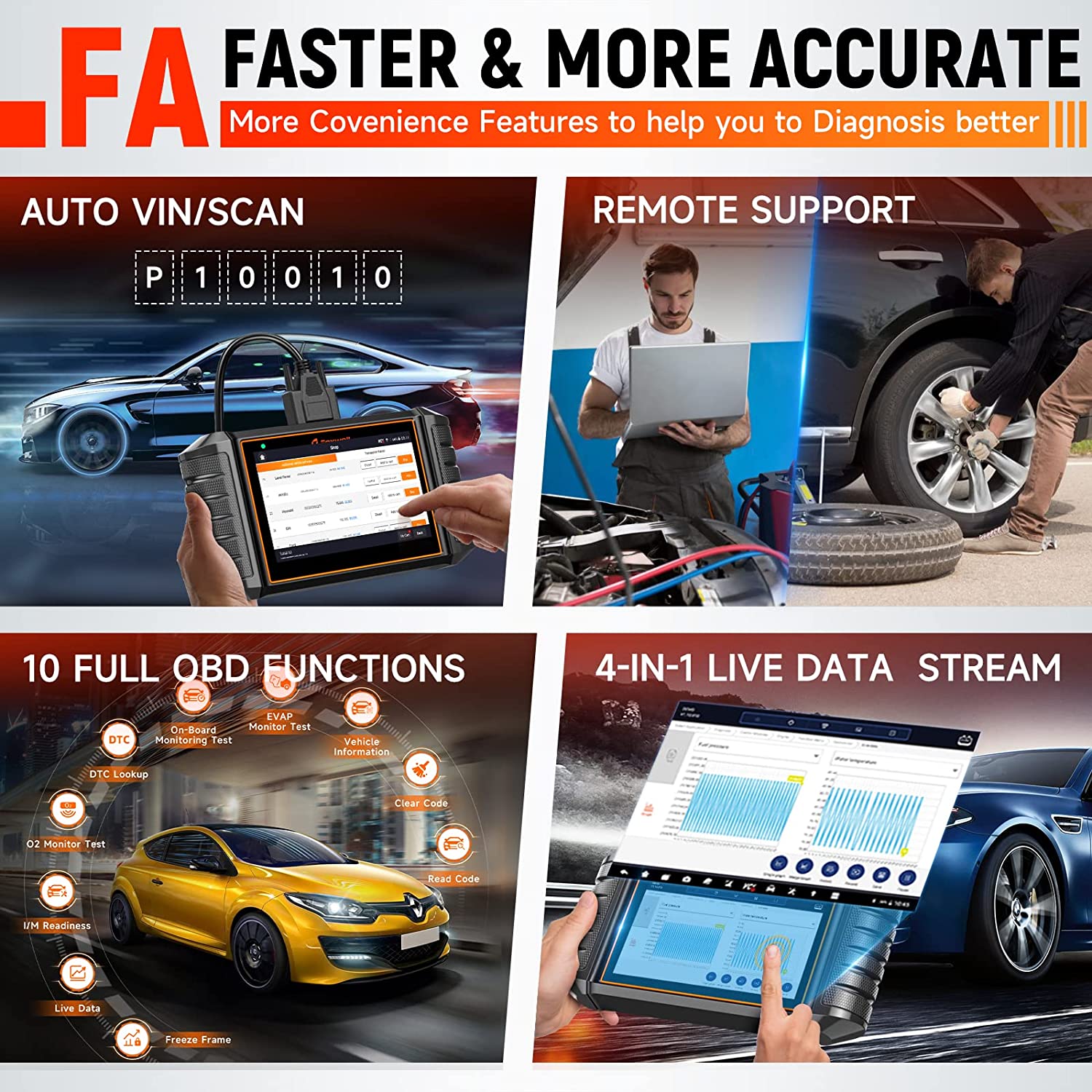 Foxwell NT710 Automotive OBD2 Code Reader Scanner All System Bidirectional Diagnostic Tool 30+ Reset OBD2 Scanner Free Update
Foxwell NT710 Automotive OBD2 Code Reader Scanner All System Bidirectional Diagnostic Tool 30+ Reset OBD2 Scanner Free Update
Shipping:

Express Shipping Service


Estimated delivery time:

3-15

working days.

See details ?

Returns:

Return for refund within 30 days, buyer pays return shipping.

Read details ?

Support: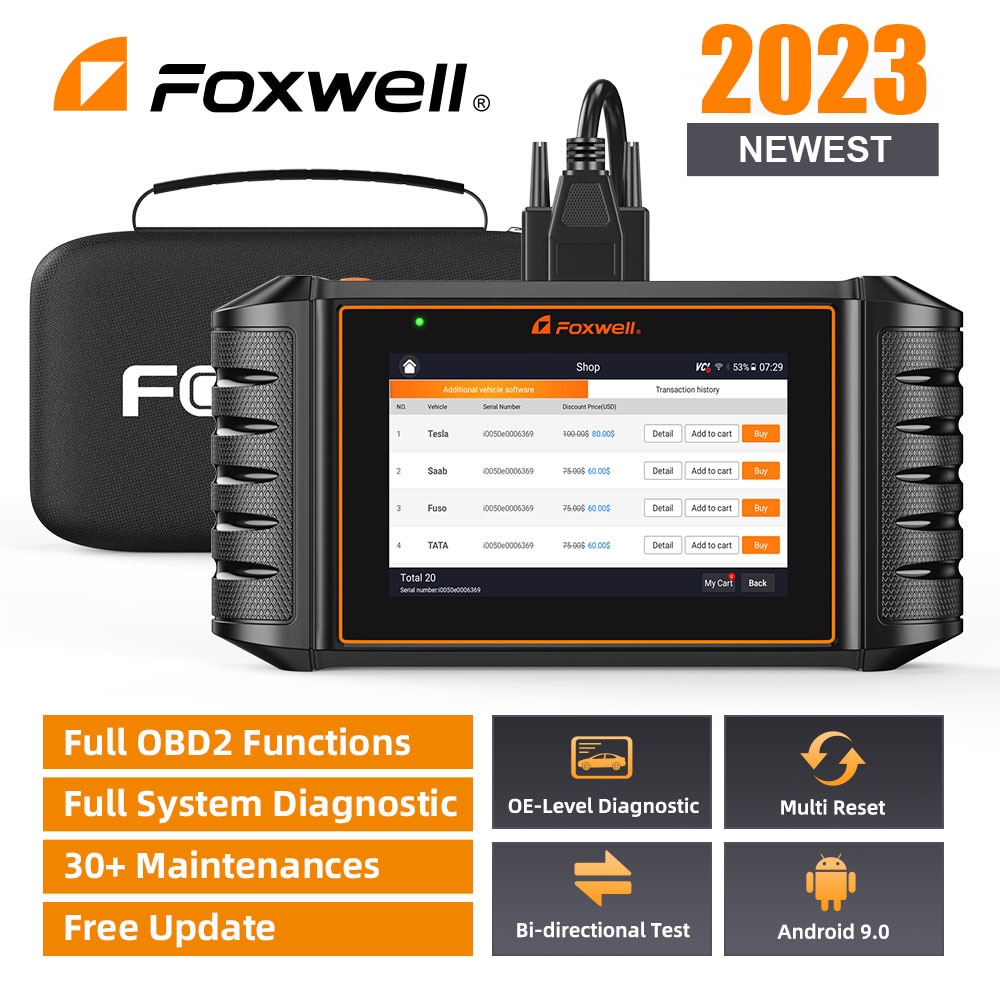 Product Details

Product's Reviews (0)
Foxwell NT710 Automotive OBD2 Code Reader Scanner All System Bidirectional Diagnostic Tool 30+ Reset OBD2 Scanner Free Update
NOTE: NT710 is one free brand with full functions, lifetime free update
This Foxwell NT710 automotive diagnostic instrument supports testing FREE ONE vehicle brand. If you want to add other car brand diagnostic software, you can purchase and download it from the device's built-in online store.when you receive it, first to change language setting, then choose the brand to download, if you make mistake, please contact me first!
FOXWELL NT710- Multi-System Tablet Scanner, Upgrade of NT510 Elite
NT710 is newly developed diagnostic scanner with 5.5 inch TFT touch screen and
Android
9.0 operating system that delivers OE-level diagnosis for different car brands and supports the most commonly required service and coding features. Through hardware and software upgrades, technical staff and enthusiasts can now approach problems with greater speed and accuracy.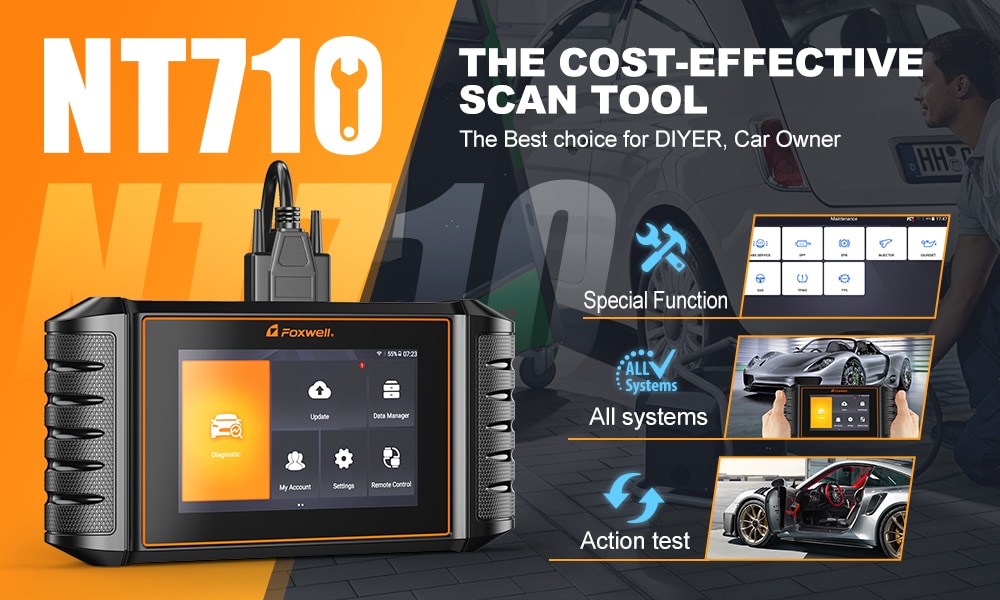 Foxwell NT710 Professional Diagnostic Scanner
1.Diagnostics for all systems. The Foxwell NT710 lets you scan all the available systems for problems. From the
engine
and transmission to the
ABS
,
SRS
, EPS, wheels and every other on-board system.
2.Full OBD2 Check,the Foxwell NT710 Elite will display and clear generic codes in all the available systems. Just as important, it allows you to view freeze frame data so that you know when a code was registered. And you can also pull live sensor data to check the health and performance of various components.
3.Many reset functions. First of all, you can use the Foxwell NT710 to reset (turn off) the Check
engine
Light. The same goes for all other warning lights. In addition to that, it supports oil reset, EPB reset, SAS reset, battery reset, DPF reset, TPS reset,
ABS
bleeding etc.
4.Bi-directional controls. You can initiate bidirectional control tests with the Foxwell NT710 . It will command the component to perform as if the command was from the
PCM
. For example, you can fold mirrors, roll windows, open/close doors, activate/deactivate brakes using this scanner.
5.Active tests and adaptations. While you won't actually be able to do coding and programming, you can perform active tests and relearn new components. That means you can use the tool to replace components like battery and sensors and to relearn steering angle position, throttle position etc.
6.Multilingual: support 13 kinds of language, Korea, Spanish, Portuguese, French,Swedish, English, Dutch, Japanese, Italian, German,Russian, Hungarian, Greek
7.Lifetime Free update: Online free upgrade to obtain the latest bug fixes, new vehicles, newly added parameters and functionality at your fingertips, and two-year warranty is offered. if you have any problem, you can contact me, i will help you solve.
8. NT710 is 5.5inch Anroid tablet, it makes diagnostic more convenience. and upgrade via WiFi, get rid of the USB cable and card reader, no troubles.
9. Support Check Diagnostic Coverage List online
NOTE: Foxwell NT710 come with one free software(not one vin), if you need other software, please contact me. or buy one foxwell official website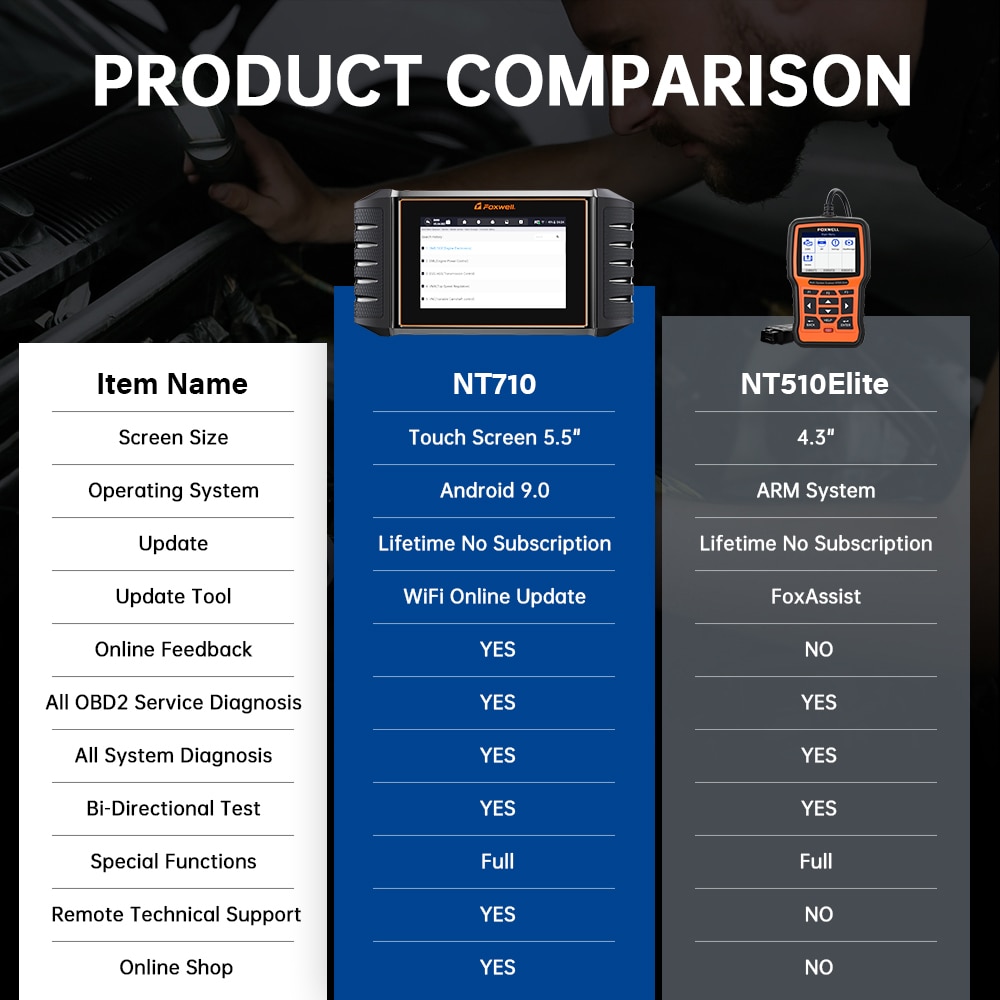 What Upgrade We Did on NT710 Compare with NT510 Elite?
1. NT710 is 5.5inch Anroid tablet, it makes diagnostic more convenience. and upgrade via WiFi, get rid of the USB cable and card reader, no troubles.
2. Support Check Diagnostic Coverage List online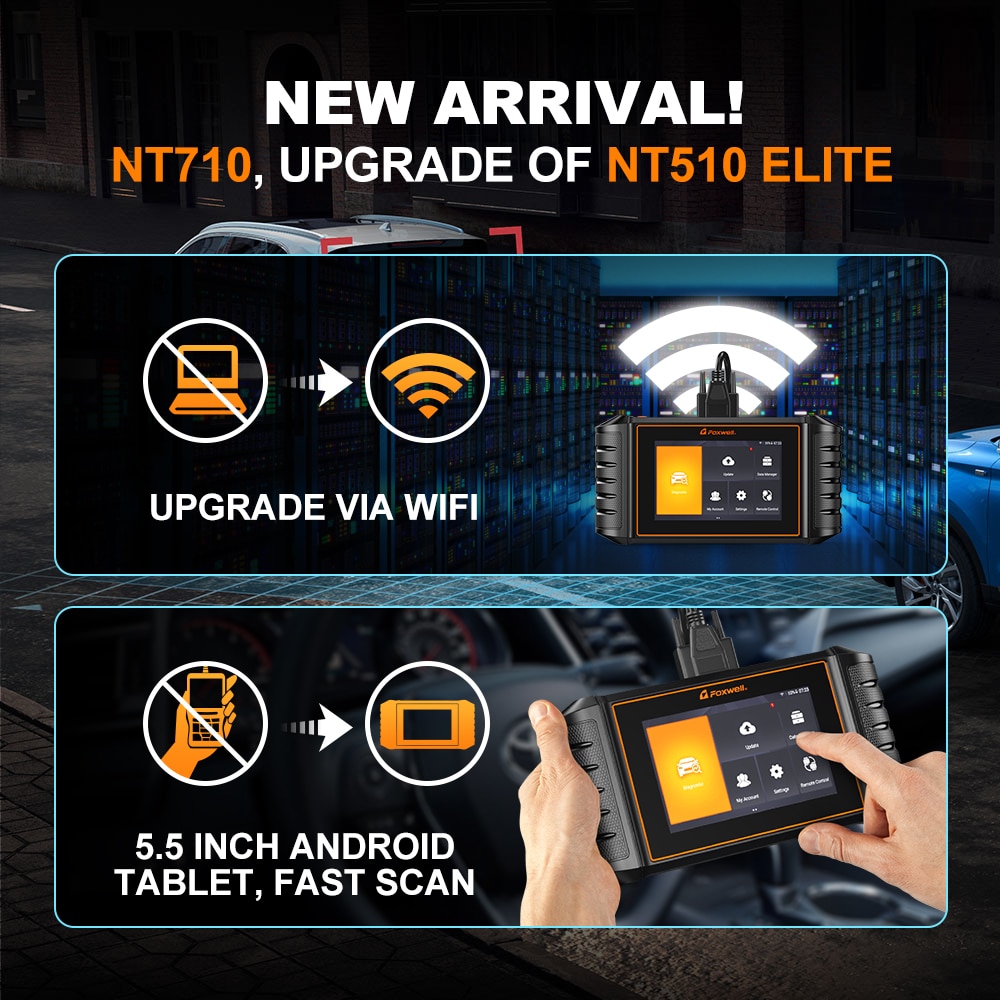 POWERFUL ALL-SYSTEM FEATURES
NT710 auto diagnostic tool supports Body, Chassis, Powertrain check as follows:
●Version Information - read information of system mode, VIN, software and ECU.
●Read Fault Code - display detailed DTC information to find out the trouble components.
●Clear Fault Memory - erase the codes from the vehicle and turn off indicator light.
●Graphical Data Stream - retrieve and display live data and parameters from the vehicle's ECU
Body Main Parts: Air Conditioning/ Supplemental Inflatable Restraint System(
SRS
/ Airbag)/
Seat
s / Doors / Gateway/ Windows control module/ Navigation System/
Audi
o Systems/ Central Locking......
Power-train:
engine
system/ Exhaust system/ Fuel supply system/ Transmission system/ Four-Wheel Drive(4WD)......
Chassis: Airmatic Suspension/ Anti-lock Brake System (
ABS
)/ Steering Angle Sensor (SAS)/ Electronic Parking Brake (EPB)/ Steering Angle systems/ Electric Power Steering(EPS)......
Electronics Includes:
Audi
o device/ Ignition system/ Lighting/ Sensors/ Electrical switches .......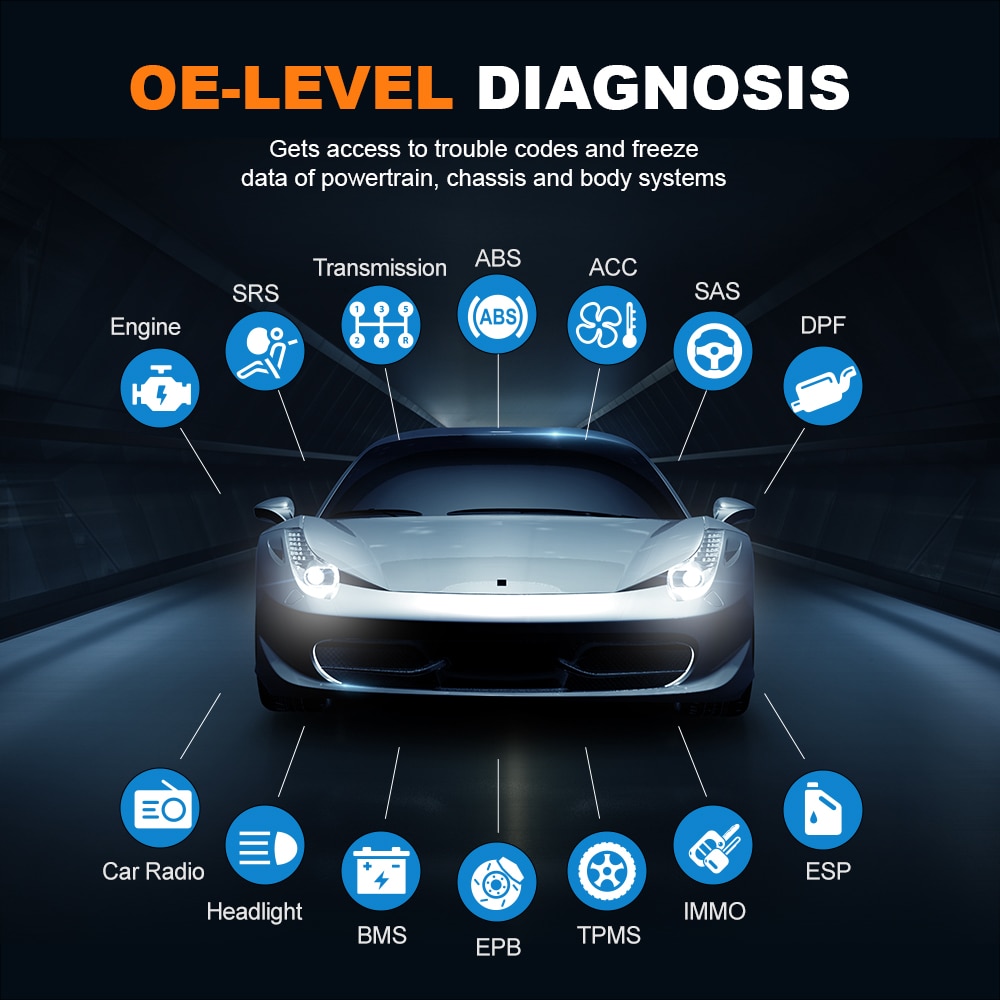 Full System Bi-directional Scan Tool/ Active Test
Allows you to use the scan tool temporarily activate or control a vehicle system or component and to check of the electronic components such as switches, sensors, relays, and actuators.

●Auto Bleed Test/ Automated Bleed
●ABS Pump Motor Test
●Fuel Injector Pump/ Fuel Trim Reset
●Window/Mirror/ Door Lock/ Horn
●Cycle A/C Clutch On/Off
●Air Conditioning Test
●Wiper Test
●Interior & exterior lights Test
●Sound horn Test
●Brake Bleed Preparation Test + ABS Manual Control Tests + Fuel
●Composition Reset + EVAP Test + Idle Relearn + Injector Buzz Test + Pump and Value Tests + VGT Turbo Calibration......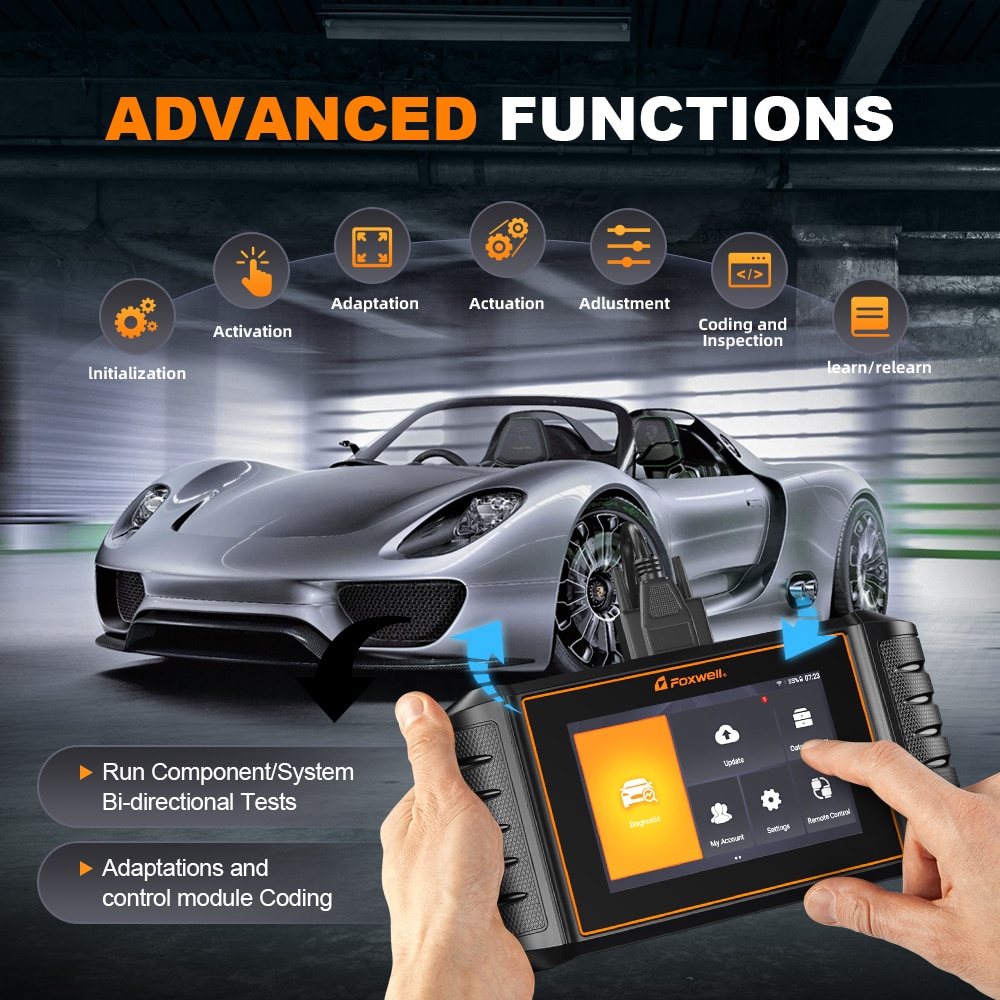 30+ Special Functions (ALL FREE, NEEDN'T EXTRA FEE):
1. Oil Light Reset - Allows you to reset the service lamps for a new calculation of engine oil life system once changed the oil. The service indicator system is designed to alert the driver when the vehicle is due for a service.
2. ABS Bleeding - Air will get inside the brake system after replace components such as calipers, wheel cylinders. The air has to be removed by bleeding the brakes to keep a firm brake pedal. Note: This function only support the vehicles that can do AUTO bleeding.
3. Battery Matching - Lets you to have new battery validated after replacement, clear faults from the dashboard and display current battery details of the vehicle.
4. D-P-F Regeneration - Only for diesel 12V vehicle. lets you perform the forced regen cleaning to clear the blockage through continuous burning of the particulates captured in the D-P-F filter. When a regeneration cycle is completed, the D-P-F light automatically goes off.
5. SAS Match - Perform calibration of the Steering Angle Sensor to keep the car running straight. On successful calibration of the sensor, its fault memory is automatically cleared.
6. Injector Coding - Write the new injector code into the car system for correct cylinder injection quantity. -For gasoline or diesel 12V vehicle.
7. EPB Reset - Help replace and reset the brake pad. This function is required for maintenance of electronic braking system's safety and efficiency.
8. TPS - When the motion range is not known, the ECU simply has no idea where to set the throttle. The ECU must know the full range of motion of the throttle in order for it to properly control the engine. Using the throttle position sensors in the throttle body, the ECU learns the full open and full closed positions through various states (idle, part throttle, WOT) known as a Throttle Body Alignment (TBA).
9. Replace Airbag ECU Module- Note: It will not support the airbag crash data cleaning. Helps to match the new airbag information with the ECU and let it know the fault has been repaired.
10. A/F Reset - This is utility allows for the learnt Air Fuel Ration (AFR) to be re-initialized.The Air/Fuel ratio (A/F) is the mixture ratio or percentage of air and furl dilivered to the engine by the fuel system, A/F adaptation to meet the ideal air-fuel ratio of different fuel ensure engine best performance.
Else: Seat Match/ Language Change/
TPMS
Reset/ E-G-R Adaption/ Headlamp Reset/ Cluster/ Clutch Adaptation/ CVT/ EVAP Test/ Gear Learn/ ODS & OPDS/ Oxygen Sensor Test/ Prime Fuel Pump/ TCM Oil/ Transmission Adaptation/ T-U-R-B-O/ Windows-door etc..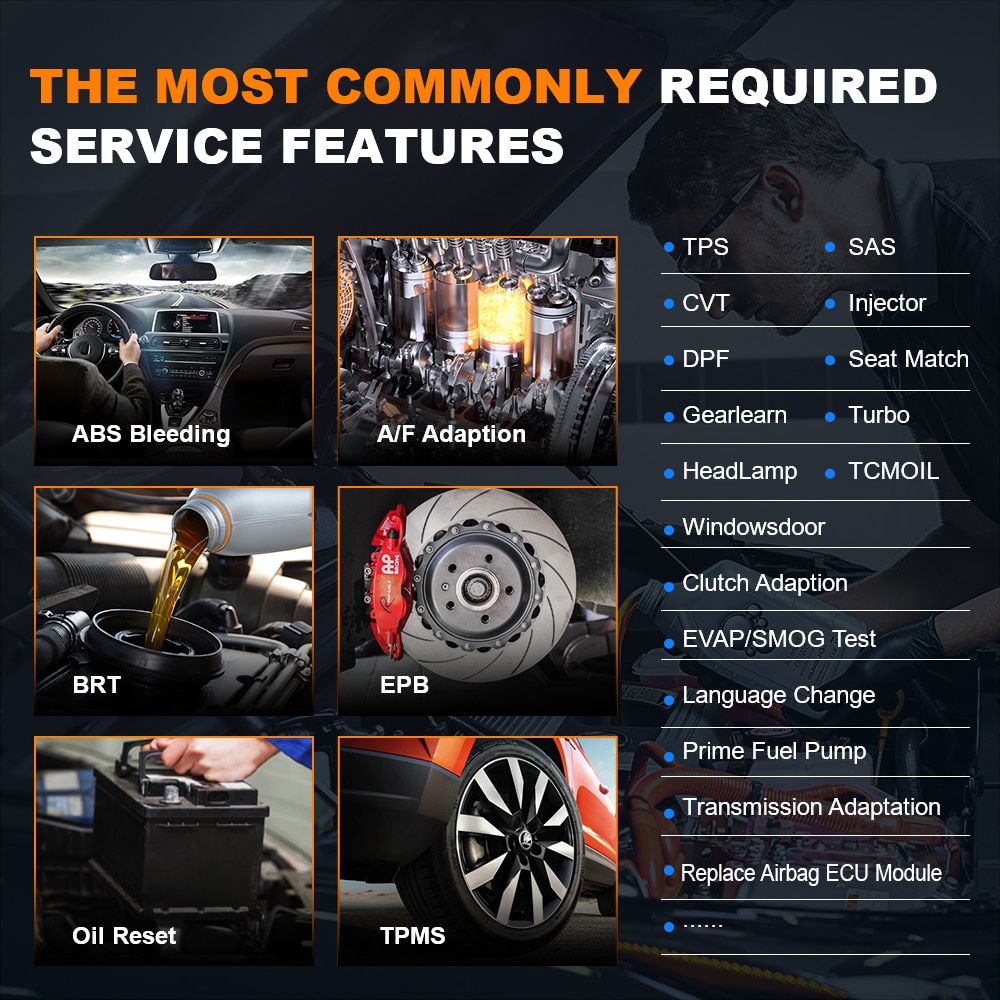 Supports Full 10 OBD test modes
The diagnostic scanner featuring the complete 10 functions of
OBDII
test with Live PCM Data Stream in graphics formats, Read/Clear DTCs and do smog tests, I/M readiness and O2 sensor tests, read freeze frame data, EVAP system test, retrieves vehicle info, Malfunction Indicator Light (MIL), Real time battery voltage and more.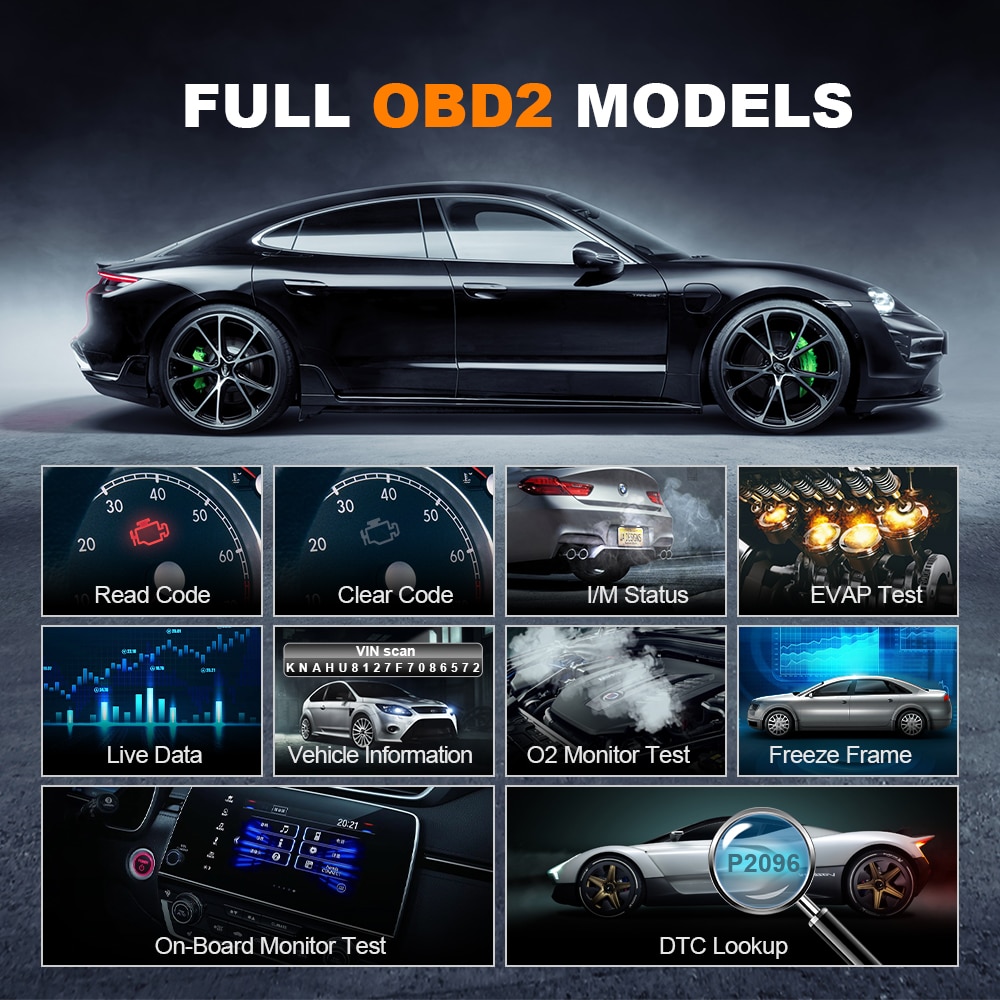 Convenient OBD2 Scanners
Live Data in Text and Graph Formats
Record and Playback your data-logs
Auto Vin Reading, Fast San
One Touch Update Via WiFi
Lifetime Free Technical Support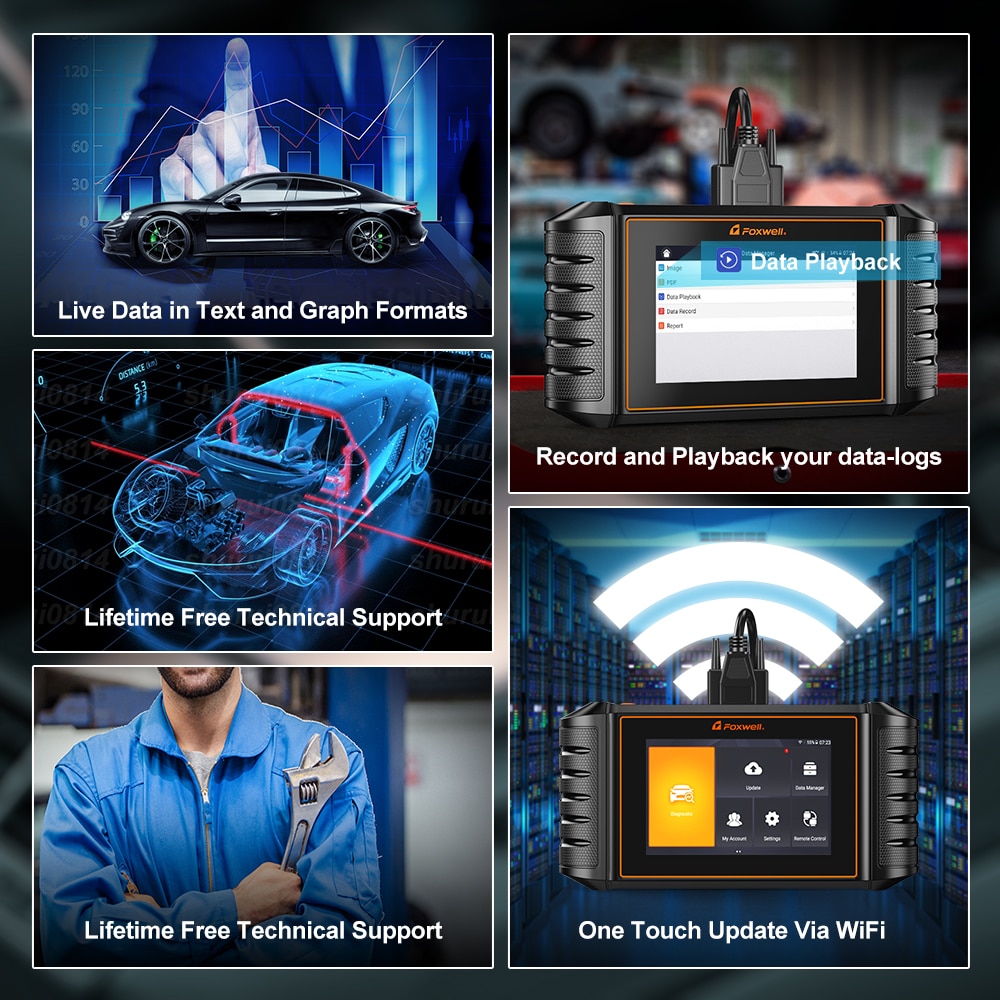 Supports Multi-language
Korea, Spanish, Portuguese, French,Swedish, English, Dutch, Japanese, Italian, German,Russian, Hungarian, Greek
Note: English&Spanish is default language, if you need other language, please contact seller.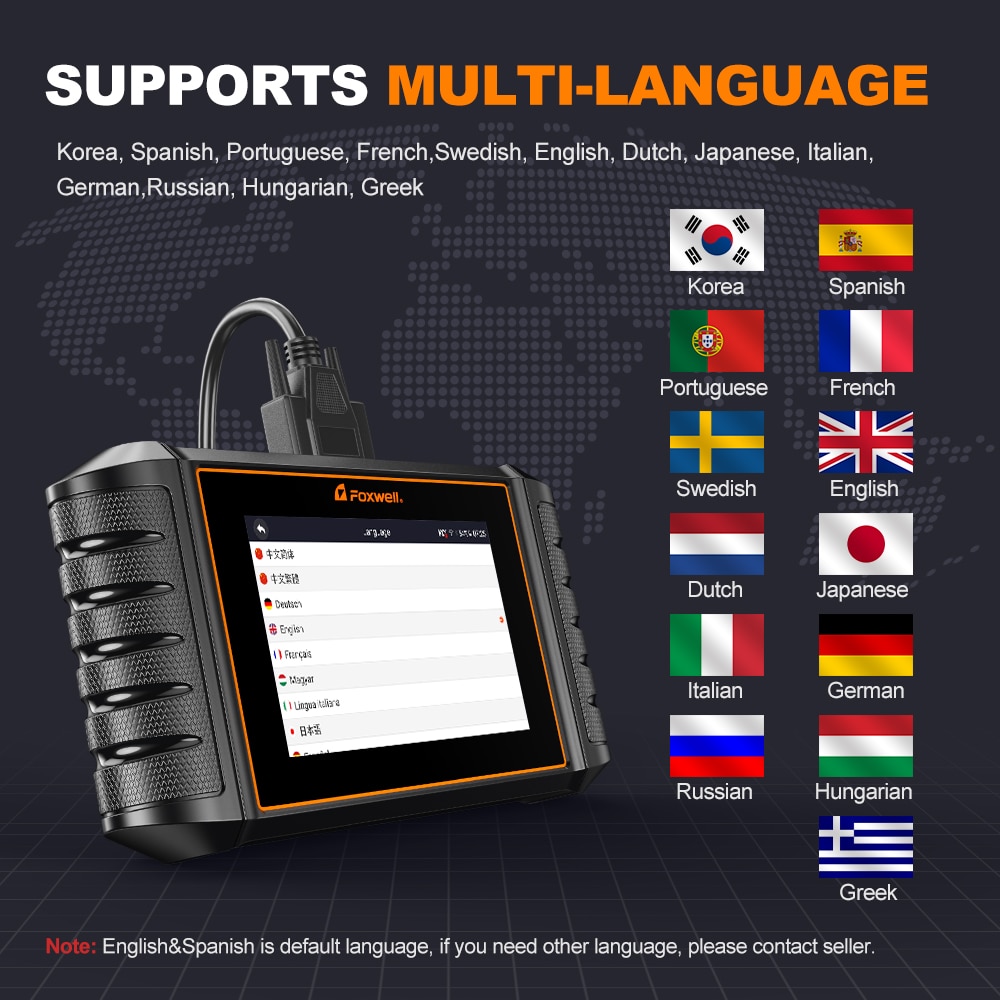 Best Choice for Car Owner, You Can Choose One Free Brand for Lifetime Free Use
33 Brands for Choice, Lower Cost Get Full Functions. when you click "diagnostic" menu, you can to choose your brand to download first
1. for BMW ( for
BMW
, for MINI, for Roll-royce)
2. for Chrysler ( for
Chrysler
, for Jeep, for Dodge)
3. for Ford
4. for
GM
5. for Honda ( for
Honda
, for
Acura
)
6. for
Mazda
7. for
Nissan
8. for Toyota ( for Toyota, for Lexus, for Scion)
9. For VW ( for VW, for
VW
_CV, for
Audi
, for Bently, for Bugatti, for Lanborghini, for Seat, for
Skoda
)
10. for Volvo
11. for Tesla
12. for Aston Martin
13. for Benz ( for
Benz
, for Maybach, for Smart, for Sprinter)
14. for Ferrari
15. for Fiat ( for Abrth, for Alfa, for Romeo, for Fiat, for Lancia)
16. for Hyundai ( for
Hyundai
, for
Kia
)
17. Land Rover (for
Land Rover
, for
Jaguar
)
18. for Maserati
19. for
Mitsubishi
20. for Opel
21. for Porsche
22. for Renault (for Renault , for Dacia, for Samsung)
23. for PAS (for
Peugeot
, for
Citroen
)
24. for Isuzu
25. for Suzuki
26. for Subaru
27. for Darwoo
28. for Daihatsu
29. for Proton (for Proton, for Perdua)
30. for Ssangyong
31. for TATA
32. for Fuso
33. for Saab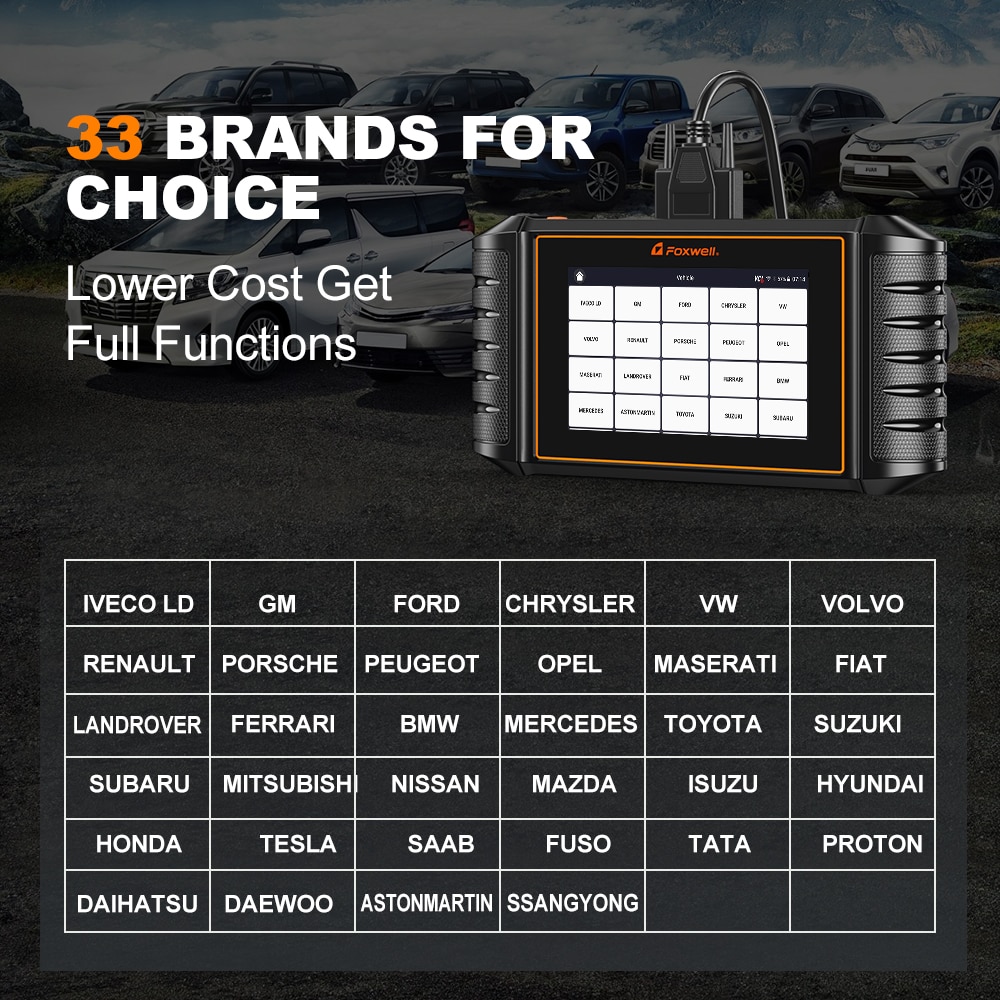 Can I add More Brands? Of Course, You Can Do That!
Upgradable to cover more car makes at unbeatable value! lifetime free!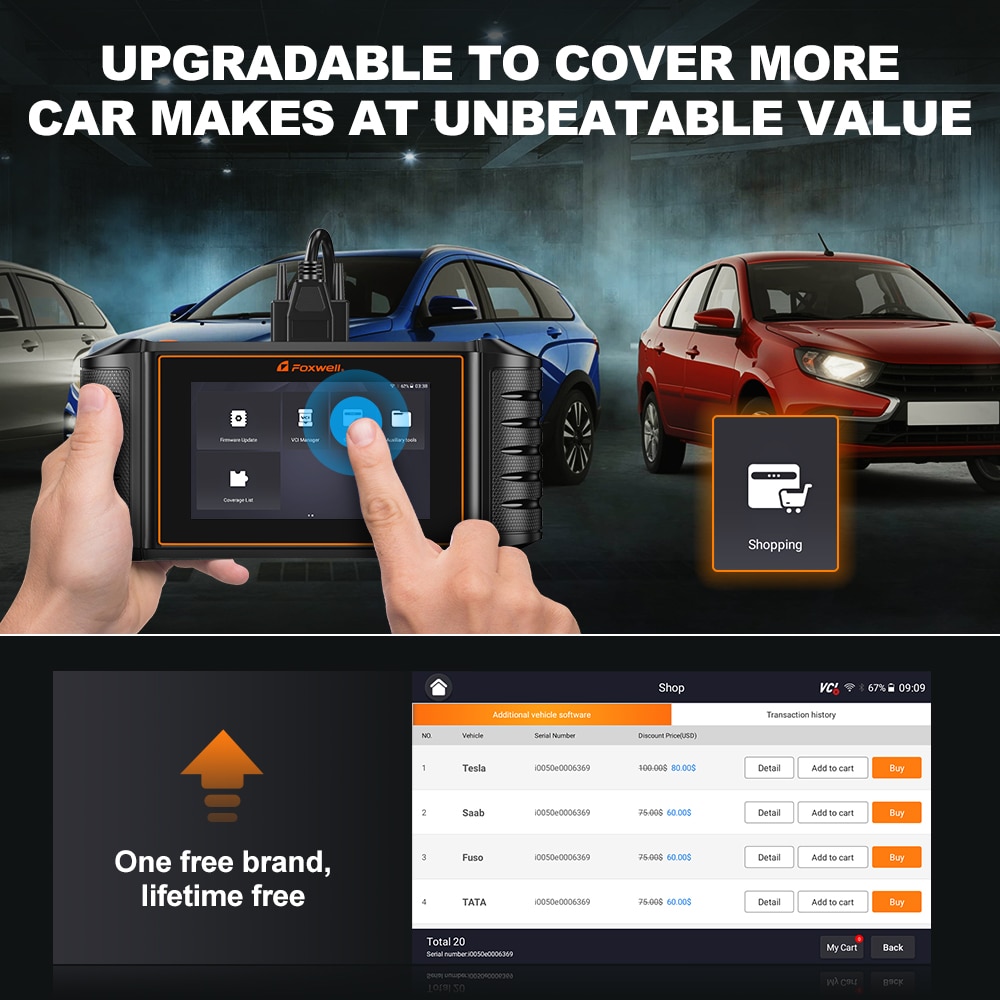 Foxwell NT710 Diagnostic Coverage List
You can confirm the functions before download software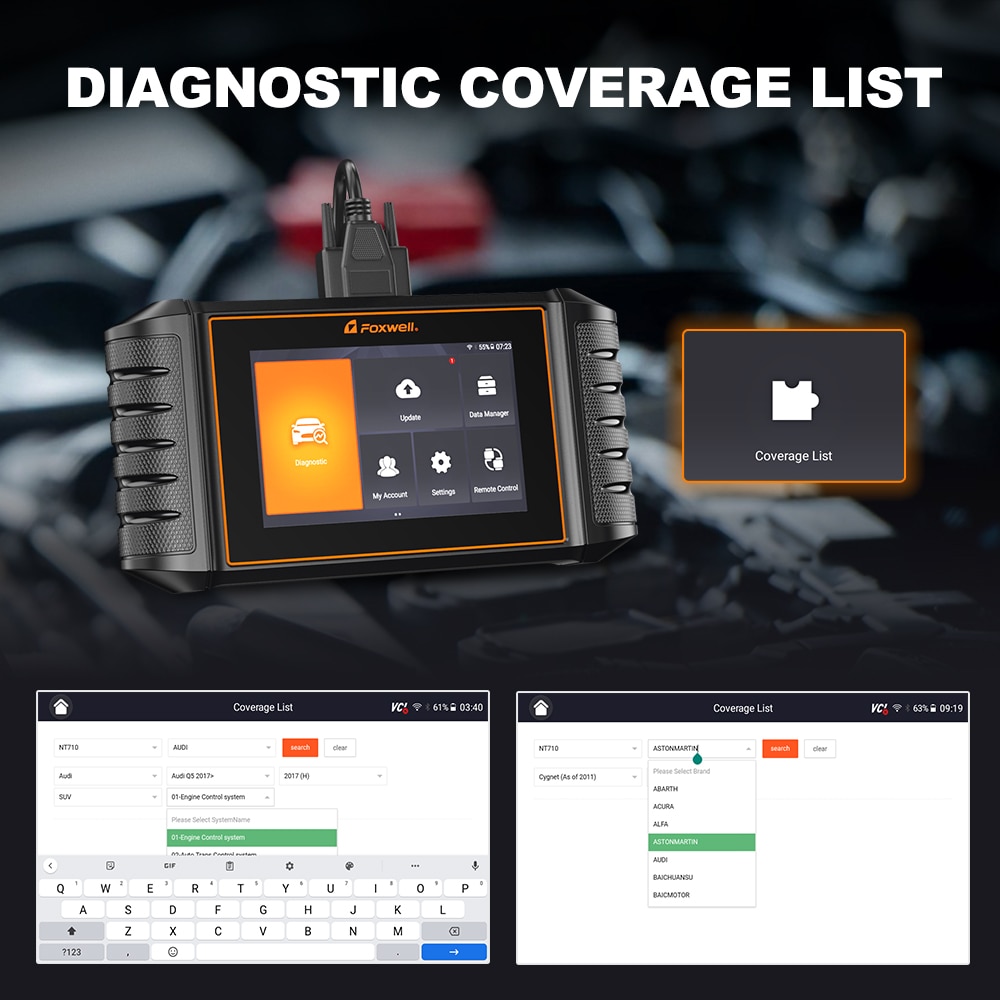 Foxwell NT710 Package list
NT710 main unit
Diagnostic Cable
USB TYPE C Cable
Quick Start Guide
User's Manual