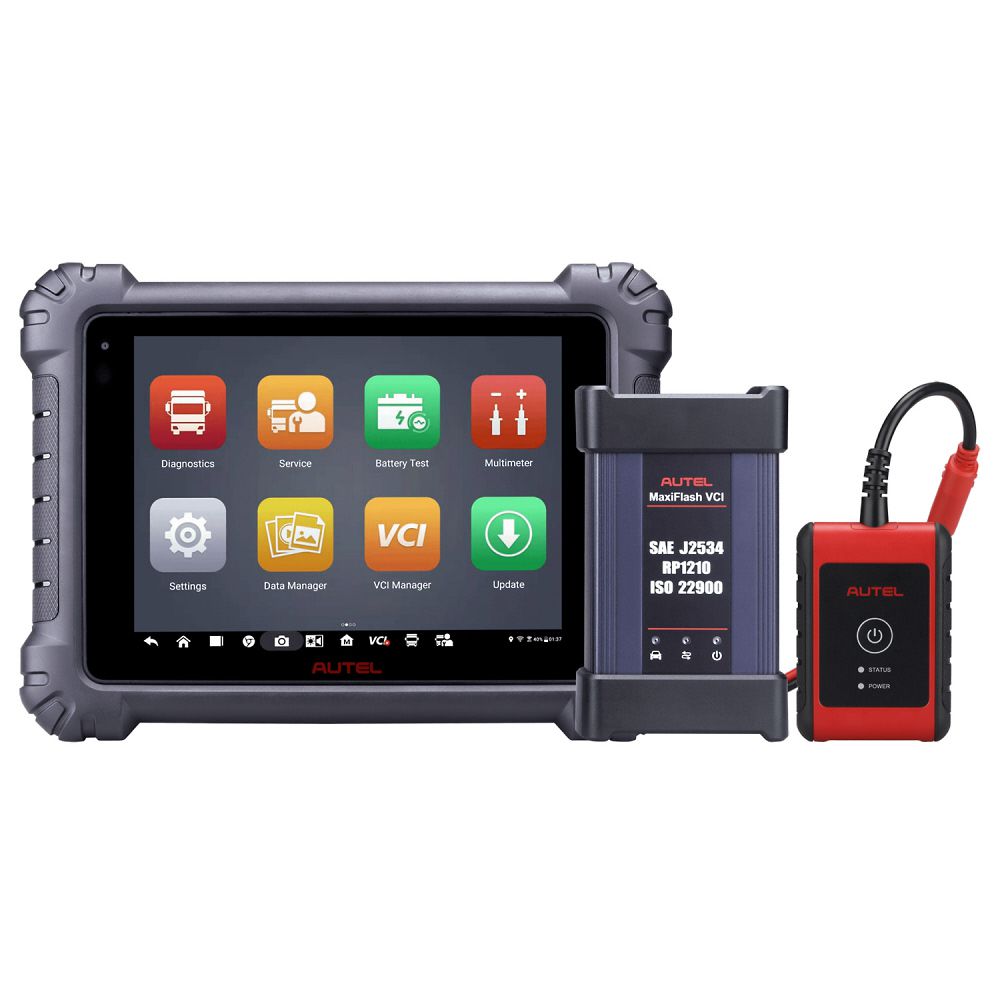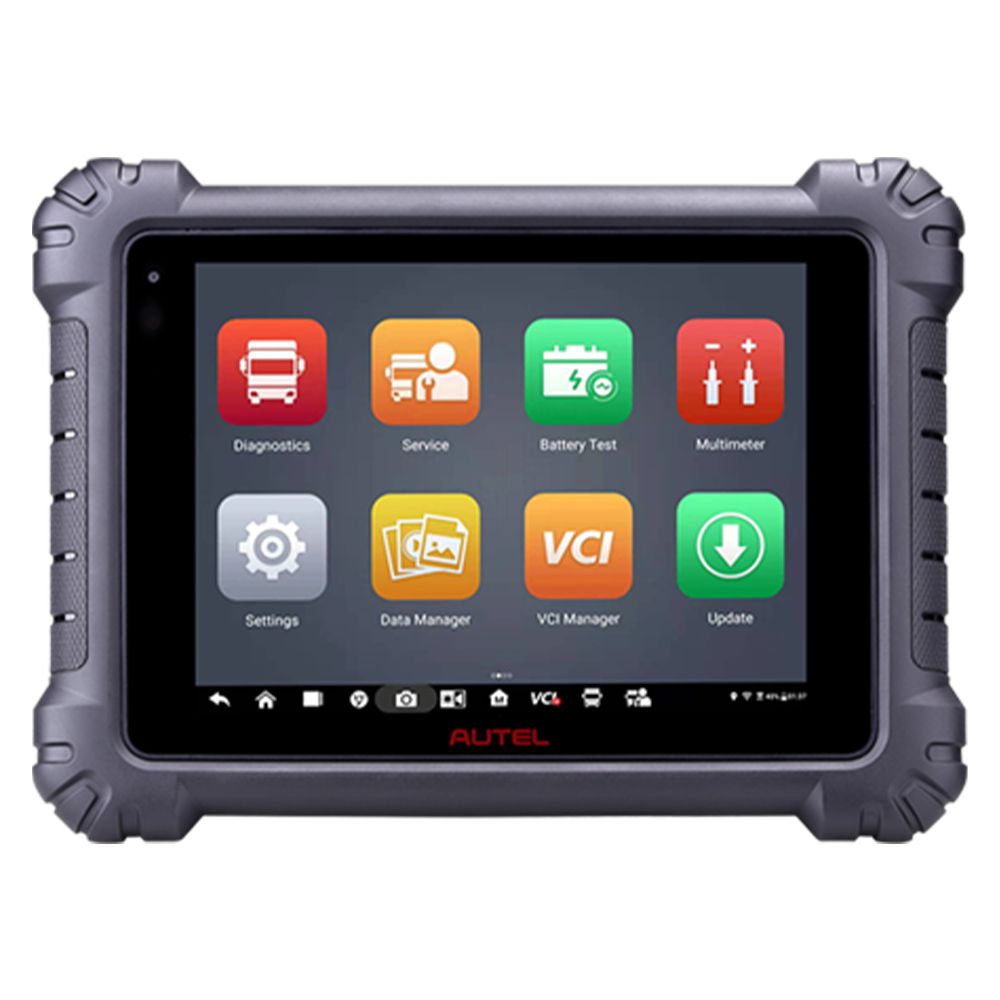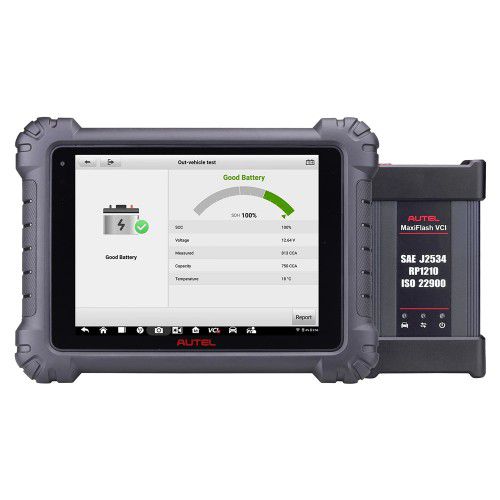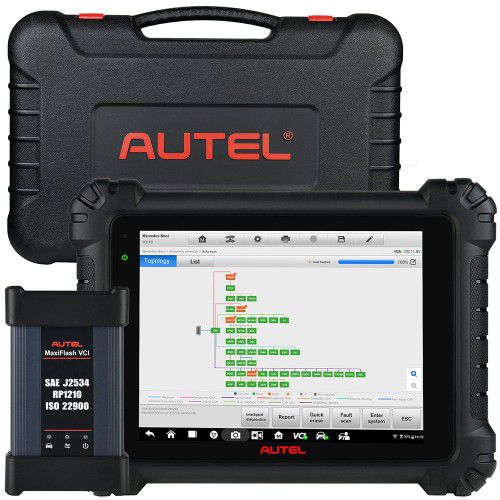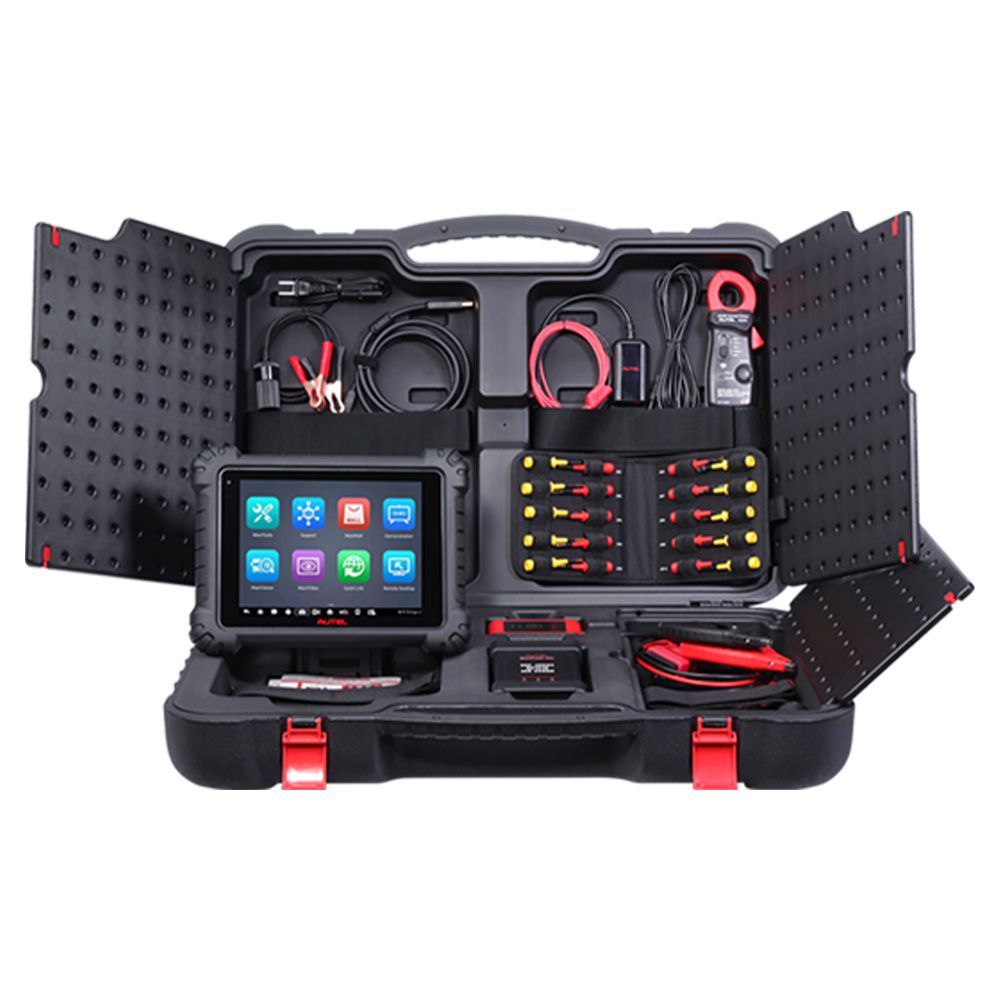 Autel Maxisys MS909CV Heavy Duty Bi-Directional Diagnostic Scanner With Bluetooth J2534 VCI
The MaxiSys MS909CV provides the full functionality and online repair information you need when diagnosing vehicles,identifying faults and researching repair issues. It features a powerful Octa-Core processor and 9.7-inch TFT-LCD capacitive touchscreen for swift diagnosis and optimum viewing. As an intelligent diagnostics and information system, MaxiSys MS909CV not only displays the relevant repair fixes and cases gathered from experienced industry experts, but provides step-by-step guidance to ensure the repair is done correctly and efficiently.
Shipping:

Express Shipping Service


Estimated delivery time:

3-15

working days.

See details ?

Returns:

Return for refund within 30 days, buyer pays return shipping.

Read details ?

Support: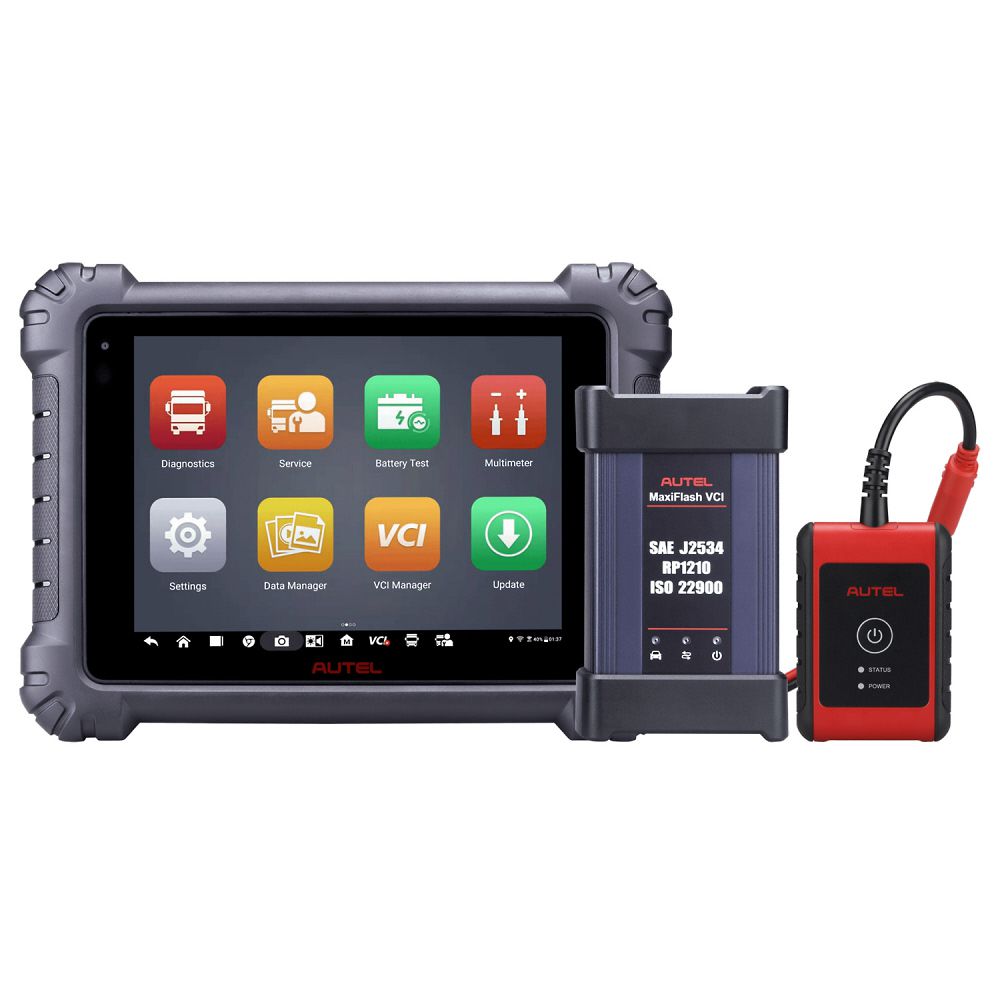 Related Accessories/Similar Items
Product Details

Product's Reviews (17)
Autel AULMS909CV MAXISYS MS909CV 3-in-1 Commercial Vehicle Diagnostics Tablet for HD and Commercial Vehicles
Autel
MaxiSYS MS909CV is an advanced commercial vehicle diagnostic tool that is compatible with more than 80 models of light, medium and heavy duty vehicles. The 9.7-inch wireless
Android
-based truck scanner performs extensive vehicle diagnostics including the ability to read/erase codes, view, and graphs live data, and perform active tests. The MS909CV scanner includes a
Bluetooth
-enabled vehicle communication interface (VCI)/
J2534
pass-thru programmer, the MaxiBAS B200 battery, starting and charging system test device and alligator clamps, and a multimeter and amp clamp. It also includes ADAS Calibration Software for Class 3-5 vehicles and Class 6 to 8 Vehicles with Dynamically Calibrated Systems.
Highlights:
1. Global Version, NO IP Blocking Problem
2. One Year Free Update Online on
Autel
Official Website
3. Language Supported: English, Spanish, Portuguese Only.
4. Support Heavy Duty Battery Test & Health Report Capabilities with Built-In Multimeter
5. Vehicle Coverage: Performs Enhanced All System Diagnostics on More Than 80 Models of Light, Medium, and Heavy Duty Commercial Vehicles
6. With Module Topology for Identification of Functioning and Non-Functioning ECUs on Select Vehicles and Enhanced AutoSCAN/ VINScan and DTC Analysis/ Repair Guided Assist
7. Upgraded Octa-Core processor and 128GB storage and
Android
7.0 Operating System with 9.7" Touchscreen and the whole-new MaxiFlash VCI to deliver smooth operation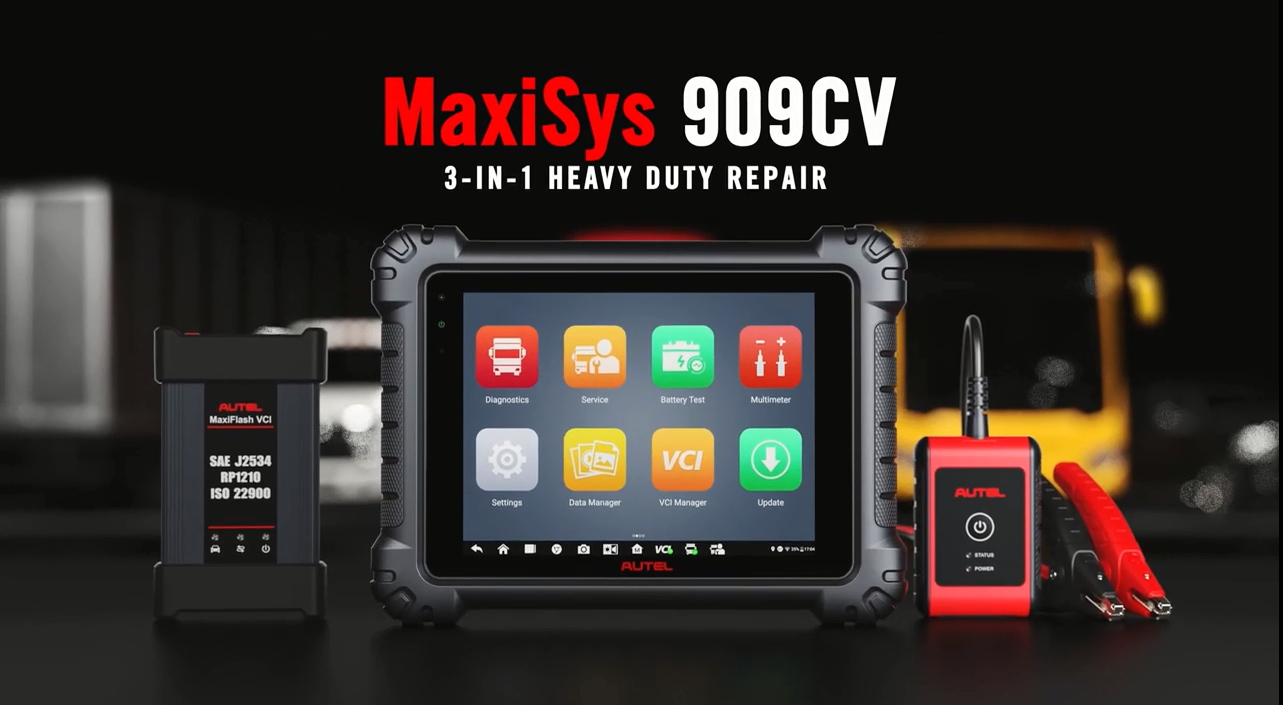 Features:
1. Includes Multimeter and Amp Clamp
2. 15000mAH 3.8V lithium-polymer battery
3. Charging via 12V AC/DC power supply
4. 9.7-Inch Wireless
Android
-Based Touchscreen Diagnostics Tablet
5. Octa-Core Processor / 4GB RAM & 128GB On-board Memory
6. Cameras: Front 5.0MP / Rear 16MP, Autofocus with Flashlight
7. Print via WiFi to PC to Autel's "Maxi PC Suite" software
8. Wireless Vehicle Communication Interface (VCI)/
J2534
Passthru Programming Device
9. Topology Module Mapping, Guided Repair, Detailed Repair Information Including TSB and OE Campaigns
10. Performs Starting and Charging Systems Analysis With Included Maxibas B200 Tester With Alligator Clamps
11. Rapid Vehicle Identification Via Vinscan and Autovin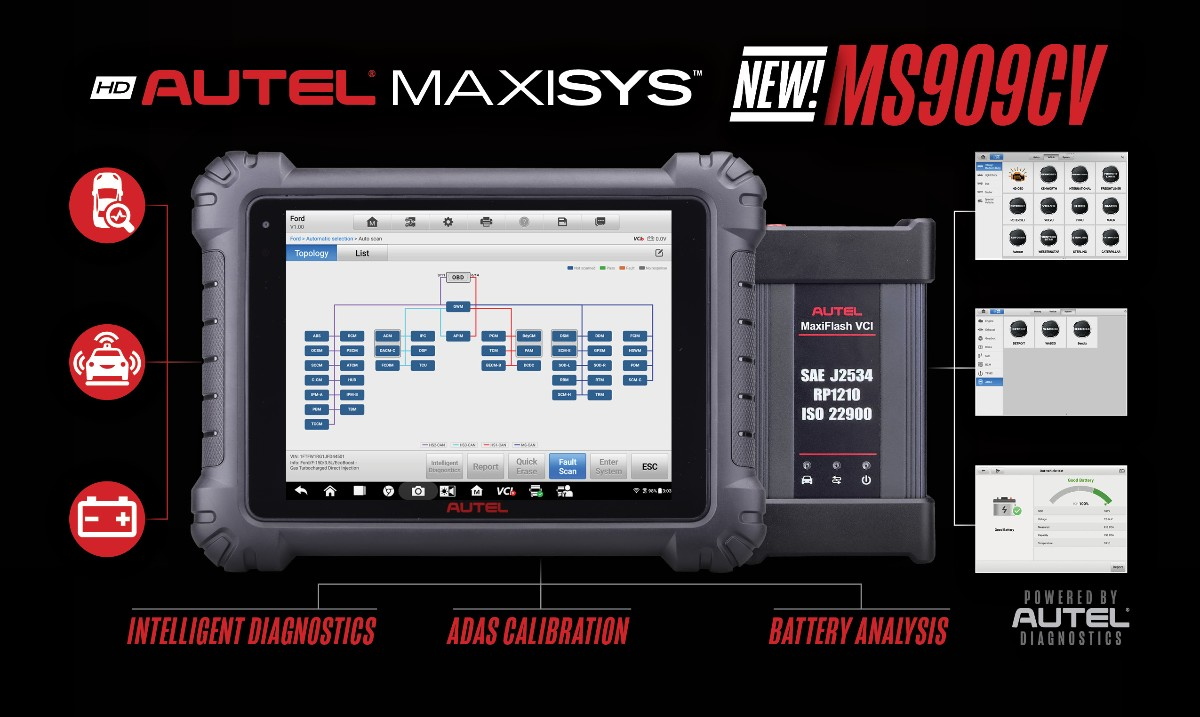 Vehicle Coverage:
The MS909CV includes coverage for more than 80 models of light, medium and heavy-duty vehicles. The MaxiFlash VCI is compatible with the latest
J2534
protocols (DOIP) and is compliant with RP1210 ans ISO 22900
1. J2534
The Autel MS909CV uses
Bluetooth
to communicate with a vehicle via the MaxiFlash VCI which also functions as a J2534 pass-thru device. The MaxiFlash VCI is J2534-1 & J2534-2 compliant (see list below), supports CAN FD, 4 CAN Channels, and DoIP; supports D-PDU, ISO 22900-1 & ISO 22900-2 and is RP1210 compliant.
The MaxiFlash VCI is compatible with the following J2534 protocols:
DoIP, PLC J2497, ISO-15765, SAE-J1939, ISO-14229 UDS, SAE-J2411 Single Wire Can (
GM
LAN), ISO-11898-2, ISO-11898-3, SAE-J2819 (TP20), TP16, ISO-9141, ISO-14230, SAE-J2610 (for
Chrysler
SCI), UART Echo Byte, SAE- J2809 (for
Honda
Diag-H), SAE-J2740 (for
GM
ALDL), SAE-J1567 (CCD BUS), for
FORD
UBP, for
Nissan
DDL UART with Clock, for BMW DS2, for
BMW
DS1, SAE J2819 (VAG KW81), KW82, SAE J1708, SAE-J1850 PWM (for
FORD
SCP), SAE-J1850 VPW (for
GM
Class2).
2. RP1210
The MaxiFlash VCI is RP1210 compliant and can be used with software such as for Eaton, for Bendix, for Cumxxx, for Wabco, for Caterpillar (j1708 / J1939), for Navistar, for Detroit, for Volvo, for Allison, for Paccar. PC and subscriptions sold separately.
3. Coverage for Military Vehicles
That Autel CV does not have a "button" that says "Humvee", but it should be able to read all the modules separately.
* In the case of Cummins, Detroit Diesel, or Caterpillar, use Expert Mode and select by
engine
.
* Some vehicles may read under GM through manual module selection (example 2006 Humvee would read as a 2006 GMC pickup)
* Depending on the transmission, it may be included under option #2 or it may need to be selected separately like an Allison that has a separate controller.
Larger military vehicles should be readable by selecting Freightliner, International, and such...
| | | |
| --- | --- | --- |
| Expert | Buses | Trucks |
| • for Allison | • for OBD | • for VOLVO |
| • for Bendix | • for VOLVO | • for AGRALE |
| • for Caterpillar | • for AGRALE | • for AUTOCAR |
| • for Cummins | • for HINO | • for CAPACITY |
| • for International | • for ISUZU | • for Dodge |
| • for Detroit | • for MERCEDES BENZ | • for FIAT |
| • for PACCAR | • for MITSUBISHI FUSO | |
| • for VOLVO | • for VOLKSWAGEN | • for FOTON |
| • for Freightliner | | • for Freightliner |
| • for Wabco | • for RENAULT | • for GMC |
| • for ZF Meritor | | • for GREAT WALL |
| • for MERCEDES BENZ | | • for HINO |
| • for Boschauto | | • for HYUNDAI |
| • for Power Stroke | | • for ISUZU |
| • for AISIN | | • for KIA |
| • for IVECO | | • for MERCEDES BENZ |
| • for Mack | | • for MITSUBISHI |
| • for Eaton | | • for MITSUBISHI FUSO |
| • for MTU | | |
| • for MWM | | • for Sterling |
| | | • for International |
| | | • for IVECO |
| | | • for VOLKSWAGEN |
| | | • for Kenworth |
| | | • for Mack |
| | | • for Peterbilt |
| | | • for WORKHORSE |
| | | • for WESTERN STAR |
| | | • for SETRA |
| | | • for UD |
| | | • for Renault |
Functions:

1. One-Stop Intelligent Diagnostics
Intelligent Diagnostics is an important and powerful function of MaxiSys MS909CV. It is a specific fault code analysis function, with which you can access the most comprehensive and the latest Vehicle System and Detected DTC(s), Technical Service Bulletin, and DTC Analysis. It has been drawn from real shop repair orders and records and with input from experienced industry professionals. Intelligent Diagnostics adopts the scientific data cloud computing technology to match the specific fault code with the exact vehicle model. And the data has been verified by automotive maintenance professionals.

1). Vehicle System and Detected DTCs: displays the name of the vehicle system(s) and the detected DTCs.
2). Technical Service Bulletin: contains DTC-related recalls, TSB, and OEM campaigns.
3). DTC Analysis: provides repair assistance information related to the fault code.
4) Control Unit: It allows you to manually locate a required control system for testing through a series of choices.

The Maxisys 909CV Diagnostic Functions (Vary by Vehicle) May Include:
* ECU Information: displays detailed ECU information. Select to display information screen.
* Trouble Codes: contains Read Codes and Erase Codes. The former displays detailed DTC information retrieved from the vehicle control module, the latter allows you to erase DTCs and other data from the ECU.
* Live Data: retrieves and displays live data and parameters from the vehicle's ECU.
* Special Functions: provides component adaptation or variant coding functions for custom configurations, and allows entry of adaptive values for certain components after repairs. Depending on the test vehicle, this selection may sometimes appear as Control Unit Adaptations, Variant Coding, Configuration or something similar.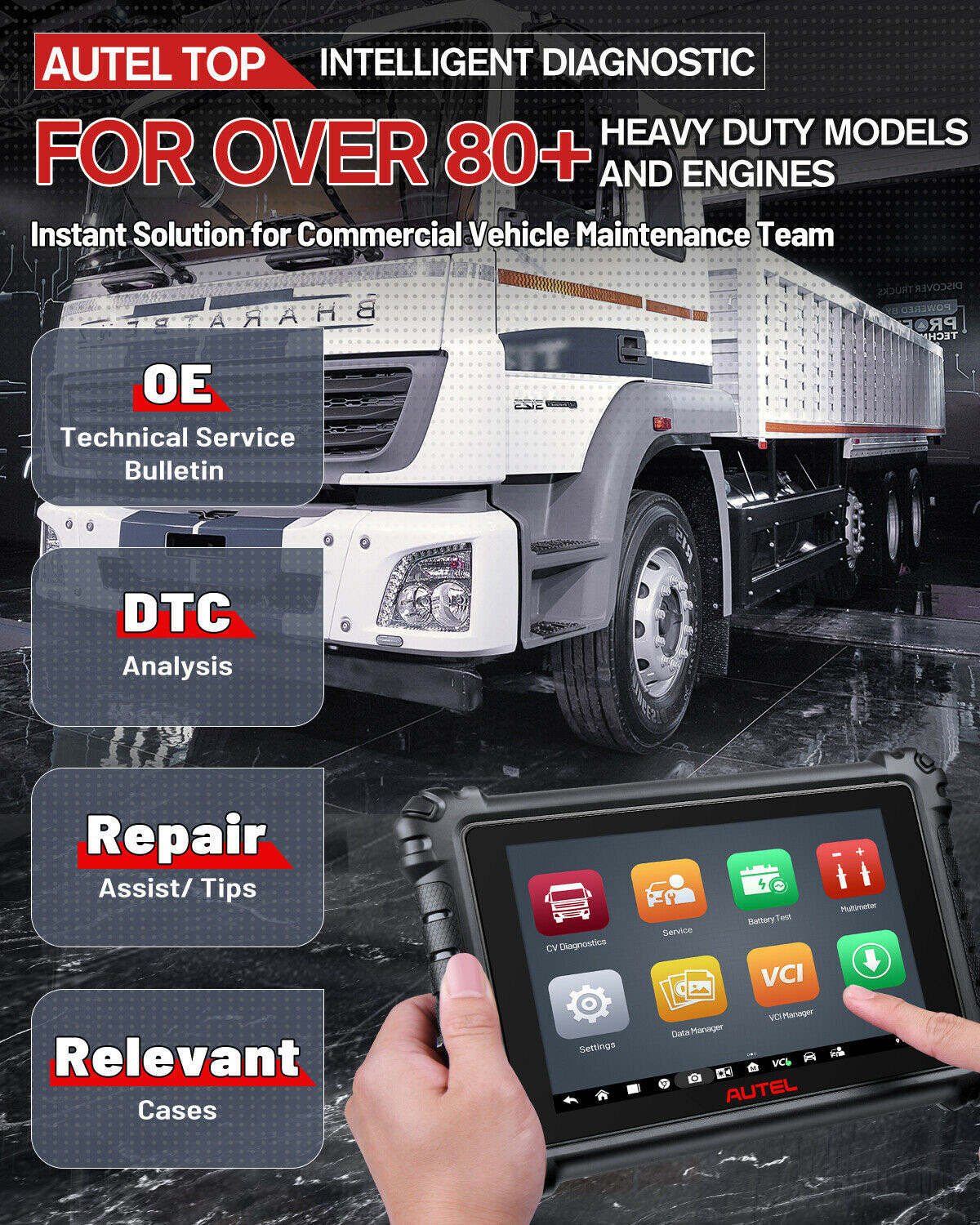 2. Active Test And Guided Function To Assist Your Work Greatly
The Active Test function is used to access vehicle-specific subsystem and component tests. Available tests vary by vehicle. During an active test, the tablet
sends commands to the ECU to activate the actuators. This test determines the integrity of the system or part by reading ECU data or by monitoring the operation
of the actuators. Such tests may include toggling a solenoid, relay, or switching, between two positions.

3. Topology Mapping To Locate Faults At A Glance
A topology tab page displays a system distribution diagram of the vehicle control modules. On the topology tab page, a system scanned with no faults detected appears in green; a system scanned with faults detected will appear in orange. The number of total faults will appear in the upper-right corner. In that way, you can recognize the location and amount of the faults easily and promptly.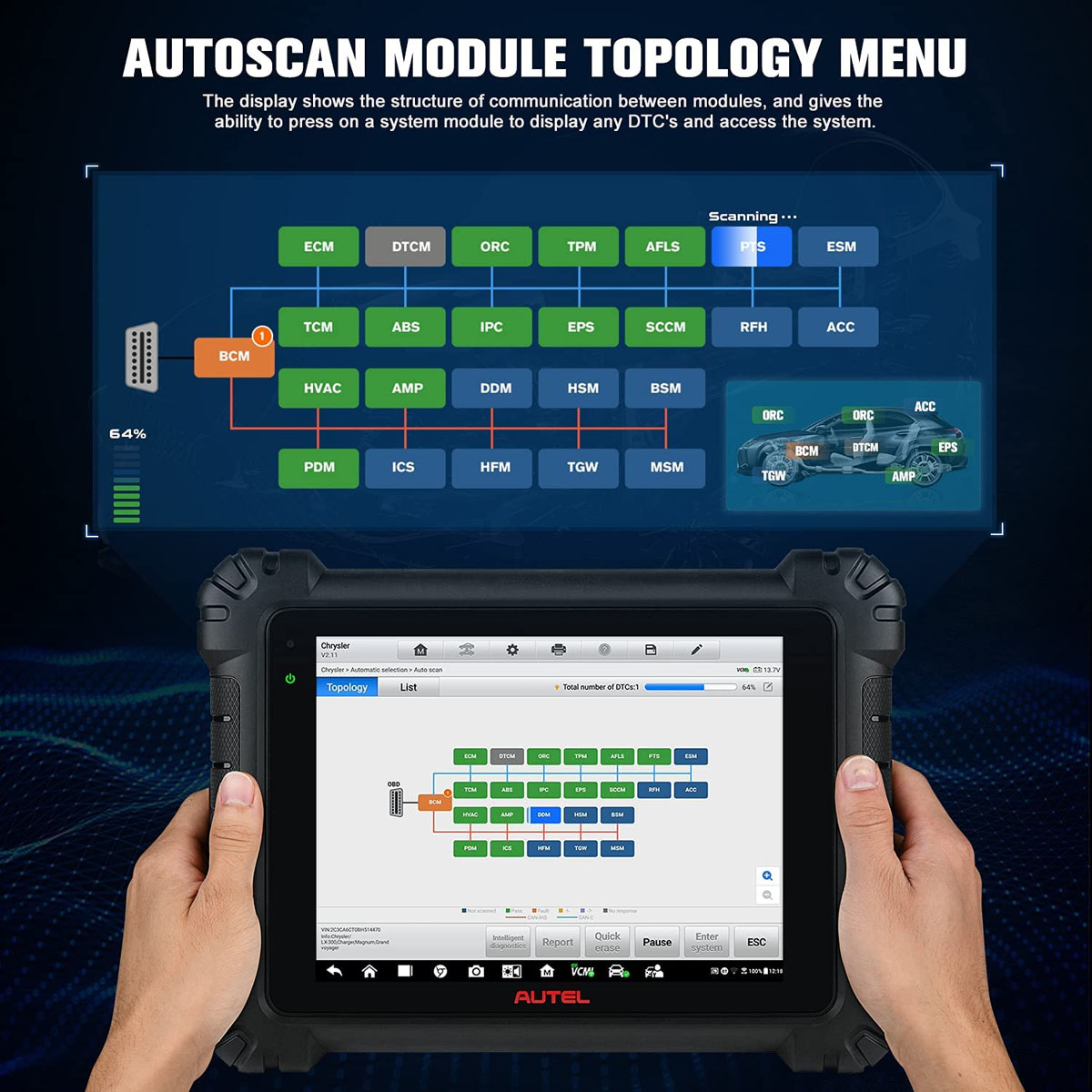 4. ECU Coding And ECU Programing
Since the introduction of
OBDII
and leading up to modern Hybrids and EVs, hardware and software technologies in cars have been advancing at an exponential rate. Updating software may be the only way to fix the following issues:
* Drivability
* Fuel Efficiency
* Power Loss
* Fault Codes
* The durability of Mechanical Parts
The Programming and Coding function is used to "re-flash" the vehicle control modules, which allows you to update the computer software of the vehicle to the latest version, as well as to reprogram adaptive data of certain components after making repairs or replacements.
There are two general types of programming operations in the Autel MS909CV:
* Coding: also known as Teach-in Program, or Component Adaptation, is used to reprogram adaptive data for vehicle control modules after repairs or replacements of vehicle parts.
* Reprogramming: downloads the latest version of the software from the online server database via the Internet access (this procedure is done automatically when the tablet is connected to the Internet, so there is no need to check for software updates yourself), and reprograms the newest version into the vehicle's ECU.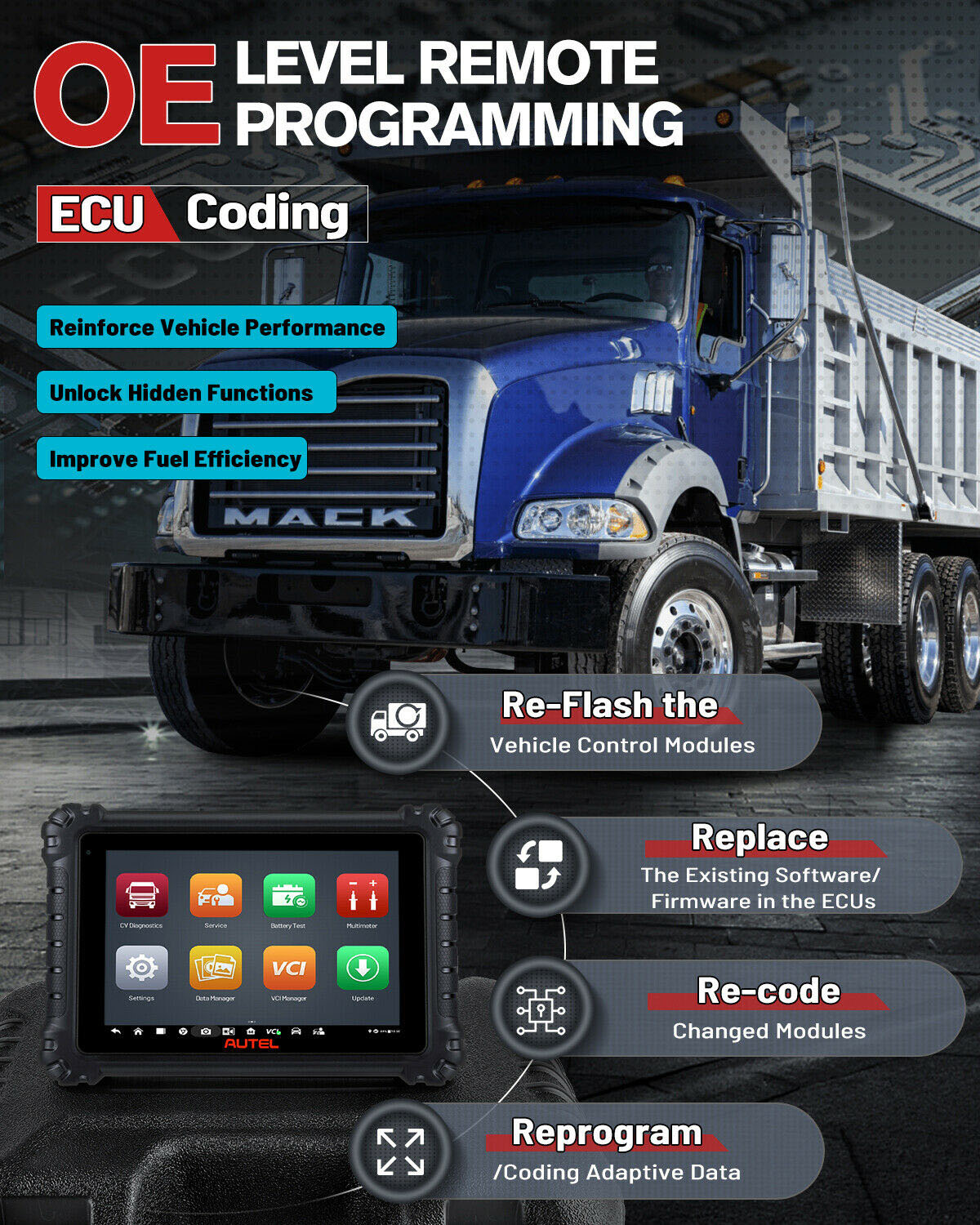 5. Hot Functions To Address The Demand
The Maxisys MS909CV is able to meet most truck maintenance demands such as
Oil Reset
, EPB, BMS, ABS Bleed,
TPMS
, Airbag Reset, DPF Reg,
IMMO
Service, Injector Coding, SAS Calibration, Suspension Calibration, Throttle Adaption,
ABS
/
SRS
, Gear Learning, ect.
Oil Reset
Service: It allows you to perform a reset for a new calculation of the
engine
Oil Life system once changed the oil.
EPB: The service is important in the maintenance of electronic braking system's safety and efficiency.
BMS: The service allows the scan tool to evaluate the battery charge state, monitor the close-circuit current, register the battery replacement, and activate the rest state of the vehicle.
DPF: The service specially works for the Diesel Particulate Filter system with DPF regeneration, DPF component replacement teach-in and DPF teach-in after replacing the
engine
control unit.
SAS: The service helps clear the fault steering angle sensor memories and plays an important role in the steering angle sensor calibration.
TPMS: The service makes sense in displaying sensor IDs from the vehicle's ECU, inputting
TPMS
sensor replacement IDs and testing sensors.
ABS Bleeding:
ABS
brake bleeding to get a firm brake pad after air exhaustion.
Seat
s, Injector, CHG tire size, TEC Learn, Suspension, Throttle, ect.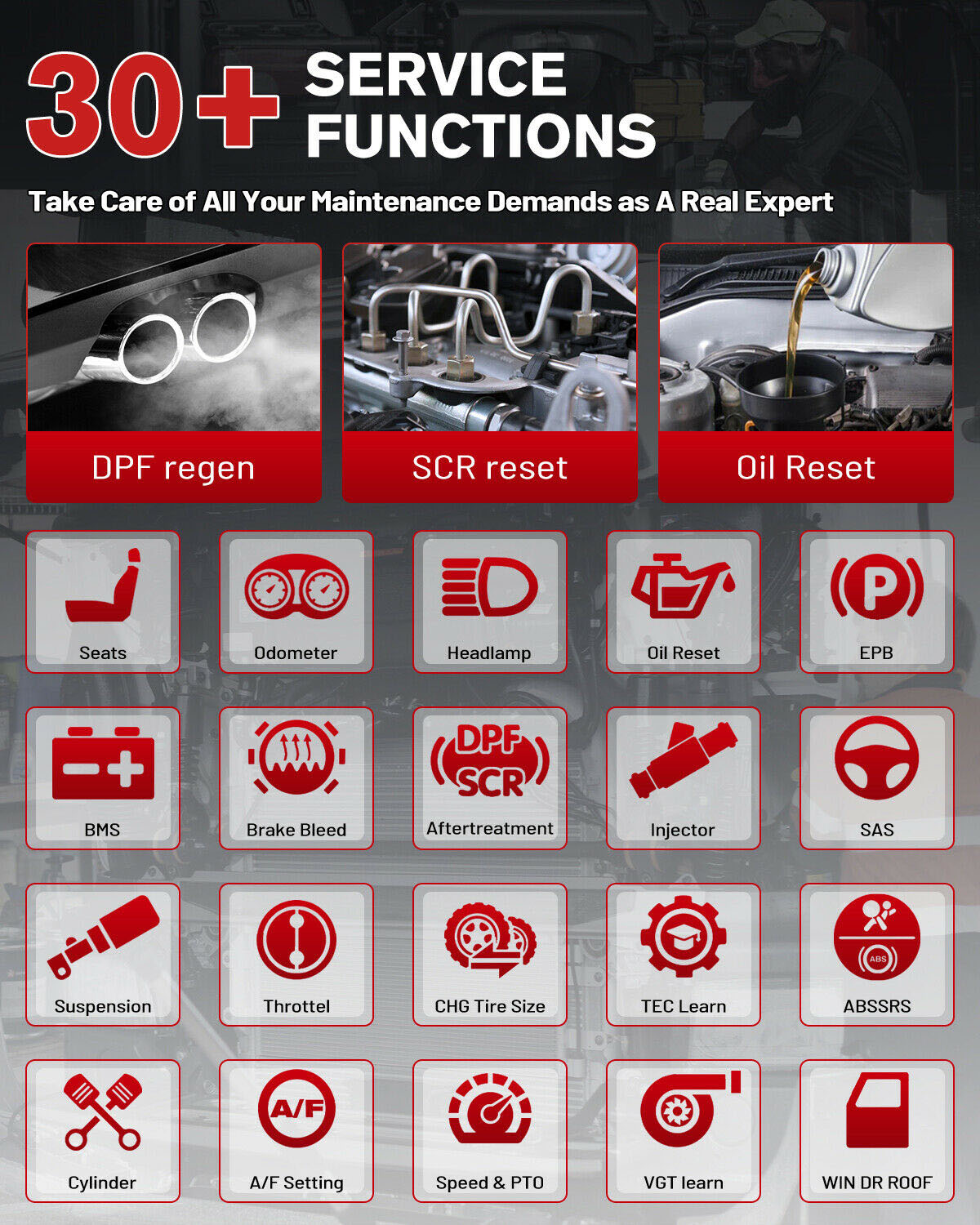 Specification:

Operating System

Android 7.0

Processor

Samsung Exynos 8895V octa-core Processor (2.3GHz Quad-core Mongoose + 1.7GHz Quad-core A53)

Memory

4GB RAM & 128GB On-board Memory

Display

9.7-inch TFT-LCD with 1536 x 2048 resolution & capacitive touch screen

Connectivity

WiFix2 (802.11 a/b/g/n/ac 2x2 MIMO)

BT v.2.1 + EDR

GPS

USB 2.0 (TWO USB HOST Type A, ONE USB mini device)

HDMI 2.0

SD Card (Support up to 256GB)

Camera

Rear: 16 Megapixel, Autofocus with Flashlight

Front: 5.0 Megapixel

Sensors

Gravity Accelerometer, Ambient Light Sensor (ALS)

Microphone

Dual Speakers

3-Band 3.5 mm stereo/standard headset jac

Power and Battery

15000mAH 3.8V lithium-polymer battery

Charging via 12V AC/DC power supply with the temperature between 0°C and 45°C

Input Voltage

12V/ 3A Adapter

Operating Temperature

0 to 50°C (32 to 122°F)

Storage Temperature

-20to 60°C (-4 to 140°F)

Protocols

DoIP, PLC J2497, ISO-15765, SAE-J1939, ISO-14229 UDS, SAE-J2411 Single Wire Can(for GMLAN), ISO-11898-2, ISO-11898-3, SAE-J2819 (TP20), TP16, ISO-9141, ISO-14230, SAE-J2610 (for

Chrysler

SCI), UART Echo Byte, SAE-J2809 ( for Honda Diag-H), SAE-J2740 (for GM ALDL), SAE-J1567 (CCD BUS), for

FORD

UBP, for

Nissan

DDL UART with Clock, for BMW DS2, for

BMW

DS1, SAE J2819 (VAG KW81), KW82, SAE J1708, SAE-J1850 PWM (for

FORD

SCP), SAE-J1850 VPW (for GM Class2)
Package List: