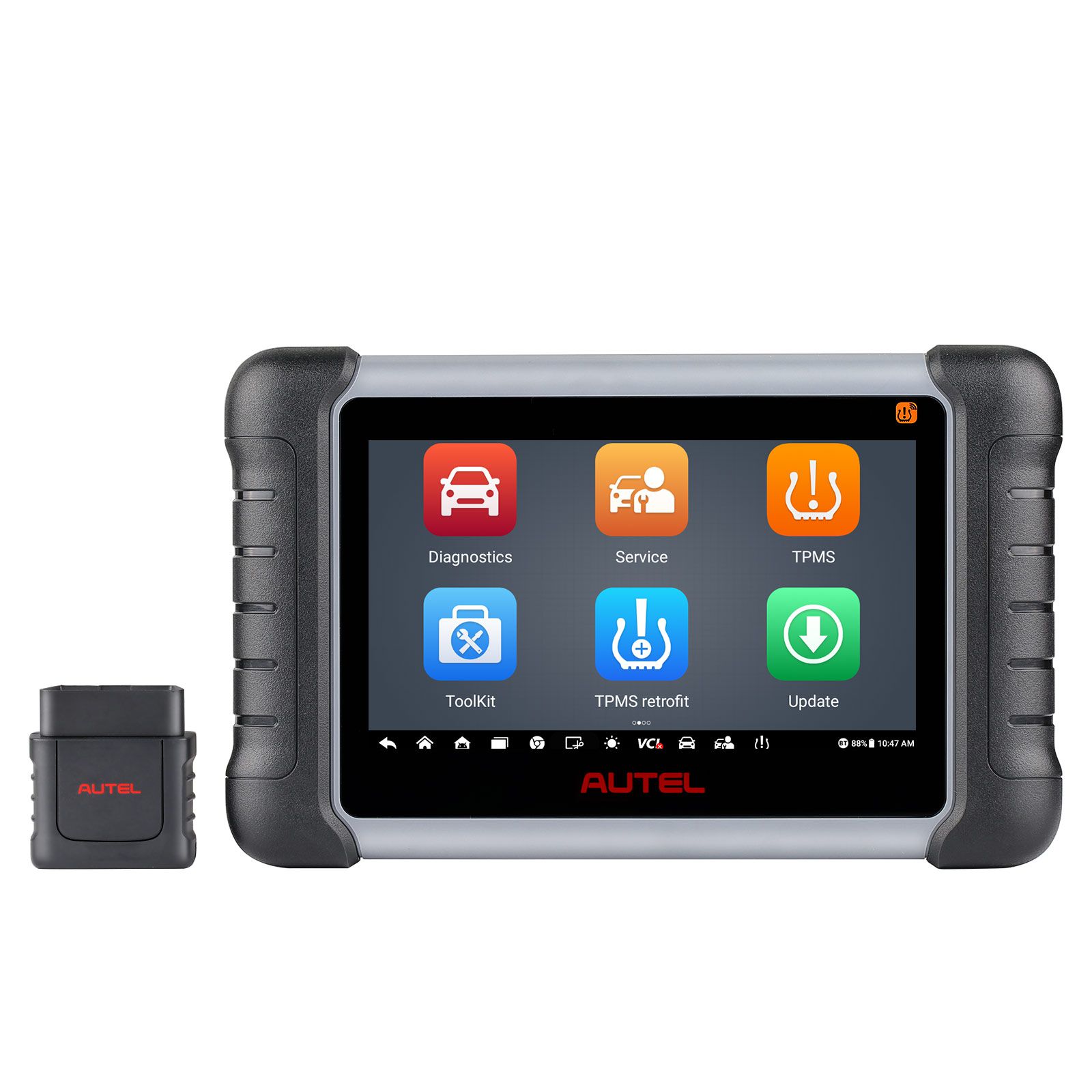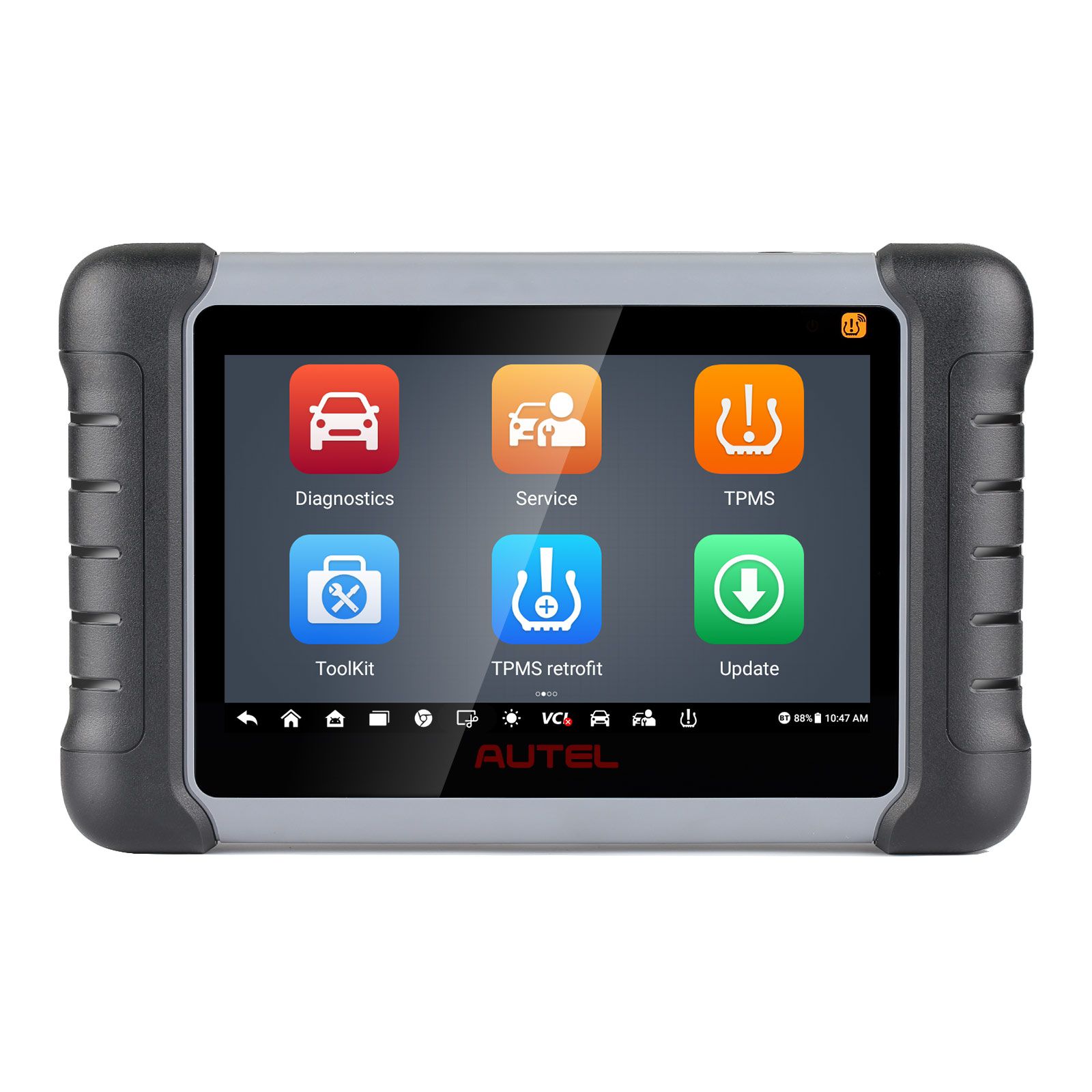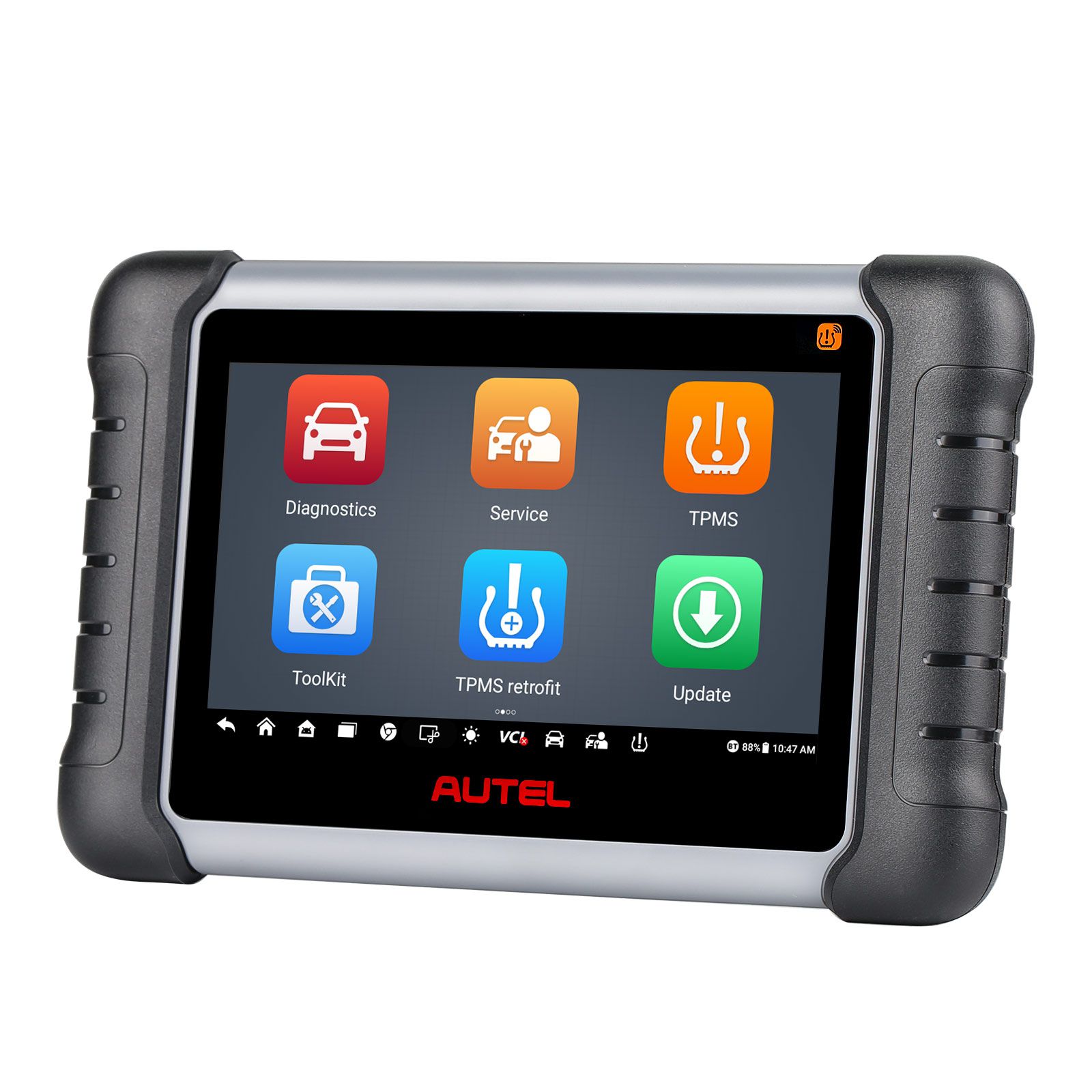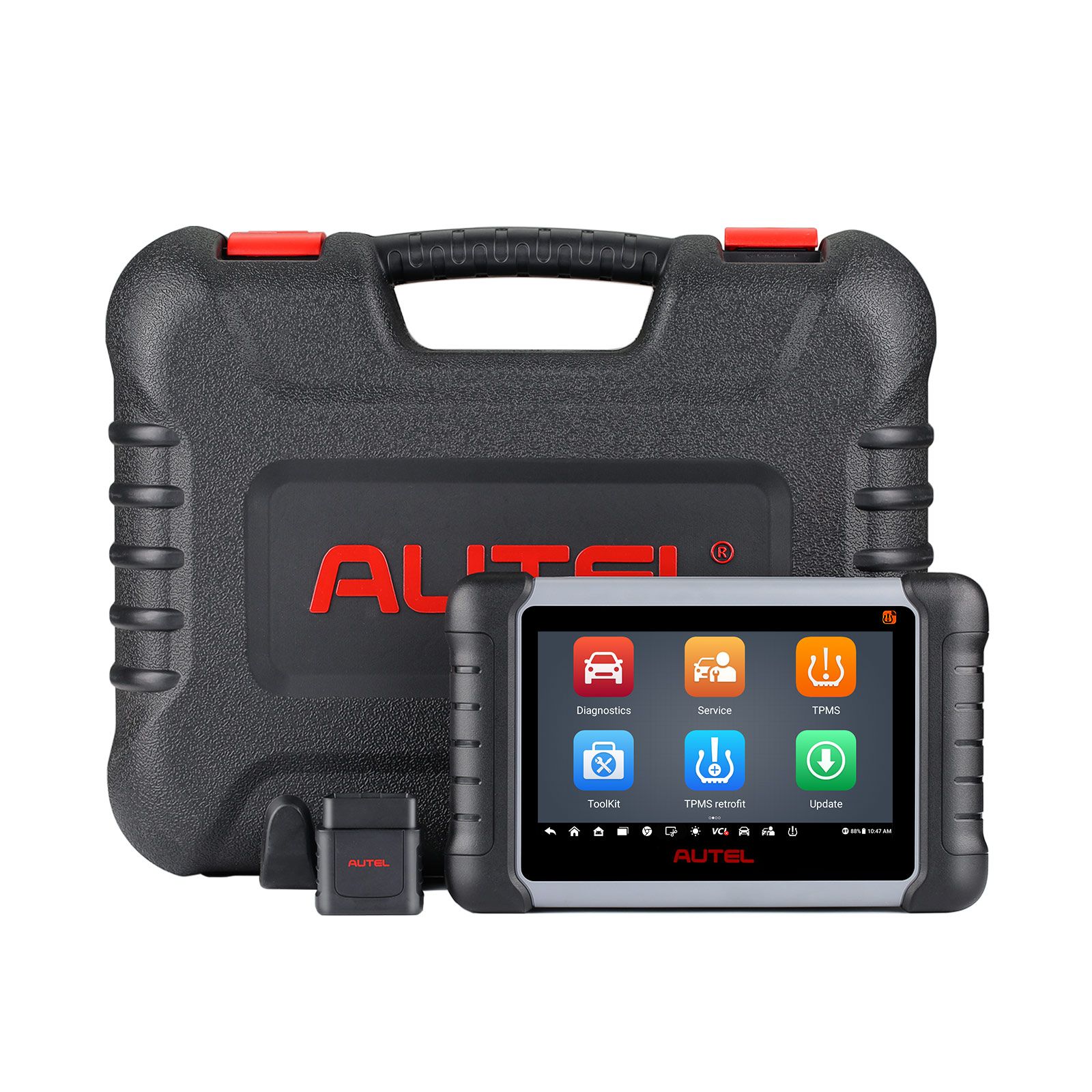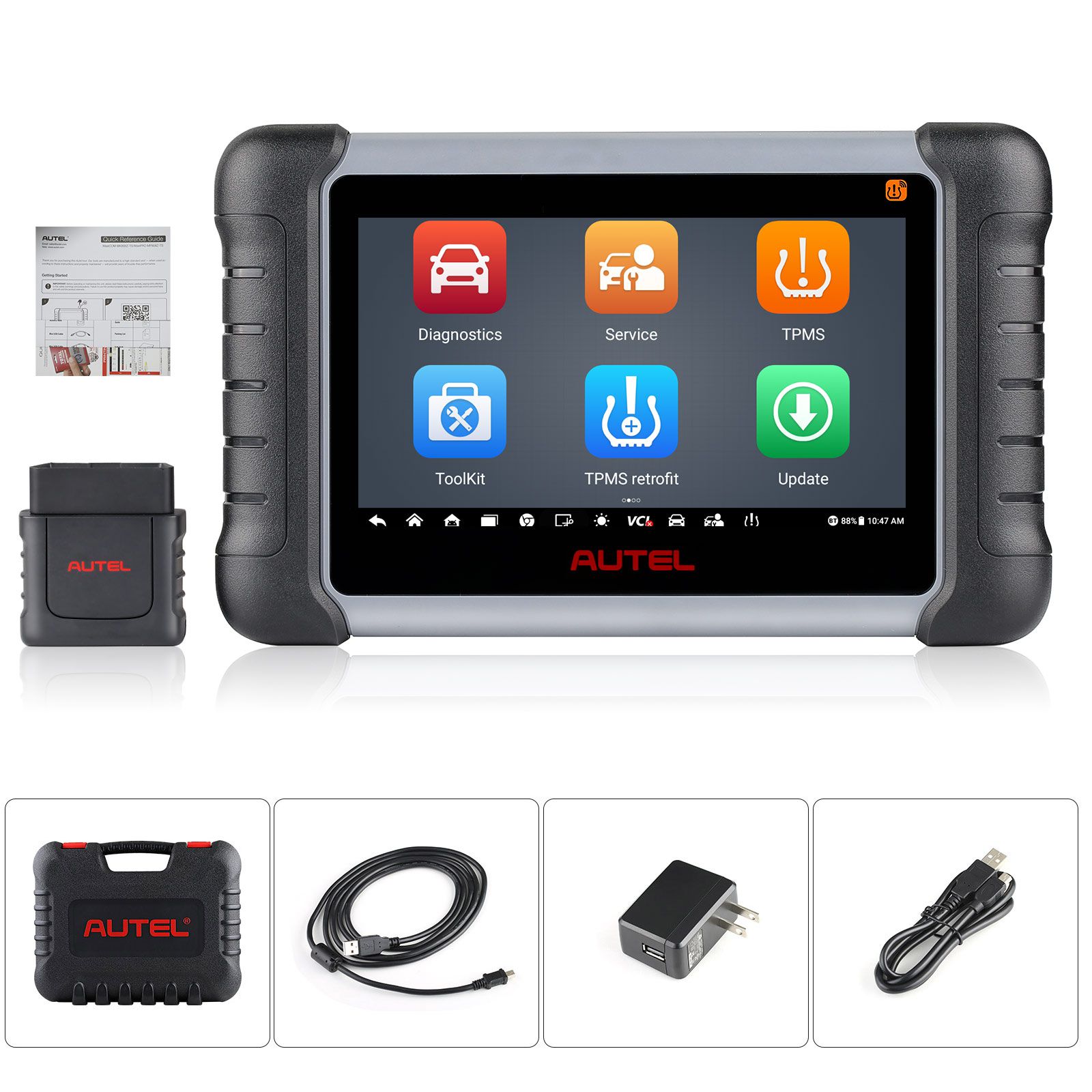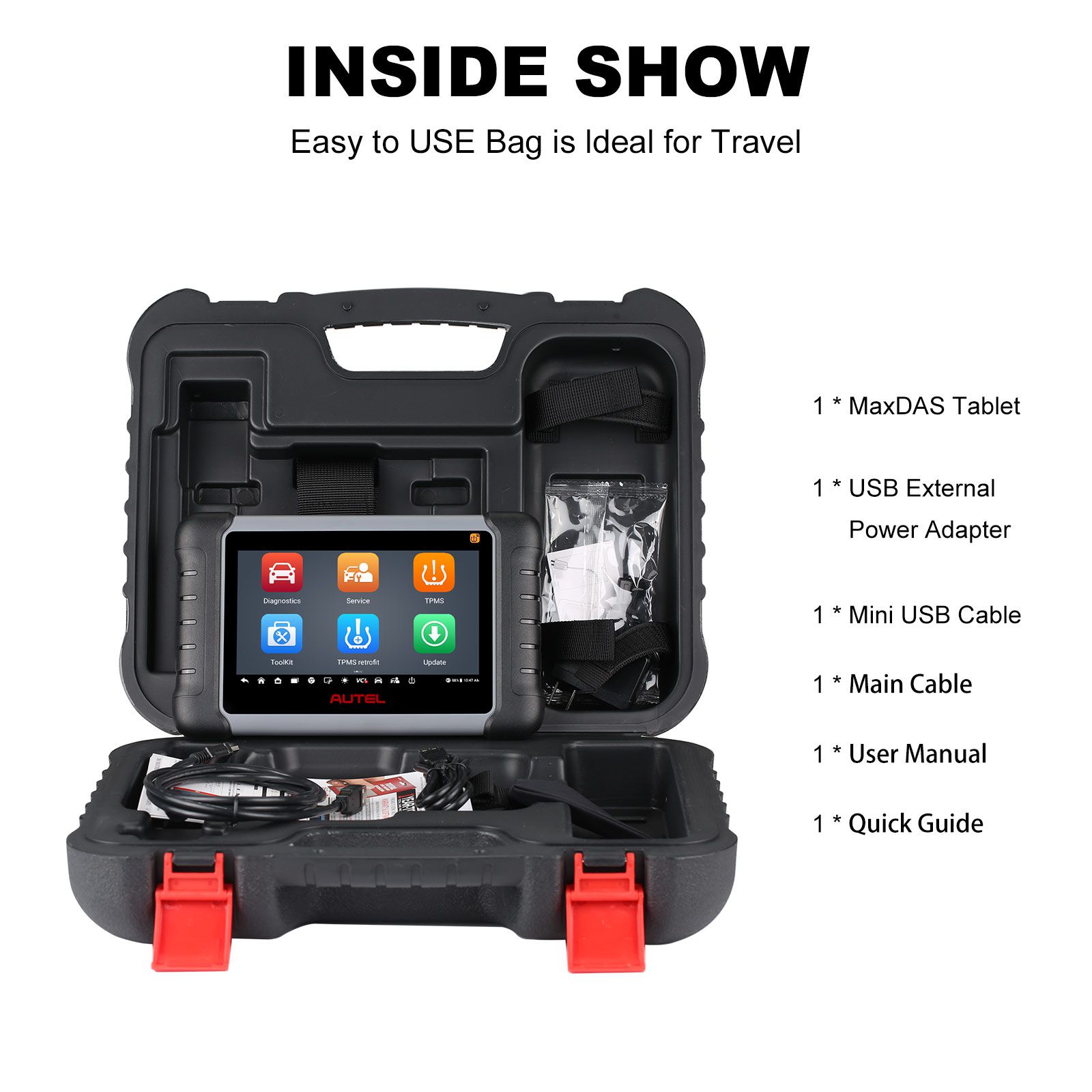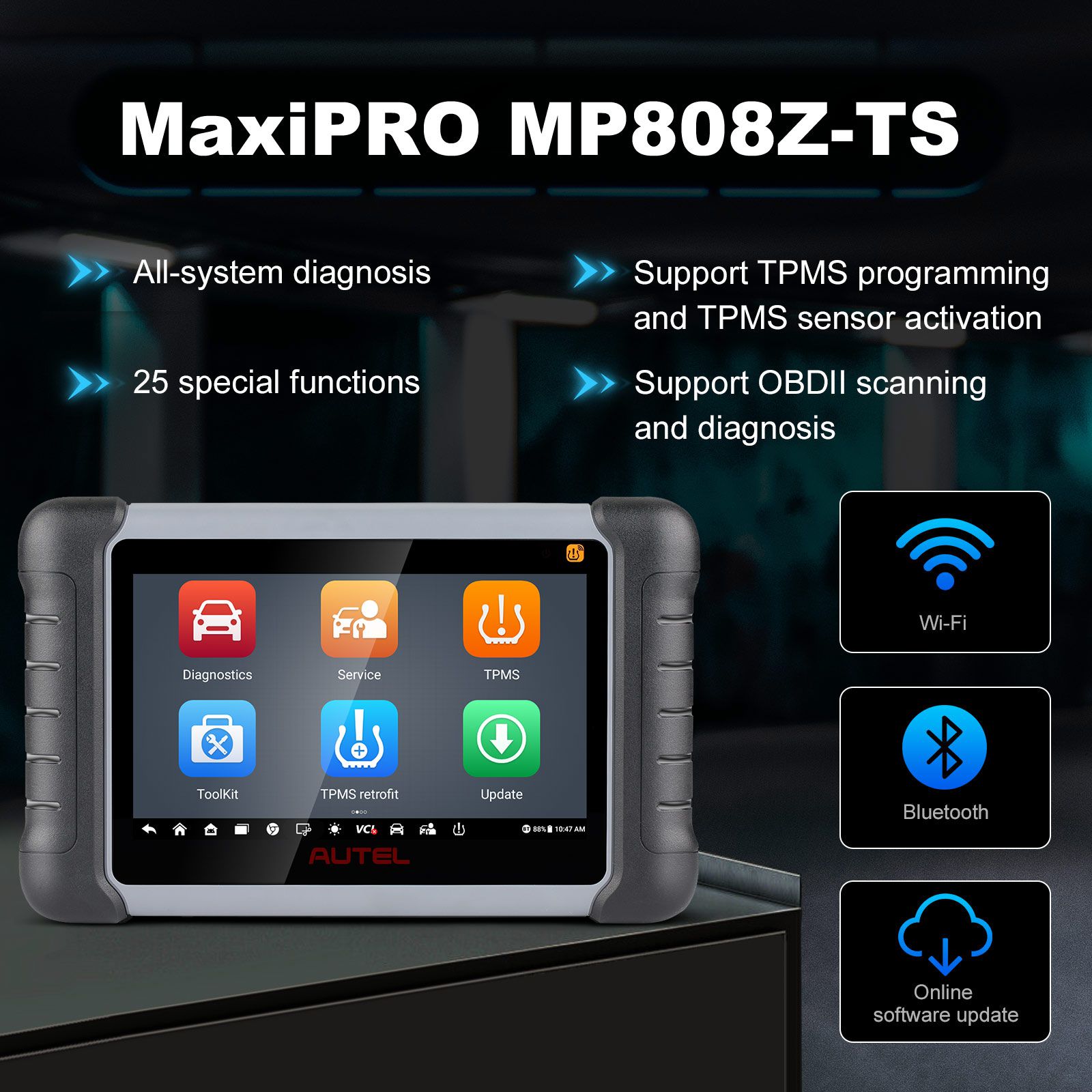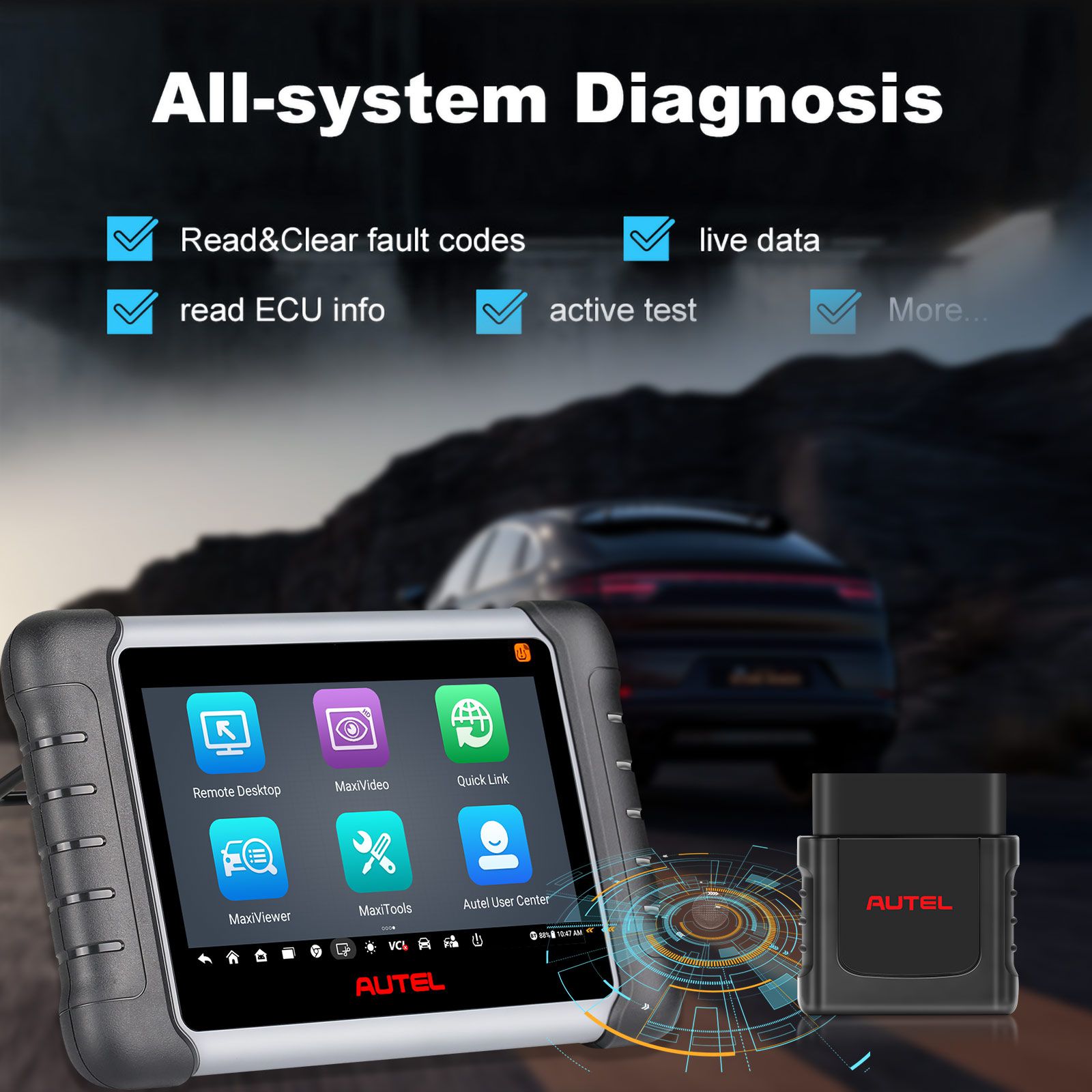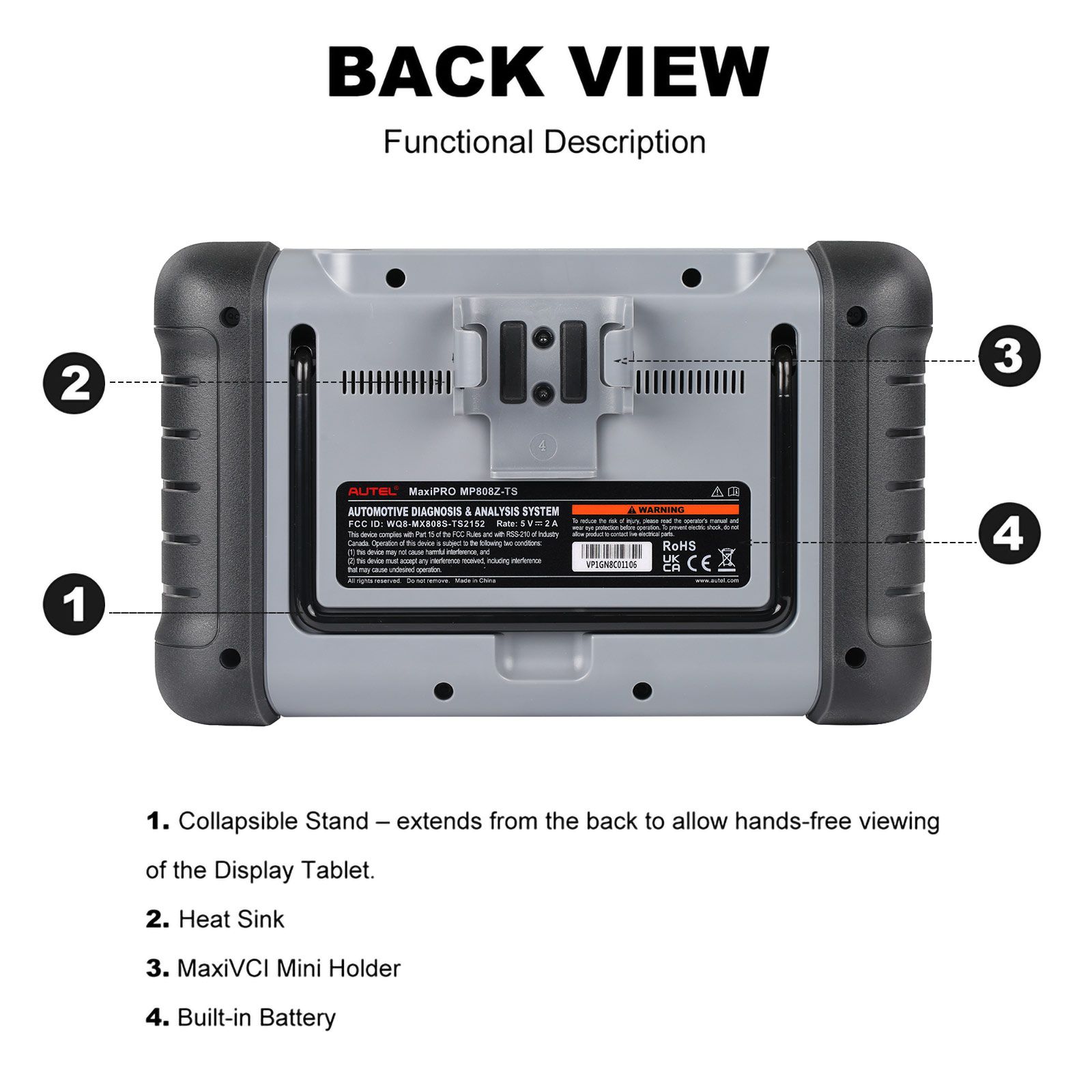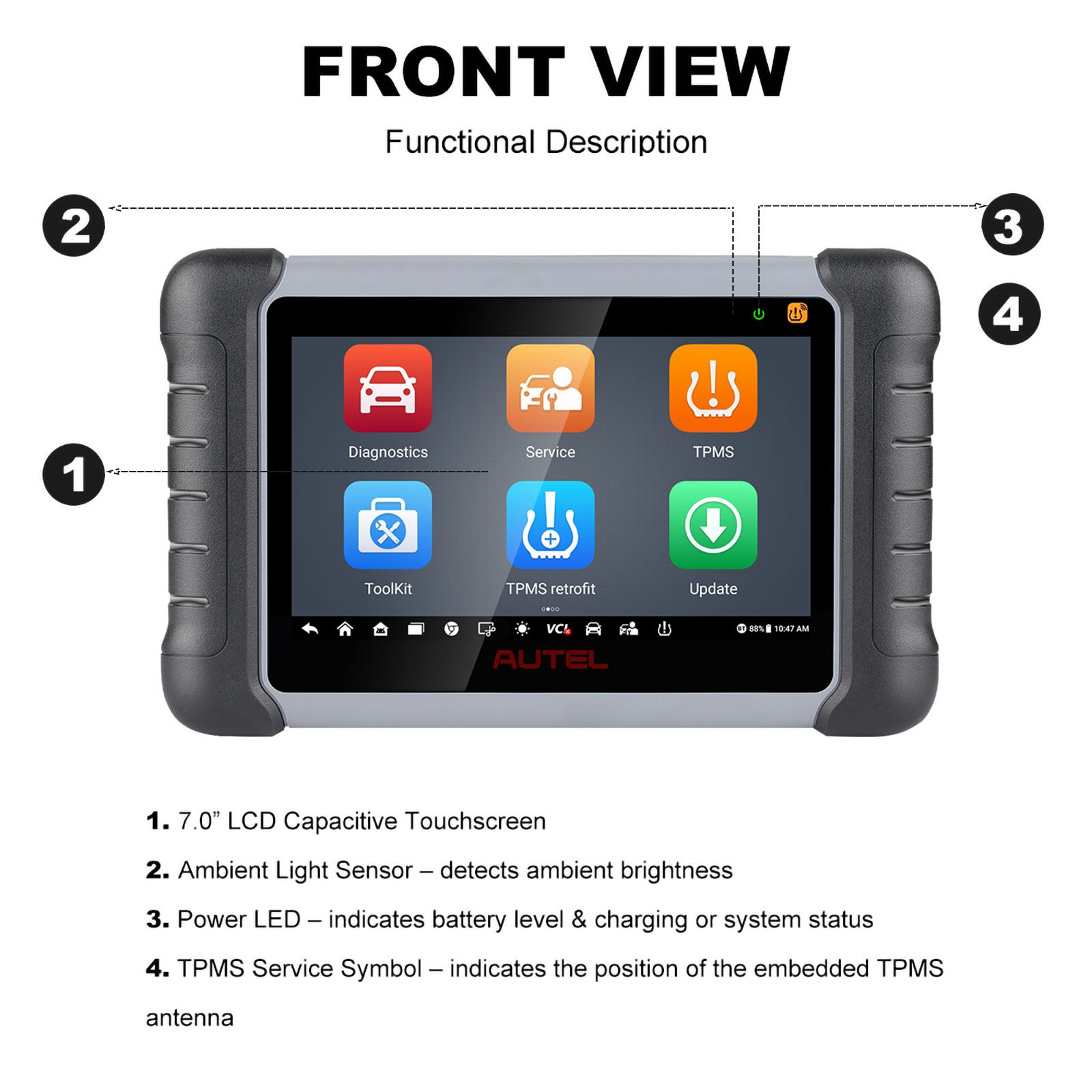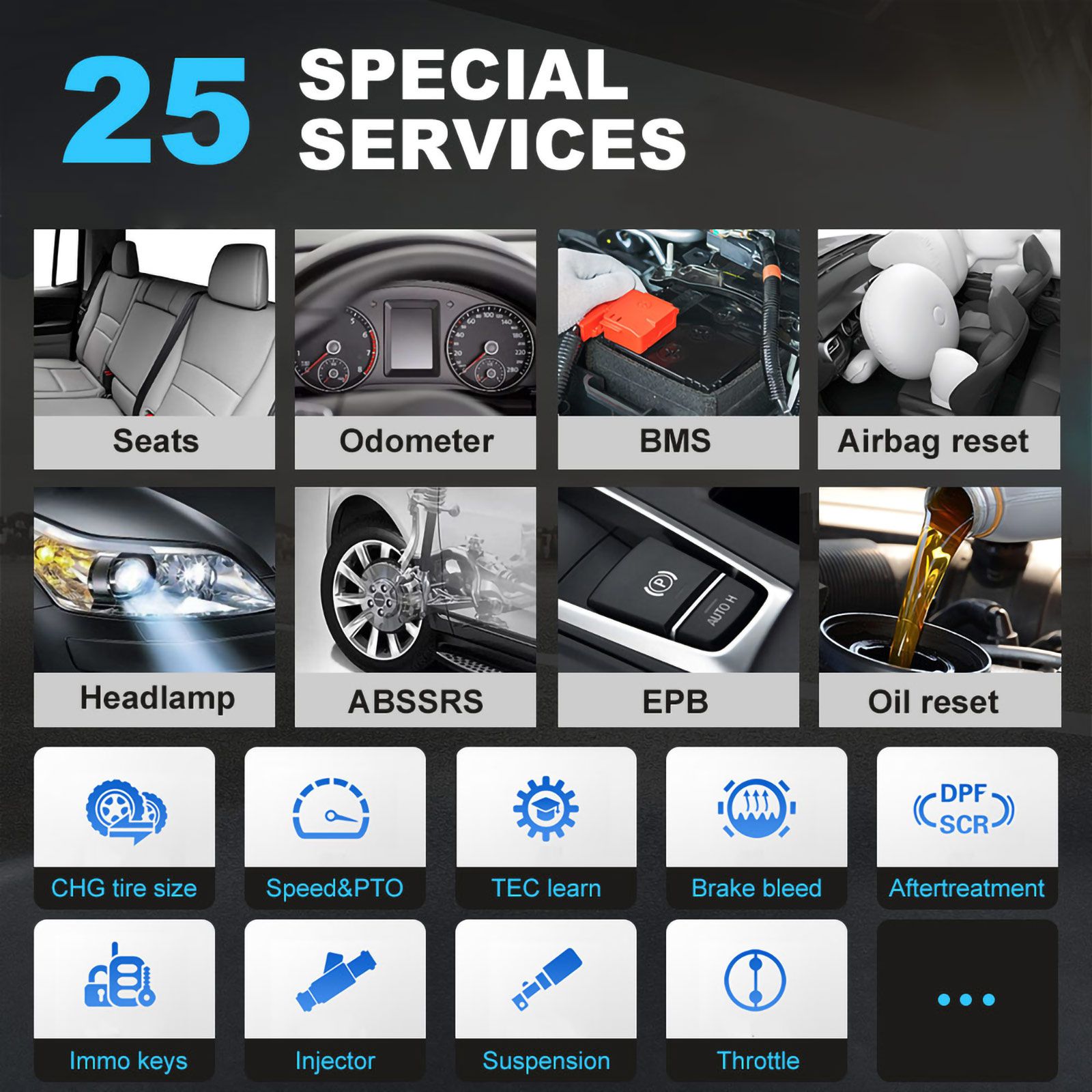 2023 Autel MaxiPRO MP808Z-TS Bi-Directional Control Scan Tool with ECU Coding, Full TPMS, 36+ Services, Upgraded of MP808TS/MP808BT
Autel MaxiPro MP808Z-TS makes Autel MP808BT & MP808TS pale by comparison in hardware & software configurations. What's more, Autel MaxiPro MP808Z-TS has been added new functions that can not achieved with Autel MP808TS & MaxiCOM MP808BT. All new functions are ready for use out of box and no software update is required: ECU Coding, battery testing, special functions, TPMS Tool Kit function and FCA Auto Auth, etc
Shipping:

Express Shipping Service


Estimated delivery time:

3-15

working days.

See details ?

Returns:

Return for refund within 30 days, buyer pays return shipping.

Read details ?

Support: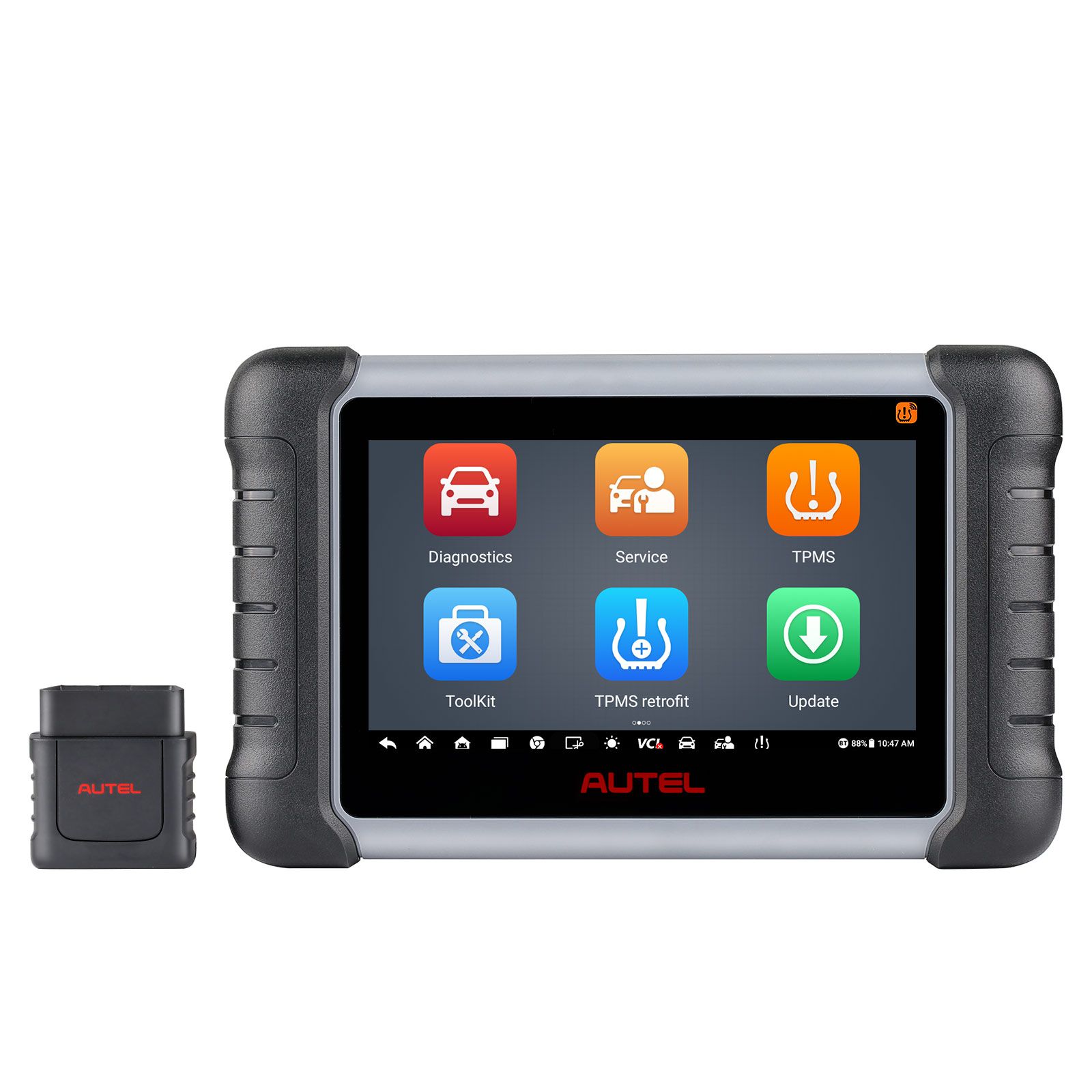 Product Details

Product's Reviews (0)
2023 Autel MaxiPRO MP808Z-TS Bi-Directional Control Scan Tool with ECU Coding, Full TPMS, 36+ Services, Upgraded of MP808TS/MP808BT
As the newest released Autel scanner, Autel MaxiPro MP808Z-TS makes Autel MP808BT & MP808TS pale by comparison in hardware & software configurations. What's more, Autel MaxiPro MP808Z-TS has been added new functions that can not achieved with
Autel
MP808TS & MaxiCOM MP808BT. All new functions are ready for use out of box and no software update is required: ECU Coding, battery testing, special functions,
TPMS
ToolKit function and FCA Auto Auth. No matter in what aspects,
Autel
MP808Z-TS is far ahead of MP808TS & MP808BT.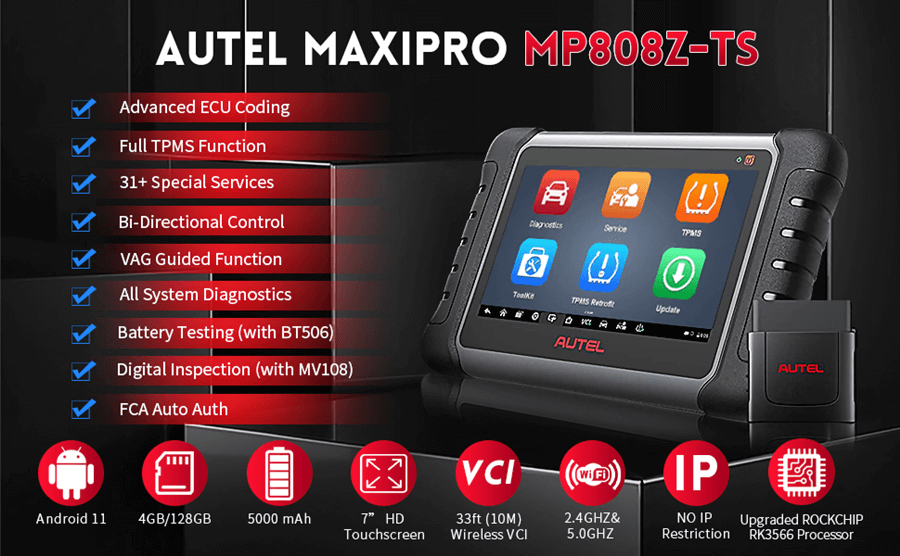 Main Configuration Updates Based on Autel MP808/MP808BT/MP808TS:
1. Operating system move on to Android 11 from
Android
4.4.
2. Upgraded 8-core ROCKCHIP RK3566 Processor replacing old ROCKCHIP RK3188 Processor.
3. 4GB/64GB Expanded Storage.
4. Dual Frequency 2.4/5.0GHZ Wi-Fi.
5. Optimazed newest Software version. No need to upgrade to get new added functions such as bi-directional control, battery testing, special functions and FCA Auto Auth.
Conclusion:
Thanks to these upgrade, Autel MP808Z-TS fix running latency problem, low response, network unstable problem and other problems that frequently happened in the old MP808/MP808BT/MP808TS. Autel MP808Z-TS not only offers more intuitive naviagtion interface, but aslo enhanced the running & response speed by 3 times.
Functionality Highlights of Autel Scanner MaxiPro MP808Z-TS:
1. Autel MP808Z-TS features the same ECU coding functions as Autel MaxiSys MS906BT and support other high-end functions such as Activate hidden functions, customize OE-settings, VAG guided functions and so on.
2. Autel MP808Z-TS ranks first in Autel TPMS product line in terms of TPMS function, features the completely the same TPMS functions as Autel MaxiTPMS TS608. The new added ToolKit functions enables program
TPMS
by OEM Part No, unlock ECU for Toyata, unlock REDI7002A, awake OEM sensors, check key fob and more, which is not available on all the other scan tools such as MK808TS/MP808TS/MS906TS/MS906 Pro-TS/MK906 Pro-TS.
Autel Scanner MaxiPro MP808Z-TS: Same ECU Coding Functions As MaxiSys MS906BT/MaxiCOM MK906BT
With much less budget spent, Autel MaxiPRO MP808Z-TS can perform ECU coding function which normally only available on models that above MK906BT/MS906BT/MS906TS, and support much more vehicle models than MP808 & MP808BT.
Online ECU Coding:
Perform Online software modifications to a vehicle to allow the use of functions not available in the car when it left the factory for different reasons, mainly local regulations. Online coding for
BMW
, for
VW
, for Nissan, for
Nissan
-GTR, for Infiniti, for
Hyundai
, for Toyota, for Ford, for
Mazda
, etc.;
Offline ECU Coding/Adaptation:
Write the codes from the original modules to newly replaced modules, work for
Jaguar
, for Vauxhall, for Opel, etc.
Activate Hidden Functions:
Autel MP808Z-TS support hidden function activation and current function ban: such as automatic
engine
Start-Stop function, automaztic mirror folding/unfolding,
Seat
belt warning sounds; Closing the windows after locking the car door with the key and much more.
Customize OE-Settings:
Take dahsboard display as examples: Displaying of the real speed via GPS signal; Displaying the amount of fuel consumption at a given speed; Incoming call display; Select whether the display should be on the dashboard or head-up display and much more. Other setting are also supported such as lighting settings, acoustic warning signal settings and much more.
Replacement Module Matching:
Autel Scanner MaxiPRO MP808Z-TS support matching/ coding/ recoding/ adaptation after new modules or component being replaced to allow it be recognized by the car system or modify relevant parameters for the best drivability.
Note:
All the above mentioned functions vary by car makes, models and year. Please consult us to check compatibility before purchasing.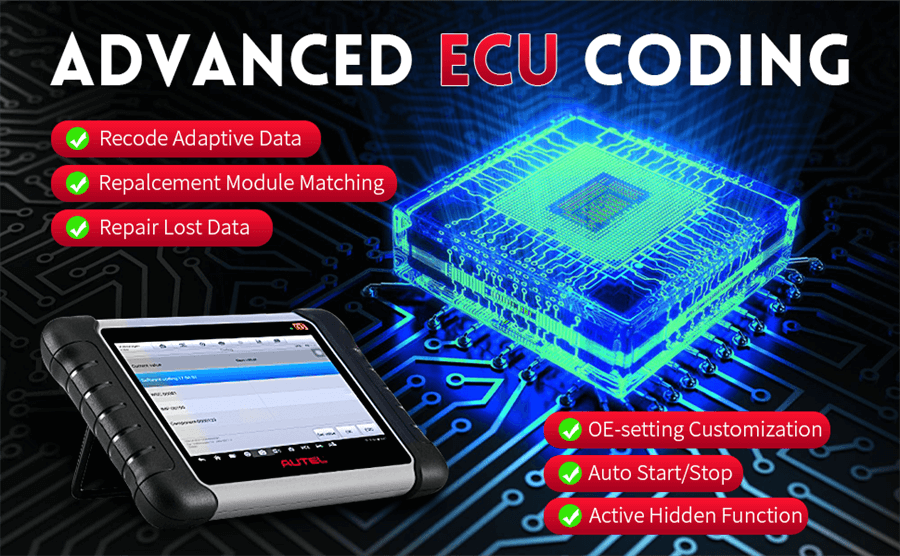 Rank First In Autel TPMS Product Line: Same TPMS Functions As TS608 > MS906 Pro-TS/MS906TS> MP808TS>MK808TS
As the newly
launch
ed Autel Scanner with comprehesnive diagnostic funbction, Autel MP808Z-TS inherited all the TPMS function from Autel TS608, making it the most powerful TPMS tool in Autel TPMS product line:
New Added TPMS ToolKit Functions:
1. Program TPMS by OEM Part No;
2. Unlock TPMS ECU for Toyata;
3. Unlock REDI7002A;
4. Awake OEM Sensors;
5. Check Key Fob Signal
With Autel MaxiPRO MP808Z-TS, it is easy to perform all the following functions:1. Program TPMS by OEM Part No:
TPMS by OEM Part No.: Easy way to activate and program MX-Sensors with the original sensor's OEM part number, able to program up to 20 sensors at the same time.
2. Activate All Known TPMS Sensors:
Trigger almost all known TPMS sensors (315/433MHz), including the OE sensors, Autel MX-sensors, and other sensors in the market.; Sleep/Park Mode: For those OEM sensors that are delivered in Sleep Mode, this function is used to wake and set them to Park Mode.
3. TPMS Check & Diagnostics:
check the status of the TPMS system, retrieve sensor IDs and DTCs present in the ECU, detect TPMS DTCs with detailed description, TPMS Sensor live data such as sensor ID, tire pressure, tire temperature, sensor battery, sensor position, and
sensor frequency, perform special functions for resetting or re-matching, and then clear the DTCs and turn off the faulty light
4. Programming Autel MX-Sensor:
Programs new MX-Sensor to replace OEM sensors by 4 methods
Copy by Activation – Program the sensor ID retrieved from activated sensor
Copy by OBD – Program the sensor ID retrieved from TPMS ECU
Copy by Input – Manually input the original sensor ID for programming
Auto Create – Create a random ID to program MX-Sensor
5. TPMS Sensors Relearn:
This function is used to write the newly programmed sensor IDs into the vehicle ECU for sensor recognition. Four relearn methods: OBD Relearn; Stationary Relearn; Automatic Relearn; Copy Relearn
6. TPMS Retrofit:
For cars that don't have TPMS module, this function can install TPMS System to backup and save the data of the original vehicles for safety driving.
Autel MaxiCOM MP808Z-TS: OE-Level All System In-depth Diagnostics !
As the fully ugrade version of Autel MP808TS & MaxiPRO MP808BT, Autel MP808Z-TS can access all available systems or modules such as
engine
, Transmission,
ABS
,
SRS
, IC, BCM, TPMS, Air Conditioning,
IMMO
, Air Suspension, Airbags, Cruise Control, etc. to perform more in-depth diagnose with feaster speed: retrieve ECU info, get freeze frame data, live data in graphic & text, read codes, clear codes, active test and so on for accurate efficient solution.
Intuitive & Convenient Auto Scan:
Autel MP808Z-TS features one-click Auto scan to allow users quickly know the health status of all systems to take proper fix avoid any potential risk in the future. In addition, Autel MaxiPRO MP808Z-TS support 4 methods for Vehicle Identification:
Auto VIN
Manual VIN Input;
Automatic Selection;
Manual Selection.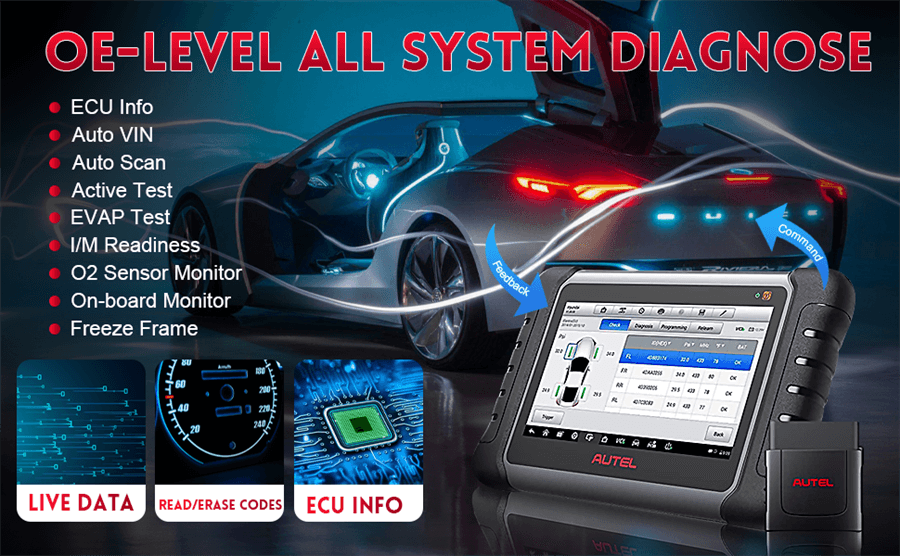 Bi-Directional Control Scan Tool Autel MP808Z-TS:Same Level As MaxiSys MS906BT/MS906TS/MS906 Pro !
Autel scanner MaxiCOM MP808Z-TS features the same Bi-Directional Control functions as more expensive models such as MS906BT, MK906BT & MS906 Pro, able to output the commands signals to ECUs & and receives information from vehicle control modules, which can help technicians to determine the functioning status of the tested parts without dismantling and decide if it need to be replaced.
For example:
in the case of OBD II generic information Mode 1 (which relates to data parameters), use Autel MK808Z-BT to initiates a request for information from the powertrain control module (PCM), and the PCM responds by sending the information back to the scan tool for display. If it's not responding, you will know that there is problem with
PCM
. It can also be used to actuate relays, injectors and coils, perform system tests, etc.
Here below are the most commonly tested parts:
Headlamp Adjustment; Window Wipers Setting; Window Glass Up & Down; Sunroof Switch on/off; Sunroof Switch on/off; Power Seats Adjustment; steering wheel heating, horns,
ABS
, Fuel pump & etc.
Note:
Autel MP808Z-TS support bi-directional controls on various modules but it's not universally compatible for all vehicles. Available tests vary depending on the make, year, and model. Please provide VIN for us to check compatibility.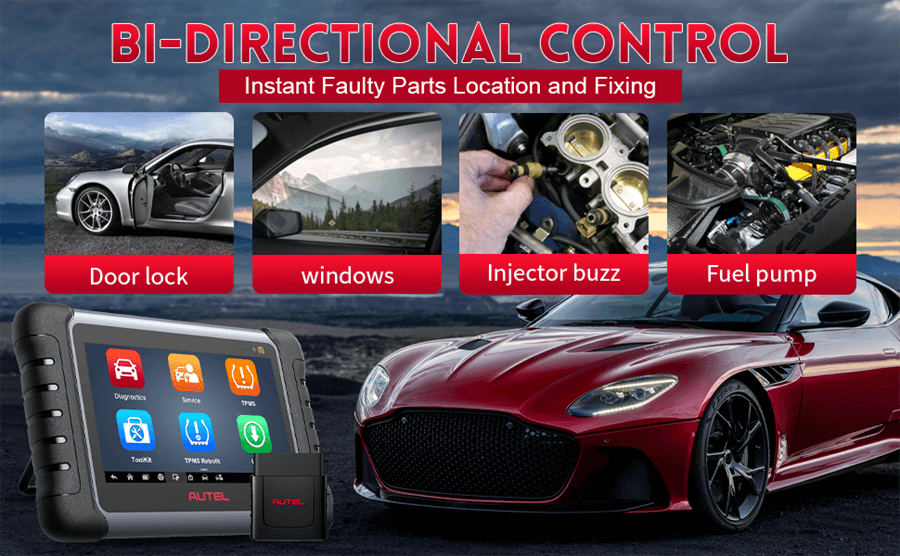 No IP Restriction & Language Switching Service:
Autel MP808Z-TS is designed to service global users with different language background and this is reason why it offer various language options. The default language of this device is English. It can now support up to 15 languages: English, Spanish, French, German, Russian, Italian, Portuguese, Japanese, Korean, Chinese, Swedish, Dutch, Polish and etc.
Note:
If you need to switch to a different language, please provide device S/N (12 digits, at the back of the device, eg: VB7GL6C0579)
Autel Scanner MaxiPRO MP808Z-TS: 31+ One-stop Maintenance & Reset Services (still expanding)
Autel Scanner MaxiPRO MP808Z-TS is able offers over 31 services function includes commonly used reset & maintenance functions that a DIYer or auto technician would need for everyday car care. Here below is some of the most popular services:
Oil Reset
: Reset the new calculation of
engine
Oil Life System for an accurate reading of the next oil change.
EPB Reset: Reset the calipers, brake discs or pads after the electronic parking brake system is repaired.
BMS Reset: Reset after replacing the battery to clear the low battery fault information of the original battery and protect the new battery.
IMMO / Key Programming: Disable a
lost
vehicle key to protect the vehicle from being stolen and add the new key. (work only on Asian cars that feature low-grade
IMMO
systemI
Injector Coding: Code a new injector to better identify injectors to accurately control fuel injection.
ABS Bleeding: Perform to bleed the brake system to restore
ABS
braking sensitivity and obtain a firm brake pedal.
SAS Adjustment: Clear the fault steering angle sensor memories, perform reset steering angle sensor, and turn off steering wheel warning light.
Throttle Relearn: Reset the throttle actuators to accurately regulate throttle (or idle engine) operations, helps keep your idling and acceleration smooth.
Headlight Matching: initialize the adaptive headlight system
...
More Can be Done After Maintenance / Reset or Component Replacement: initial adaptation, Auto-learning, relearn, auto detection. For example:Crankshaft Sensor Learn and etc.
Note:
The above mentioned is just a small portion of all supported services and more are not listed. Please also know that Not All service & Special functions are universally compatible. Please send VIN number and the functions you need to us to check compatibility.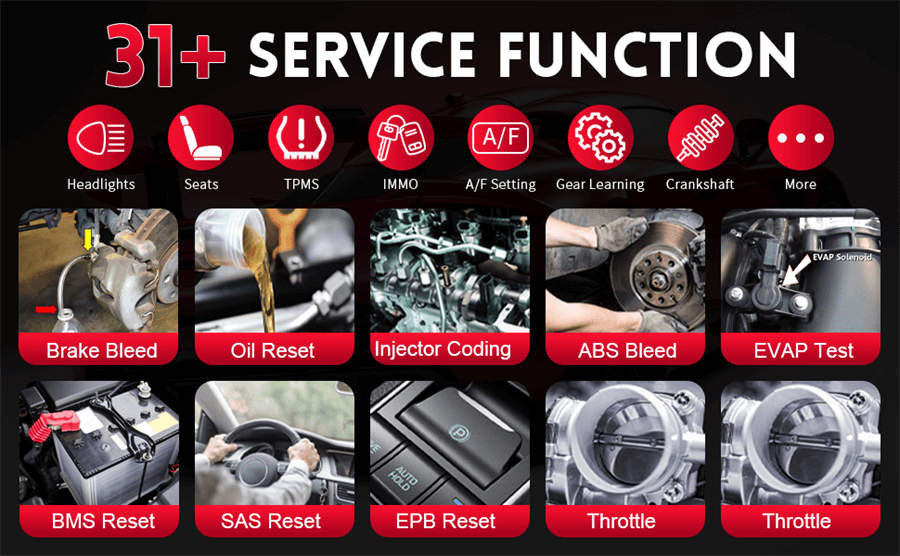 Product Specifications:
Situation Recommended
Indoor
Operating System
AndroidTM 4.4.2, KitKat
Processor
Cortex-A9 quad-core processor (1.4 GHz)
Memory
32GB
Display
7-inch LCD capacitive touchscreen with 1024x600 resolution
Connectivity


Mini USB 2.0 USB 2.0
Wi-Fi
HDMI Type A
Micro SD card slot (supports up to 32GB)
Sensors
Light sensor for automatic brightness adjustment
Audio input/output
Input: N/A
Output: Beep
Power and Battery
3.7 V/5000 mAh lithium-polymer battery
Charges via 5 VDC power supply
Tested Battery Life
Around 7 hours of continuous use
Battery Charging Input
5 V/1.5 A
Power Consumption
600 mA (LCD on with default brightness, Wi-Fi on) @3.7 V
Operating Temp.
0 to 55°C(32 to 131°F)
Storage Temp.
-20 to 60°C (-4 to 140°F)
Operating Humidity
5% - 95% non-condensing
Dimensions (W x H x D)
270.8 mm (10.0") x 176.0 mm (6.9") x 36.0 mm (1.4")
Net Weight
885 g (2.31 lb.)
Protocols
ISO9141-2, ISO14230-2,ISO15765, K/L-Line, Flashing Code, SAE-J1850 VPW, SAE-J1850PWM, ISO11898 (Highspeed, Middlespeed, Lowspeed and Singlewire CAN, fault-tolerant CAN), SAE J2610,GM UART,UART Echo Byte Protocol, Honda Diag-H Protocol, TP2.0, TP1.6

Package Includes:
1pc x MaxiPRO MP808Z-TS Main Unit
1pc x USB Cable (for charging)
1pc x USB Cable (for test)
1pc x MaxiVCI Mini
1pc x USB External Power Adapter
1pc x User Manual
1pc x Quick Reference Guide
1pc x Carry Case