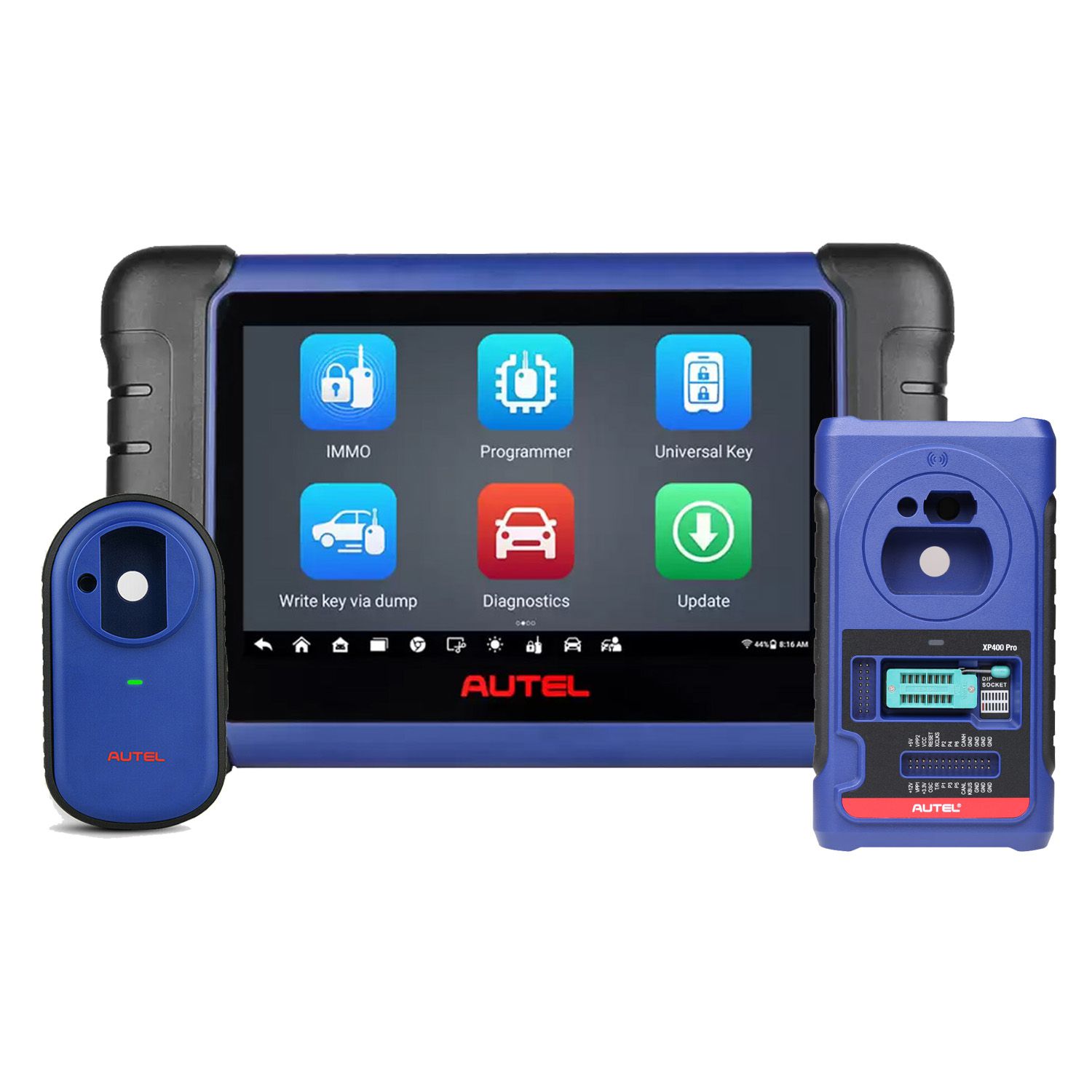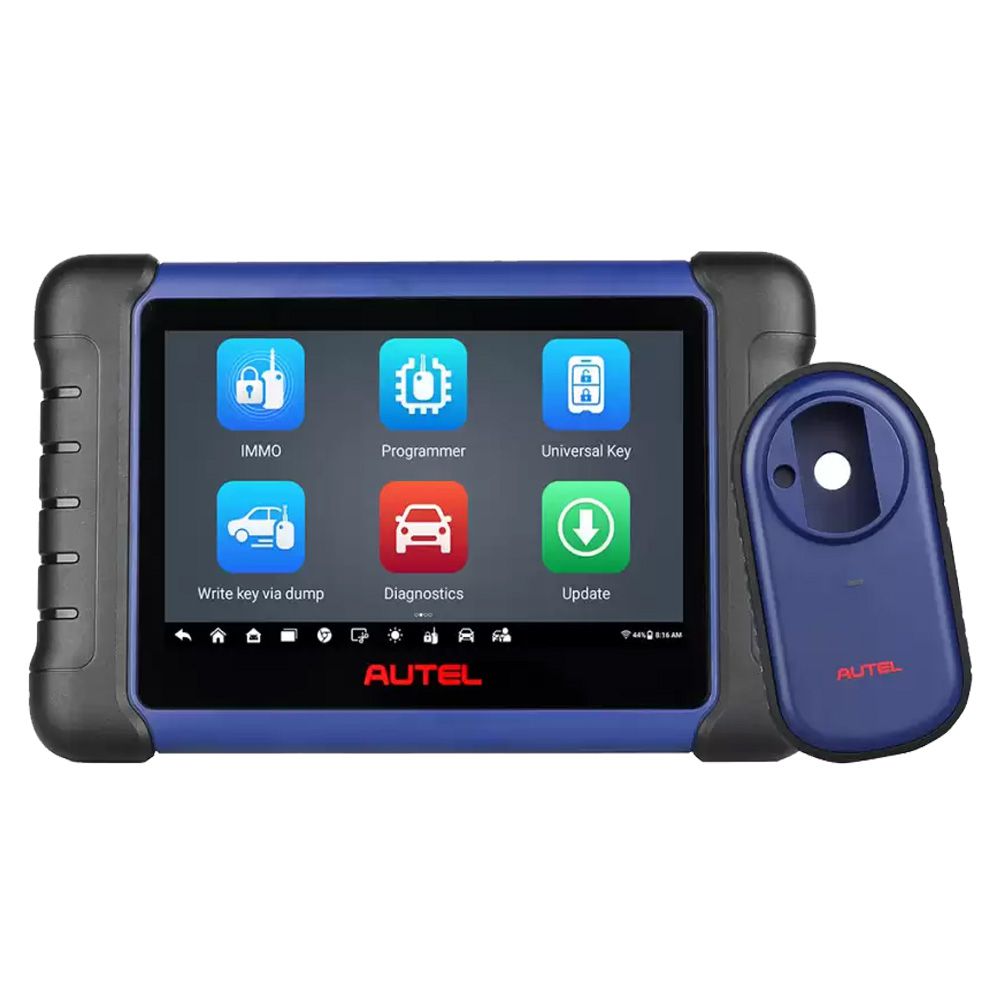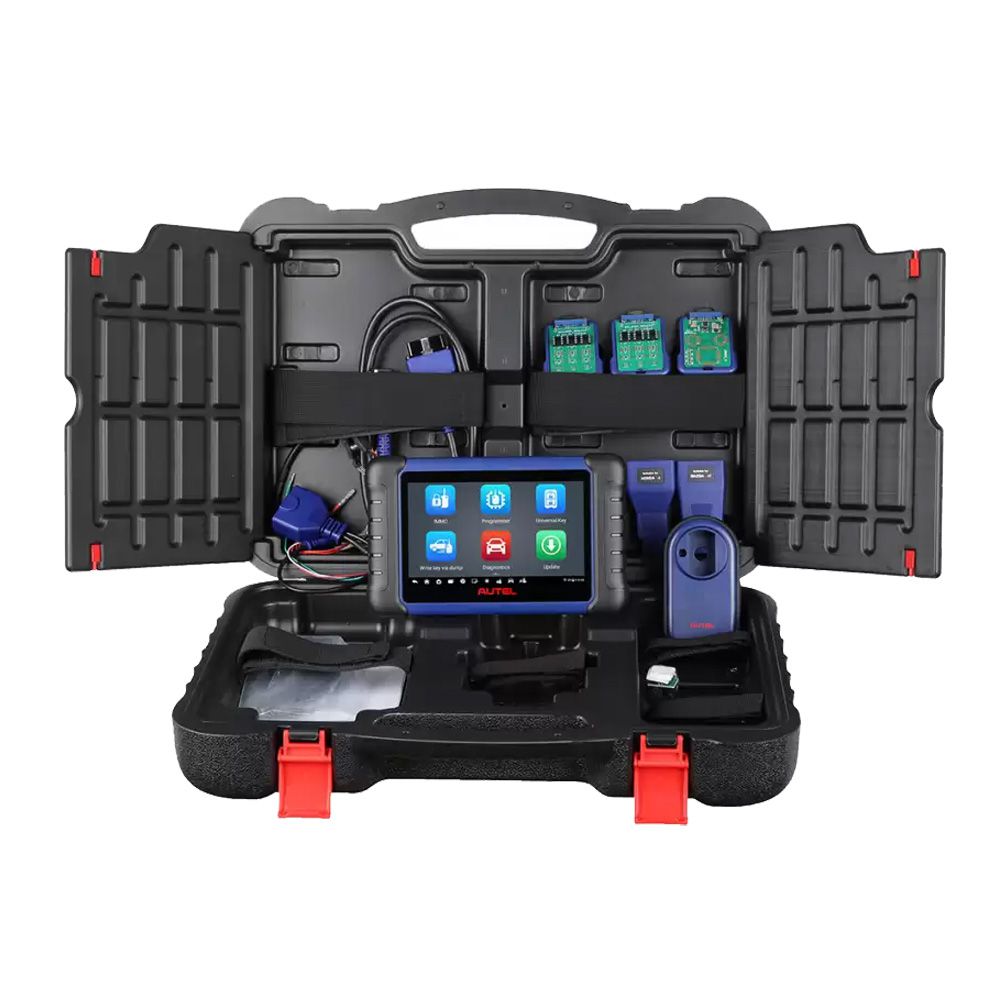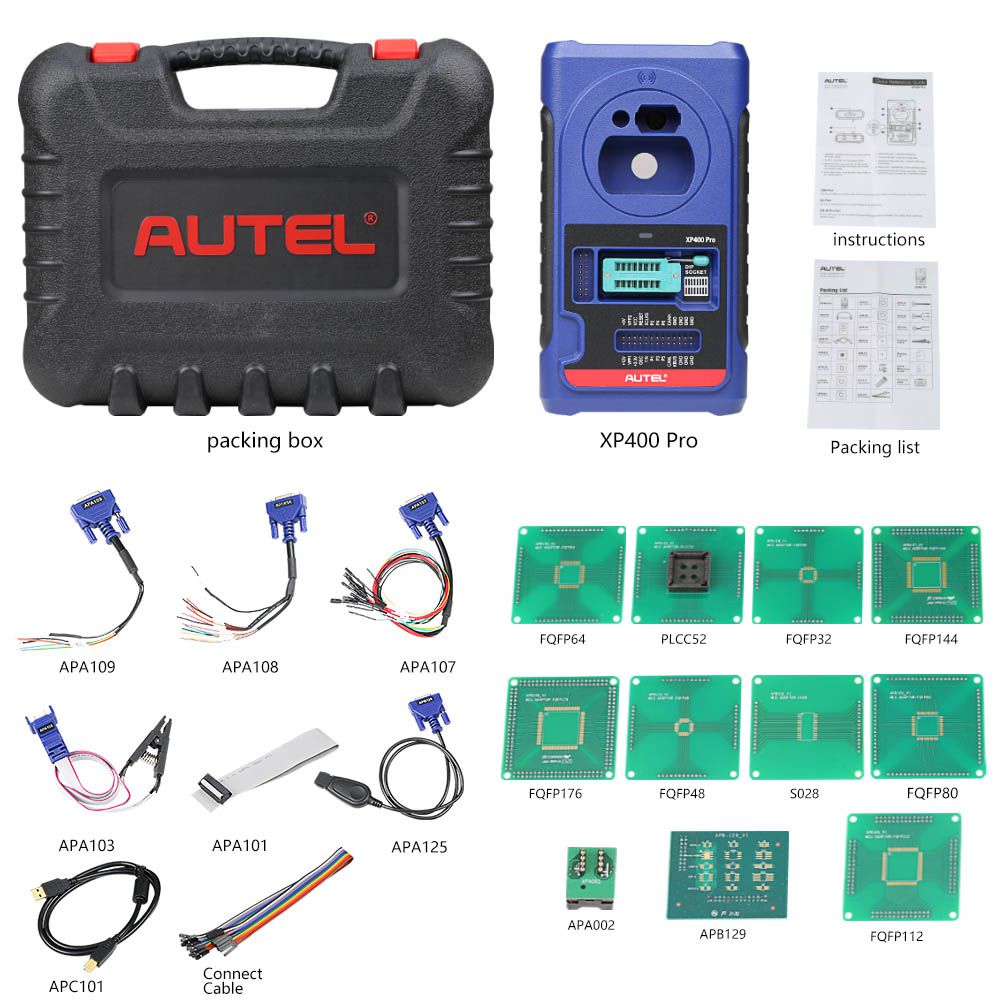 2023 Autel MaxiIM IM508S Plus XP400 Pro Advanced Key Programmer Same IMMO Functions as Autel IM608 II/ IM608 PRO II
Autel IM508S is a fast, easy-to-use, and ultraportable immobilizer and key programming device. With XP400 Pro, You can release more function for your IM508s: If you have a MaxiIM IM508s, you want to do advanced IMMO reprogramming like IM608 Pro and IM608 II, you can buy an XP400 Pro for your machine. Then it works on IMMO functions as IM608 PRO and IM608 II
Shipping:

Express Shipping Service


Estimated delivery time:

3-15

working days.

See details ?

Returns:

Return for refund within 30 days, buyer pays return shipping.

Read details ?

Support: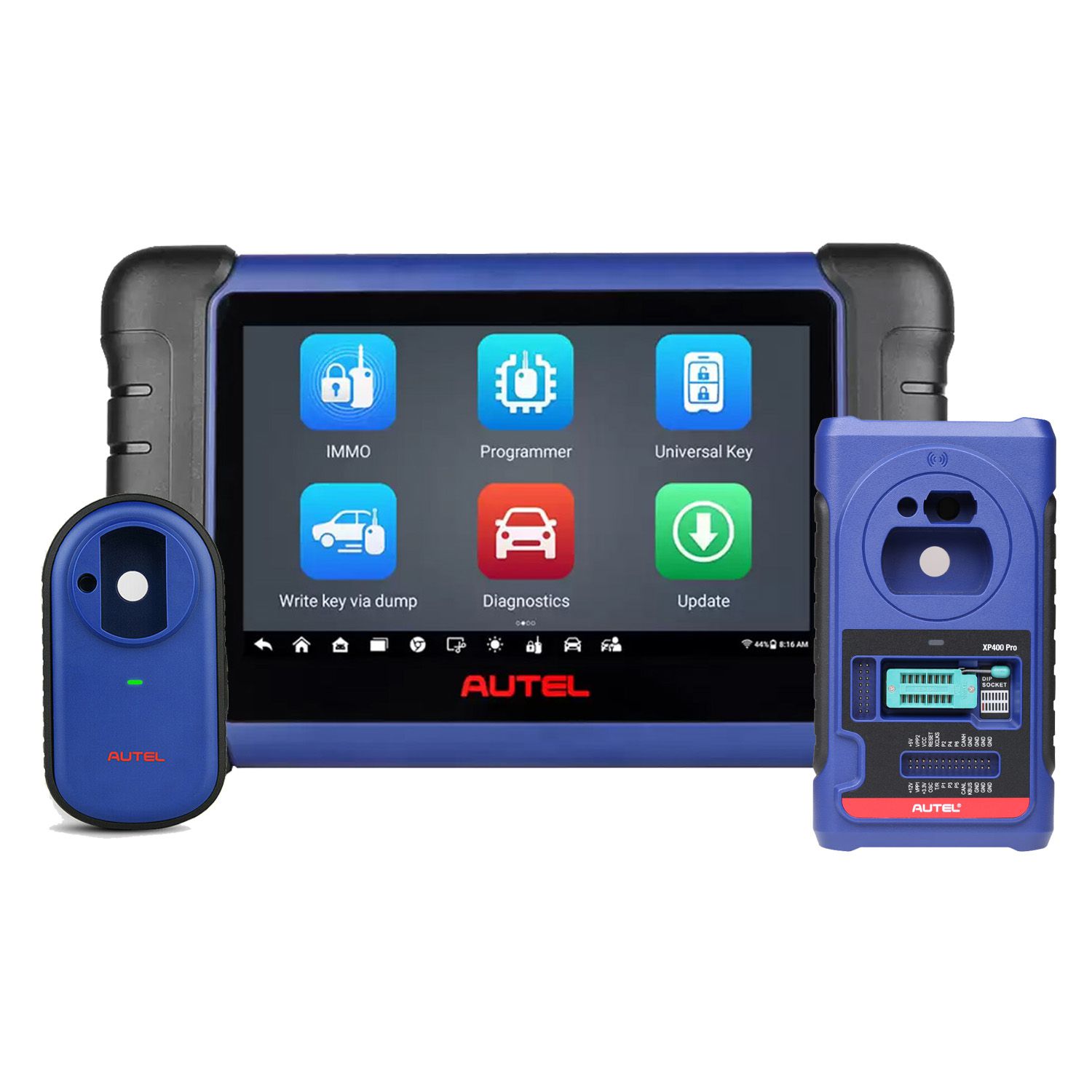 Product Details

Product's Reviews (0)
Autel MaxiIM IM508S Plus XP400 Pro Advanced Key Programmer
Autel
MaxiIM IM508S Advanced
IMMO
and Key Programming Tool with XP400 PRO
Autel IM508S is compatible with
Autel
XP400 Pro
Key Programmer
. When connected to XP400 Pro, Autel IM508S would have the same IMMO key programming functions as Autel IM608 Pro/ IM608 II to further extends its capability to support IMMO functions for
BMW
CAS4 Key Learning and programming functions like
IMMO
ECU Read & Write, MC9S12 Encryption Chip Read & Write, IC Card Read & Write, for Mercedes Infrared Key Read & Write, Remote Frequency Detect and it will support PC connection.
Highlights:
1. Global Version without IP Blocking Problem
2. One Years Free Update Online. After 1 Years, Autel IM508S Software Subscription Cost 350USD per year
3. Mutli-Language Supported: Default Language is English, Can Be Changed Language to German, Swidish, Italian, Portuguese, French, etc.
4. With XP400 Pro, You Can Release More IMMO Functions for Your Autel IM508S, Make It Works on
IMMO
Functions as IM608 PRO/ IM608 II/ IM608 PRO II
Autel MaxiIM IM508S Function List:
All Systems Diagnostics
AutoVIN / AutoScan
Read / Erase Codes
View, Record, Playback Live Data
View Freeze Frame Data
Shop and Data Manager Applications
Key Read / Write
EEPROM / MCU Read / Write
Read PIN / CS (All Key Lost)
Key Generation
Key Learning
Remote Learning
Backup / Restore IMMO Data
IMMO ECU Reset / Adaptation
IMMO ECU Refresh / Coding
BMW
FEM / BDC Key Learning and ECU Adaptation
VW
/
Audi
MQB Key Learning, 48 Transponder (96-bit) Add Key, All Key Lost, A6 All Keys Lost, and More
Product Functions:
IMMO & Key Fob Programming for DIYers and Locksmiths
If you want to do something for IMMO systems or car keys, Autel IM508S scanner with XP200
Key Programmer
can help you with the following: read & write to Immobilizer/
engine
/EEPROM/MCU; reset/code/backup IMMO ECU; read PIN (Add Key/All Key L~st); key generation/key learning/remote learning, etc. Smart Mode will provide you with guided and automated key learning functions, step by step, save you much trouble! Note: Functions above vary by cars.
The XP200 is specially designed to read Volkswagen vehicle key chip data, clone and generate exclusive keys, read/write on-board EEPROM data, and read/write Freescale 9S12 MCUs. By working with diagnostic tool and PC that are both loaded with programmer software, the XP200 can read/write key chip data quickly and accurately.
Bi-Directional Control/ Active Test
What would you do if the wipers stopped working? Just replace one or spend a lot money to fix it? Don't be in a hurry to dismantle your cars! Key Programming tool IM508S can perform real active tests that can send commands to the vehicle's ECU to drive the actuators to work, like
ABS
, window, door, solenoids, valves, wipers, headlamp, etc, helping you quickly find out bad parts and pinpoint faulty issues. Note: NOT universal. Please check compatibility.
OE-level Diagnostic Capability, Same as MK808
Busy for a long time but can't find what's wrong with the car? Take it easy! Autel IM508S scanner, equipped with the same diagnostic capability as MK808, can scan all available car systems on 80+ US, EU and Asian car makes to read & clear DTCs, view live data, freeze frame data, and ECU info, perform active tests and compatible with MV108(not included). With just a few simple clicks, you can quickly locate the issues to win more time and money.
34 Kinds of Maintenance Services, Everything for you.
Oil reset, EPB,
TPMS
, BMS, brake bleed, aftertreatment, injector, SAS, Suspension, Throttle, WIN DR ROOF,
Seat
s, Odometer, Language Change, Headlamp, CHG tire size, TEC learn,
ABS
SRS
, Cylinder, VGT learn, Speed & PTO, Clutch, Trans adaptation, Airbag reset, A/F setting, Automatic Start/Stop, electronic water pump start, EGR, FRM reset, transport mode, HV battery, ACC, A/C, rain/light sensor.
How much did you spend on maintaining your car? In fact, experience tells us that just a small repair service may cost a lot of money. So Autel IM508S scanner are actively reducing the unnecessary expense by integrating 28+ services, meeting many daily service needs, such as Oil/EPB/SAS/DPF/BMS/
ABS
Bleed/Injector, etc. Note: Functions vary by vehicle, please send VIN to us to check compatibility before order.
Smart Mode
–accesses to a function menu where each function is configured as a smart guide system.
Expert Mode
–accesses to a function menu where each function is separated from each other.
IMMO:
The IMMO application requires a data link to the IMMO electronic control system of the test vehicle for diagnosis via OBD II connection.
The application retrieves vehicle IMMO information and performs IMMO related functions, including Key Learning, Remote Control Learning, Remote Control Add, etc.
IMMO & Key Programming :
1.Read PIN/CS (AII key Lost)
2.Key Generation
3.Key Learning/Remote Learning
4.Backup/Restore IMMO Data
5.IMMO ECU Reset/Adaptation,Refresh/Coding
6.
BMW
FEM/BDC Key Learning and ECU Adaptation
7.
VW
/
Audi
MQB Key Programming, 48 Transponder (96-bit) Key Splicing, Full Lost, A6 Full Lost and More
XP400 Pro Features
1. XP400Pro Key and Chip Programmer Reads/ Writes and Learns Keys to the Vehicle
2. Performs EEPROM-data Functions Needed for European Vehicles
3. Enables Programming of Infrared Keys for Mercedes Vehicles and IC Chip Keys on Late Model
Hyundai
Kia
Vehicles
4. Supports Data Read/Write of 3,000 Plus Chip Types (inc. EEPROM,
engine
ECU, MCU, IMMO ECU)
5. Compatible with the IM508S, IM608Pro, IM608 II, IM608S II, IM608 PRO II
XP400 Pro Adds Support for Following Chips:
EEPROM-->AMD-->AM29FXXX series chip
EEPROM--> FUJITSU-->MB29FXXX series chip
EEPROM-->ST-->M29FXXX series chip
engine
control module-->SIMTEC76(AM29F800BB) write
IMMO-->
Benz
-->ESL_W209_W906 (Motorola) read/write/erase function
IMMO-->BMW-->EWS3 module read/write function
REMOTE_RENEW(renew key)-->NEC-->V51 and V5 chip read/write/erase
Advanced Key Programming Functions:
Exclusive Smart Mode to guide Key Programming
Auto Read IMMO Data via OBD
One-tap Key Programming via OBD & Easy-to-use Remote Programming
With the newly upgraded key programmer XP400 Pro
Extensive Vehicle & Functionality Coverage
Support Diagnostics & IMMO Programming for 10,000+ Models;
Support Models Up to 2020;
All System Diagnostics and Advanced Maintenance Services;
Benz -- 3rd Generation IMMO CAN-Line / K-Line Add Key, All Key Lost via OBD;
BMW -- Support EWS3/4; CAS 1/2/3/4, FEM/BDC Add Key / All Key Lost;
Volkswagen /
Audi
-- Add Key / All Key Lost via OBD for 2013 - 2020 Models;
GM
-- Read IMMO Password, Add Key / All Key Lost up to 2020;
Ford -- Add Key / All Key Lost (No PIN Needed) up to 2020;
Mazda
-- Add Key / All Key Lost (No PIN Needed) up to 2020;
FCA -- Read IMMO Password, Add Key / All Key Lost up to 2020;
Renault -- Add Key / All Key Lost (No PIN Needed) up to 2020
Jaguar
LandRover -- Add Key / All Key Lost up to 2019
Volvo -- Semi-smart Key Learning via OBD up to 2018; Smart / Blade / Fobik Key Learning via Dump
Package List:
1set x Autel MaxiIM IM508S
1set x Autel XP400 PRO